Posted Fri, 04/07/2017 - 7:39pm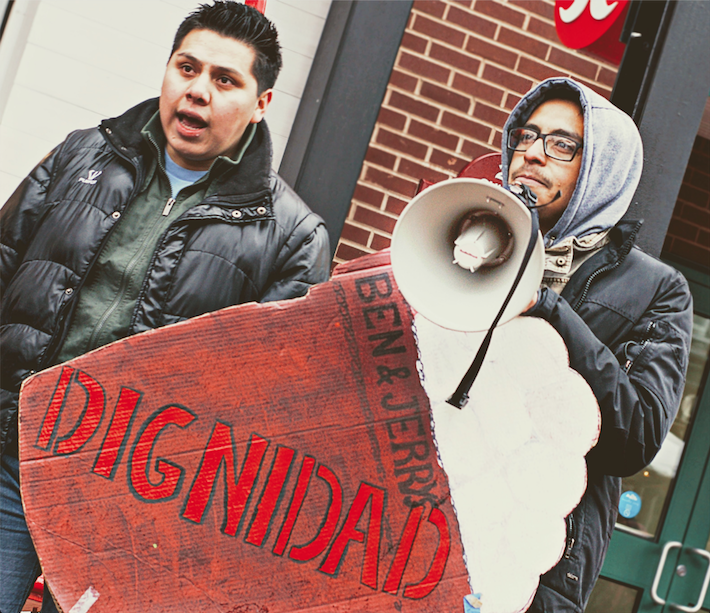 This Tuesday April 4th, thousands of customers waiting in line outside Ben & Jerry's scoop shops during the company's famed Free Cone Day got their ice cream with a bitter dose of truth.
At more than 10 scoop shops around the country -- from Nashville, to Naples, to New York -- dairy workers and supporters pulled the mask off the corporation's socially responsible marketing to expose the conditions faced by workers putting the cream in Ben & Jerry's ice cream.
Enrique Balcazar, recently freed from prison after being targeted by deportation agents for his outspoken leadership, spoke at the factory store in Waterbury:
I have worked on dairy farms across the state, just like my mother and father before me, and I know better than anyone the conditions that we workers face.  I would work from 3am through the day and night, oftentimes without 8 hours of consecutive rest, seven days a week.  Nearly half of us don't even make minimum wage! That is why we are here today, calling on Ben & Jerry's to make good on its commitment to join the Milk with Dignity program, ensuring respect for the human rights of the workers who milk their cows.
Wilmar Santiz, a dairy worker and member of Migrant Justice's Farmworker Coordinating Committee, told customers in Burlington, VT: "We are here today demanding that Ben & Jerry's join the Milk with Dignity program. We invite everyone to unite with us -- because the time to sign is now!"