Posted Tue, 11/13/2018 - 2:21pm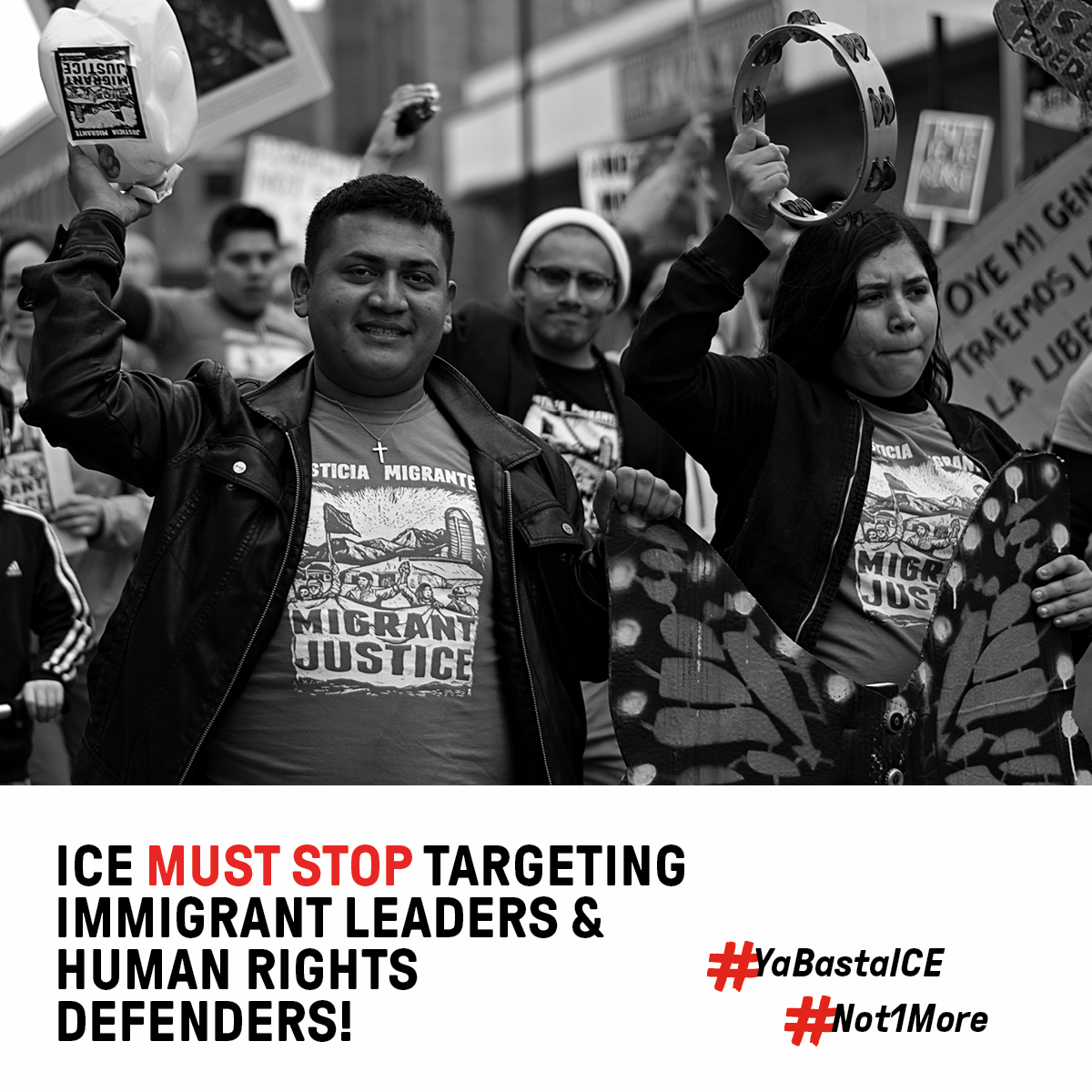 Today, November 14th, Migrant Justice filed a major national lawsuit against Immigration and Customs Enforcement (ICE).  ICE has engaged in a years-long campaign of retaliation against Migrant Justice, in violation of First Amendment protections for freedom of speech and assembly.  We are suing to stop the unlawful, targeted surveillance and harassment of the organization and the arrest and detention of members.  Today we say "Ya Basta, ICE!"
Since 2016, ICE and Border Patrol have arrested over 40 immigrant community members involved in Migrant Justice.  The lawsuit focuses on a handful of those detentions where there is clear evidence that immigration agents targeted members because of their outspoken leadership as human rights defenders, including the notorious arrests of Victor Diaz, Miguel Alcudia, Enrique "Kike" Balcazar, and Zully Palacios.  These detentions have been carried out by ICE as part of a coordinated effort to attack Migrant Justice and disrupt our groundbreaking organizing for human rights and economic justice, including through electronic surveillance and the use of a confidential informant. 
ICE has been aided in this campaign of repression by the Vermont DMV, also named as a defendant in the lawsuit.  Since Migrant Justice passed a 2013 law allowing all Vermont residents to access driver's licenses regardless of immigration status, the DMV has discriminated against immigrant applicants.  Claiming they were being "over run by by immigrants," employees routinely passed confidential information to ICE agents and facilitated the arrest of immigrants.  Public records requests have revealed troves of emails between ICE and the DMV, with state employees forwarding what they referred to as "South of the Border" names.  They continued to do so even after being forced to adopt a policy stating that employees: "shall not dedicate department time or resources to the enforcement of federal immigration law."  ICE has relied on the VT DMV's discriminatory practices in its campaign to silence Vermont's immigrant community leaders, writing to one state employee: "We're going to have to make you an honorary ICE officer!"
By filing this landmark lawsuit, Migrant Justice is escalating its resistance to ICE's and the DMV's unlawful attacks.  We are standing up for the First Amendment's guarantees of freedom of speech and assembly, and for the constitution's promise of equal protection under the law.  We are saying to ICE, enough is enough: "Ya Basta!"