Hannaford Campaign Action Toolkit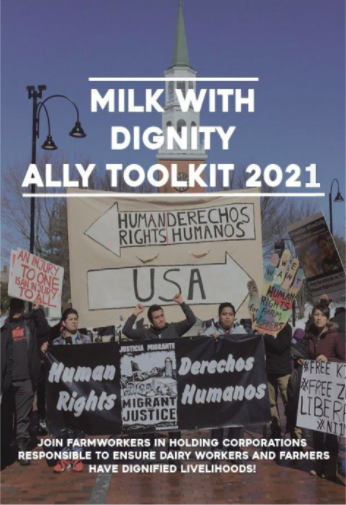 The Milk with Dignity campaign builds a movement of farmworkers and allies calling on dairy companies to ensure respect for human rights in their supply chains by joining the worker-driven Milk with Dignity Program. 
Check out this MIlk with Dignity Action Toolkit to learn more about this ground-breaking program and campaign to expand human rights protections to the supply chain of northeast supermarket chain Hannaford. 
Workers on farms that produce Hannaford-brand milk:
Make less than minimum wage

Work 7 days a week without adequate rest

Have high rates of preventable injuries

Live in substandard – even dangerous – housing
Click here to read more and take action to support farmworkers' struggle for rights and dignity!
Milk with Dignity Social Media Action!
Check the Hannaford facebook page (@Hannaford) and open up the comment section in a recent post to write in your own comment about Milk with Dignity.
You can write messages like:

Hannaford: Respond to Farmworkers, Join #MilkWithDignity!

Hannaford: It's time to join #MilkWithDignity!

Hannaford: No more charity, we want #MilkWithDignity!

You'll see comments with photos from farmworkers calling for Milk with Dignity and beautiful messages of solidarity from supporters urging Hannaford to join the program. 

This is a really quick action that you can easily do multiple times or even every day!