Hannaford Campaign Action Toolkits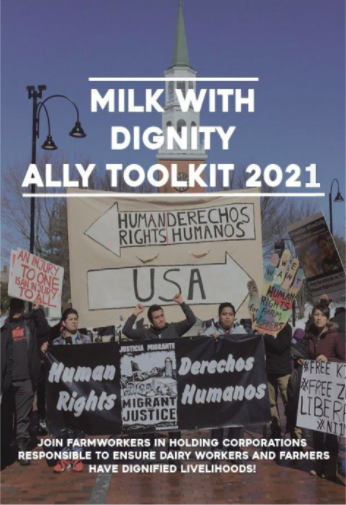 The Milk with Dignity campaign builds a movement of farmworkers and allies calling on dairy companies to ensure respect for human rights in their supply chains by joining the worker-driven Milk with Dignity Program. 
Check out our general MIlk with Dignity Ally Toolkit for everything you need to know about this ground-breaking program and the campaign to expand human rights protections to the supply chain of northeast supermarket chain Hannaford. 
"Adopt a Hannaford" Toolkit!
Learn how to take action – both by yourself and in a group – at your local Hannaford store to consistently show your solidarity with farmworkers' fight for Milk with Dignity! Check out this guide and start taking action today!
Milk with Dignity Social Media Action!
Check the Hannaford facebook page (@Hannaford) and open up the comment section in a recent post to write in your own comment about Milk with Dignity.
You can write messages like:

Hannaford: Respond to Farmworkers, Join #MilkWithDignity!

Hannaford: It's time to join #MilkWithDignity!

Hannaford: No more charity, we want #MilkWithDignity!

You'll see comments with photos from farmworkers calling for Milk with Dignity and beautiful messages of solidarity from supporters urging Hannaford to join the program. 

This is a really quick action that you can easily do multiple times or even every day!