About Migrant Justice
"Migrant Justice is a school. Migrant Justice is my family; my brothers and sisters where I find the support I need." 
- Alberto Madrigal, Farmer Coordinating Committee Member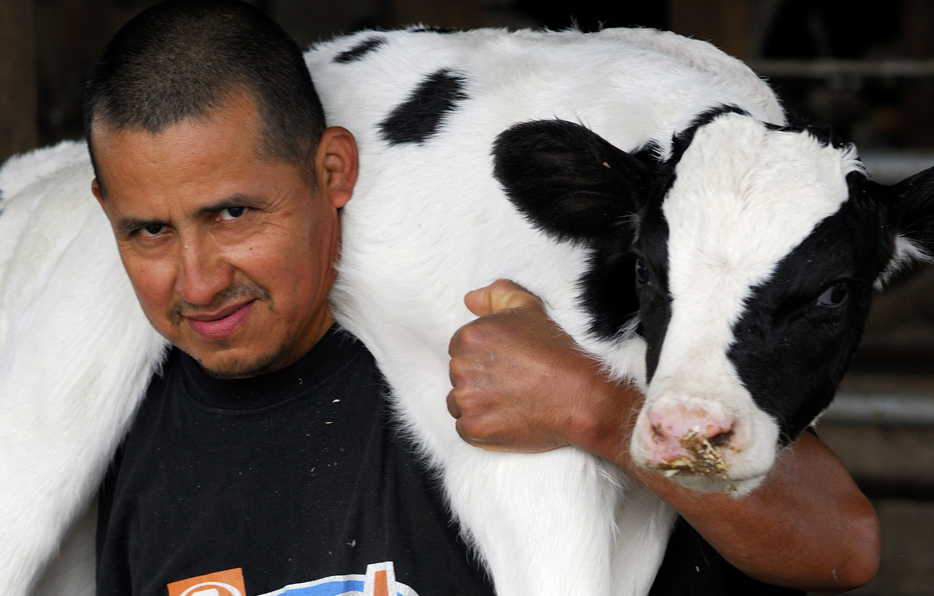 Mission 
Our mission is to build the voice, capacity, and power of the farmworker community and engage community partners to organize for economic justice and human rights. We gather the farmworker community to discuss and analyze shared problems and to envision collective solutions. Through this ongoing investment in leadership development, members deepen their skills in community education and organizing for long-term systemic change. From this basis our members have defined community problems as a denial of rights and dignity and have prioritized building a movement to secure these fundamental human rights to: 1) Dignified Work and Quality Housing; 2) Freedom of Movement and Access to Transportation; 3) Freedom from discrimination; 4) Access to Health Care.

History and Accomplishments
The seeds of Migrant Justice were planted in 2009 after young dairy worker José Obeth Santiz Cruz was pulled into a mechanized gutter scraper and was strangled to death by his own clothing. This tragedy inspired the production of the documentary film Silenced Voices and led to the formation of a solidarity collective that partnered with farmworkers to gather the community to share food, discuss community problems, envision solutions and take collective action. From this process, members defined problems and created a human rights agenda. Migrant Justice has gained national attention for our cutting edge human rights organizing and our concrete victories. We are steadily making progress advancing our members' human rights agenda by:
* Signing the ground-breaking Milk with Dignity agreement with Ben & Jerry's ice cream in 2017, a first in the industry contract to implement the worker-driven social responsibility program;
* Organizing public pressure to free community members detained by ICE and Border Patrol, including community leaders arrested for their organizing;
* Building a broad coalition to pass repeated legislation to create and implement one of the strongest statewide policies in the nation prohibiting racial profiling and stopping the collaboration between local law enforcement and immigration agents;
* Organizing a powerful network of farmworkers, farmers, and allies to win legislation in 2013 for all VT residents to access drivers licenses, regardless of immigration status;
* Partnering with Vermont Workers' Center to include undocumented people in Vermont's 2011 ground-breaking universal healthcare legislation;
* Winning tens of thousands of dollars in back wages through our Workers' Rights Hotline and working with the VT Department of Labor to change labor law in 2013 to expand state powers to collect unpaid wages;
Migrant Justice members organize 3 regional farmworker community assemblies, in the states' largest dairy regions, where farmworkers meet monthly to discuss community problems, identify community needs and involve members in our work. We are led by a Farmworker Coordinating Committee, which meets monthly to develop, implement and evaluate our campaigns and strategies in partnership with staff organizers.
Migrant Justice's work has been recognized with awards including:
Food Chain Workers Alliance's Food Justice Award (2017)
Rural Vermont's Jack Starr Award for Outstanding Organization (2017)
National Education Association's Cesar Chávez Human and Civil Rights Award (2017)
Chittenden County Television's Free Speech Award (2016)
VT-NEA's Human and Civil Rights Award (2015)
Vermont Peace and Justice Center's Social Justice Organization of the Year (2014)
Vermont ACLU's David Curtis Civil Liberties Award (2013)
RESIST Foundation's Organization of the Year (2013)
Unitarian Universalist Society of Burlington's Courageous Love Award (2013)
Problems

There are approximately 1,500 migrant workers that sustain Vermont's iconic working landscapes and turn profits for Ben & Jerry's, Cabot Cheese and other famous Vermont brands. Workers typically work 60-80 hours per week and endure extreme isolation, often without a clear sense of where they are and are systemically excluded from many worker and housing rights protections. Farmworkers are highly dependent on employers to meet their fundamental human needs. Many farmworkers work near the highly militarized northern border and live in fear of racial profiling practices of police, border patrol, and some community members, which together converts many into virtual prisoners on the farm. Additionally, dairy is a notoriously difficult industry where large profits from milk products are not redistributed fairly to farmers. Due to this systemic marginalization and industry conditions there is downward pressure on farmworkers' wages and many experience human rights abuses.
In the summer of 2014, our Farmworker Coordinating Committee partnered with our staff to design and conduct a survey reaching over 176 farmworkers (over 10% of population). Some of our findings include:
• 40% receive less than VT minimum wage; 40% don't have a day off (ever)
• 30% have had a work related injury or illness; 32% say they aren't treated equally as US born co-workers
• 26% don't receive a pay stub; 29% regularly work 7 (or more) hours without a break to eat
• 20% have their first paycheck(s) illegally withheld; 20% don't have access to a bathroom or clean water in their workplace; 9% say they have been verbally abused by their employer
• 16% have to sleep on the living room sofa due to overcrowded housing; 15% have insufficient heat
• 19% have worked for more than 2 years at their farm without a pay raise;
16% have less than 8 hours (in a row) to sleep due to work schedules
___________________________________________________________________
Migrant Justice is a 501(c)(3) non-profit organization. Thanks to Caleb Kenna and Chris Urban for sharing photos from the Golden Cage