40,000 Maine union members stand with Milk with Dignity
Posted Thu, 06/15/2023 - 1:36pm
The AFL-CIO of Maine, representing 200 union locals and 40,000 workers across the state, has endorsed the Milk with Dignity campaign and called on Hannaford Supermarkets to join the program. This major endorsement follows support from national faith communities, food and agriculture groups, elected officials, grassroots organizations, and Hannaford's own shareholders.
The endorsement from organized labor in Hannaford's home state also comes on the eve of the upcoming Milk with Dignity march in Portland, Maine. This Saturday, farmworkers and allies will march through Portland to denounce the severe human rights abuses in Hannaford's supply chain, call out the grocery chain's cynical attempts to sweep abuses under the rug, and urge the company to join the Milk with Dignity program.
This Saturday at 2pm: march with farmworkers in Portland to demand Milk with Dignity!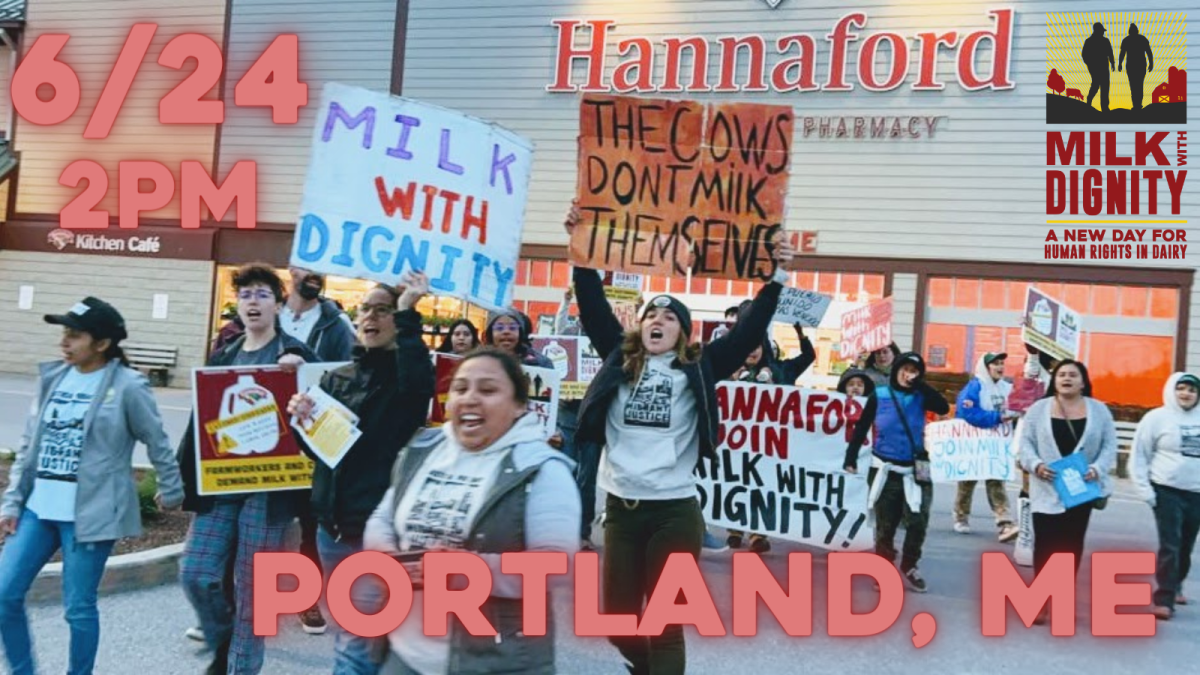 Maine AFL-CIO wrote to Hannaford last week:
"Hannaford's dairy supply chain includes farms where workers are suffering from severe human rights abuses. This includes situations where immigrant farmworkers labor long hours in dangerous conditions for low pay and live in substandard housing. . . . Farmworkers and union members are united in calling for Milk With Dignity. We respectfully request that you respond to this letter to inform us of your position and whether or not you intend to join the Milk with Dignity Program. Our 200 affiliated organizations across the state of Maine eagerly await your response."
On Saturday,Maine union members will join farmworkers in the streets. Migrant Justice is chartering buses to bring farmworkers and allies to Portland. If you live in Vermont or the Upper Valley region of New Hampshire, you can reserve a spot on the bus. We will be traveling there and back on Saturday and providing meals throughout the day.
Traveling to Portland from Vermont or New Hampshire? Reserve a spot on the bus today!
On June 24th, farmworkers and consumers will together send Hannaford a message they can't ignore: we demand Milk with Dignity!