June 24th: Announcing the Maine march on Hannaford!
Posted Fri, 05/26/2023 - 2:49pm
Last month saw an unprecedented level of support for Milk with Dignity. Throughout April, farmworkers toured across the northeast, holding 50 organizing meetings, taking action at dozens of Hannaford stores, and connecting with hundreds of new supporters. We capped the Organizing Tour with a spirited Mayday celebration along with others in the labor movement. On International Workers Day, Hannaford received hundreds of calls from customers, as well as new endorsement letters from unions, grassroots organizations, and over 50 state legislators demanding Milk with Dignity. And the following day, Migrant Justice was honored by a recognition from the Vermont House of Representatives.
Now we are announcing the next step in the Milk with Dignity campaign. On Saturday, June 24th, hundreds will converge in Portland, ME – near Hannaford's corporate headquarters – in a mass march demanding Milk with Dignity.
Join us on 6/24 at 2pm in Portland, Maine to march on Hannaford!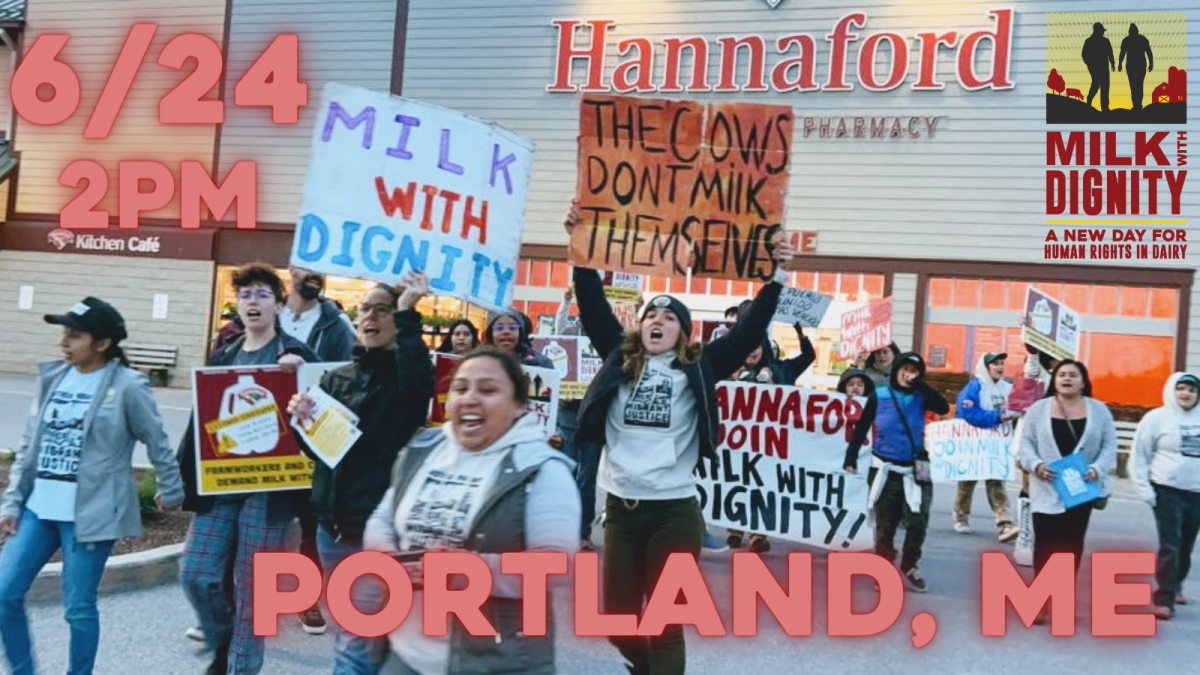 We last marched in Portland in the fall of 2021, bringing hundreds of people to Maine's principal city to turn up the heat on Hannaford. The upcoming action promises to be even bigger: at each stop on the tour, participants signed pledge forms committing to march with farmworkers. 250 of you have already pledged to march on 6/24; over the next month, we need hundreds more to join in.
Migrant Justice is chartering buses to bring farmworkers and allies to Portland. If you live in Vermont or the Upper Valley region of New Hampshire, you can reserve a spot on the bus. We will be traveling there and back in on Saturday the 24th and providing meals throughout the day. But space on the buses is limited, so act fast to reserve your seat!
Traveling to Portland from Vermont or New Hampshire? Reserve a spot on the bus today!
On June 24th, farmworkers and consumers will together send Hannaford a message they can't ignore: we demand Milk with Dignity!
p.s. Actions like these need resources! Can you chip in $60 to cover one farmworkers' seat on the bus?