The National Farm Worker Ministry takes action for Milk with Dignity
Posted Wed, 07/26/2023 - 12:43pm
The National Farm Worker Ministry has been organizing faith communities since 1920 to support farmworkers. They were a key pillar of solidarity in the United Farm Workers' historic grape boycotts of the 1960s. Now the NFWM is throwing their support behind dairy workers' fight for Milk with Dignity!
Now, the Ministry is holding their annual Board of Directors meeting at the Migrant Justice office in Vermont. Faith leaders from around the country are gathering to chart the future of the organization and build relationships with dairy workers organizing for human rights and economic justice.
On July 28th, NFWM and Migrant Justice will join forces to picket Hannaford Supermarkets and call on the grocery chain to join the Milk with Dignity Program. This step comes after the Ministry sent two letters to Hannaford expressing concerns about mistreatment of workers in the company's supply chain – one in 2020 and one earlier this year – without response.
Come out to the picket line on 7/28 at 5:30pm in South Burlington to join farmworkers and faith leaders demanding Milk with Dignity!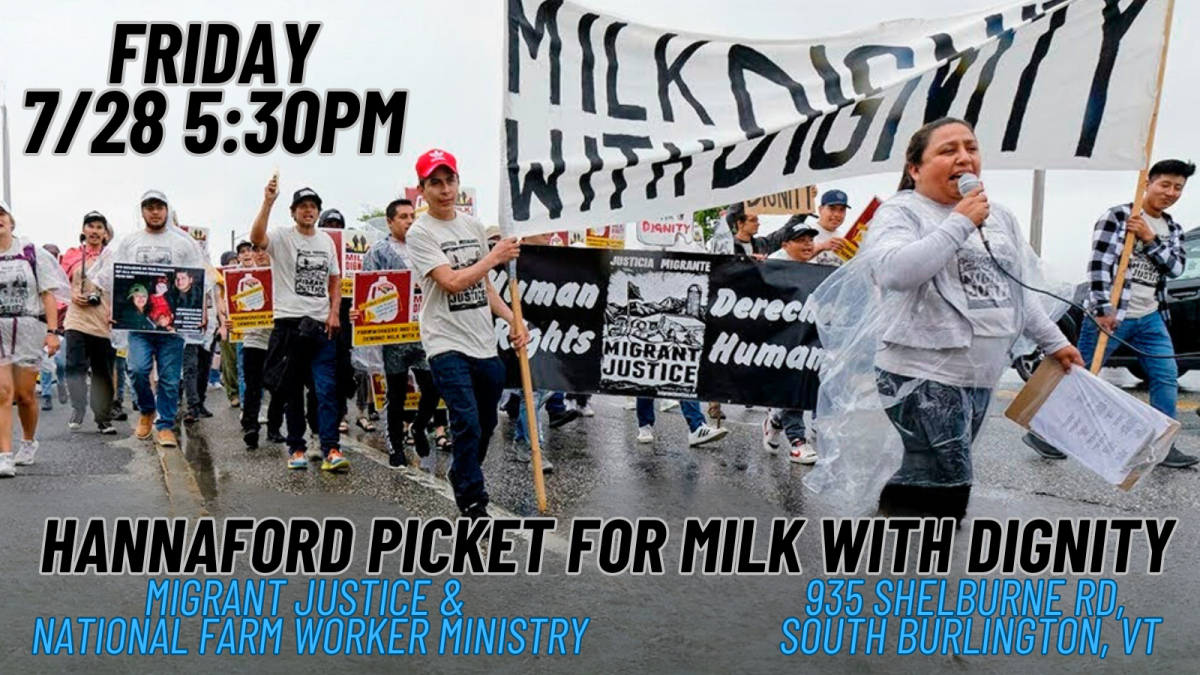 It has been a busy summer for the farmworker leaders of Migrant Justice. In June, workers led hundreds in a march through downtown Portland. Last week – despite the ongoing devastation from flooding around Vermont – the community gathered for our summer soccer tournament. 17 teams competed in the biggest annual gathering of the farmworker community in the state. Midway through the tournament, players and spectators took a break from the soccer fields for a surprise march and rally at a nearby Hannaford!
Meanwhile, Hannaford's attempts to bolster its brand image have been dealt a new blow. Back in April, at the annual shareholder meeting of Hannaford's parent company Ahold Delhaize, Migrant Justice questioned the corporation's Board and executives about documented abuses in the company's supply chain. 
The CEO of Ahold USA sought to defend the company's practices, claiming that they have been independently reviewed by the Corporate Human Rights Benchmark. It didn't take much digging to find that the Corporate Human Rights Benchmark had only awarded Ahold a 22.4 points out of 100.
Now another international initiative rating corporations' human rights commitments, helmed by the Business and Human Rights Resource Centre, has released its report on Ahold Delhaize. On this metric, Hannaford's parent company received an even lower score: 11 out of 100! In the area evaluating companies' ability to remedy human rights abuses in their supply chains, Ahold was not awarded a single point.
By any measure, Hannaford's claims that the company protects the rights of farmworkers in its supply chain are demonstrably false. If Hannaford is serious about living up to its rhetoric, the choice is clear: join the worker-driven Milk with Dignity Program.
On 7/28, join the National Farm Worker Ministry and Migrant Justice to picket Hannaford and demand Milk with Dignity