Maine march photo-report – and Hannaford's response
Posted Sun, 07/16/2023 - 10:18am
On June 24th, hundreds of farmworkers and allies from around the region converged in Portland, Maine for a mass march on Hannaford Supermarkets. Led by three bus-loads from Vermont, marchers traversed Hannaford's hometown to bring a clear message that workers and consumers demand Milk with Dignity.
Under driving rain followed by beating sun, marchers made their way from one Hannaford store to another, winding through the packed downtown of Maine's principal city – to the honks and cheers of onlookers. The action generated blanket coverage from Maine's press corps, with positive reporting in print, TV, and radio.
Dairy worker Emilio – who capped the march with a rousing speech in front of the final Hannaford store – told NBC News:
"On my farm we want to see better housing, better pay, vacations – things we don't have now. We want to see improvements on these farms and that's what we're demanding from Hannaford. This march is a big step forward; the more who take action, the better. Because there is strength in numbers, strength in unity, and we are a community united. We know what we want and we're here to fight for it."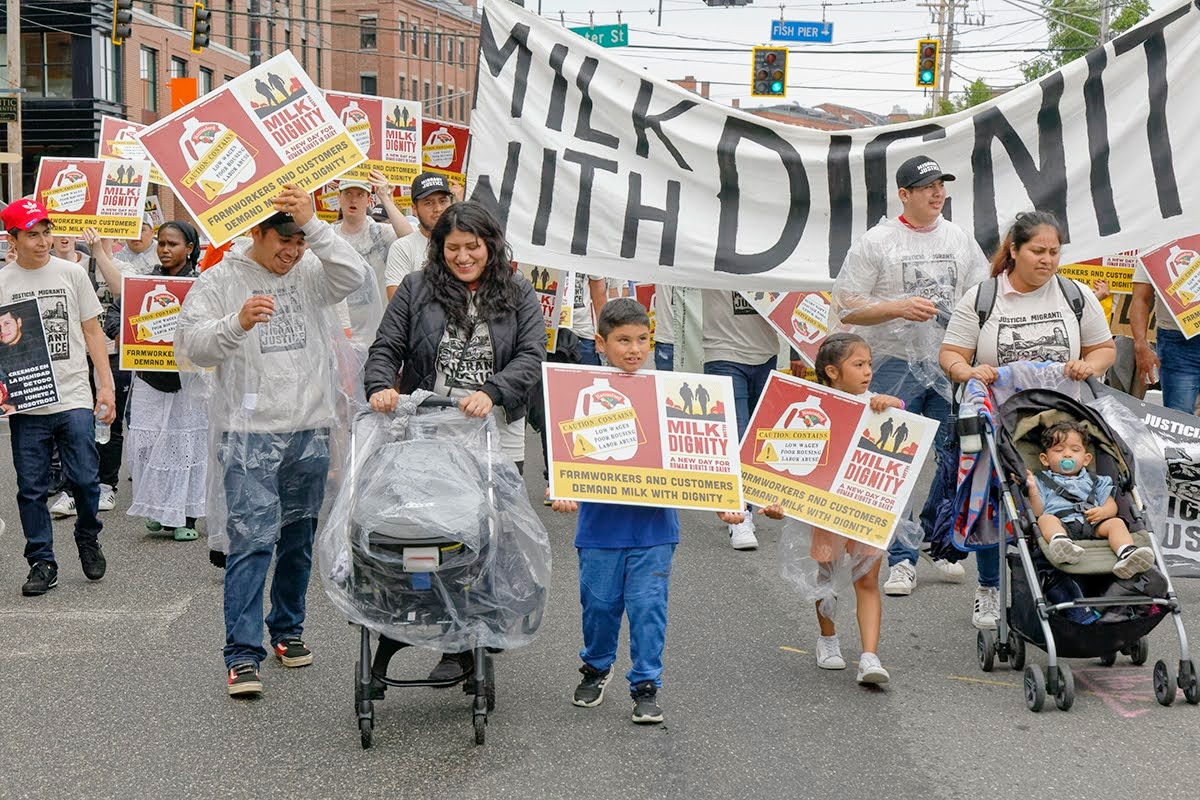 With pressure mounting on the grocery chain, Hannaford has begun to hit back. The corporation released a press statement and planted stories in industry publications criticizing Milk with Dignity and the farmworkers behind the transformative human rights program. Hannaford pointed to an industry initiative named Farmers Assuring Responsible Management (FARM), calling it "a comprehensive program to support farmers in building excellent and safe work environments."
FARM was created by the National Milk Producers Federation to "show customers and consumers that the dairy industry is taking the very best care of cows and the environment." Labor practices – termed "workforce development" – were later added on. 
At its core, FARM's Workforce Development is a human resources tool, not a program to protect human rights. This is explicit in their own materials, which tell farmers that evaluations are not concerned with legal compliance and do not require changes of employment practices.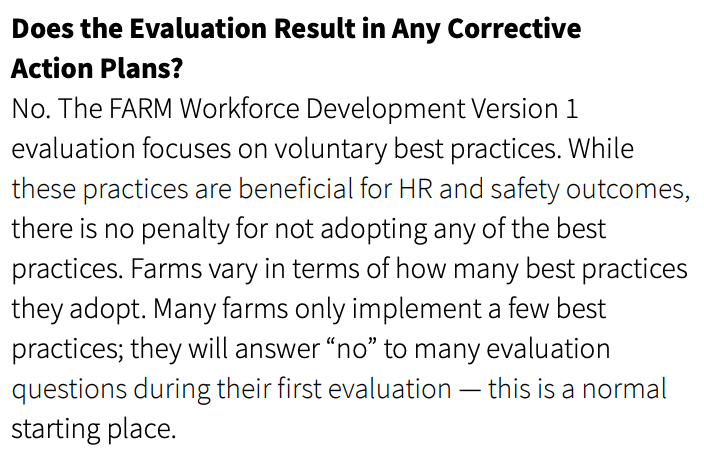 Prompted by Hannaford, FARM released its own statement, Yet the modest claims in their statement show the huge gap between Hannaford's public relations push and the reality of what FARM actually provides: "[We offer] dairy-focused resources and information to further [farms'] HR and safety management efforts and document their progress." 
In covering itself with an industry-created human resources tool, Hannaford is operating by the classic playbook of companies exposed for human rights abuses. But as workers and consumers demonstrated in our recent march, we aren't falling for Hannaford's tricks – we demand Milk with Dignity!
Now check out the photos from June's march: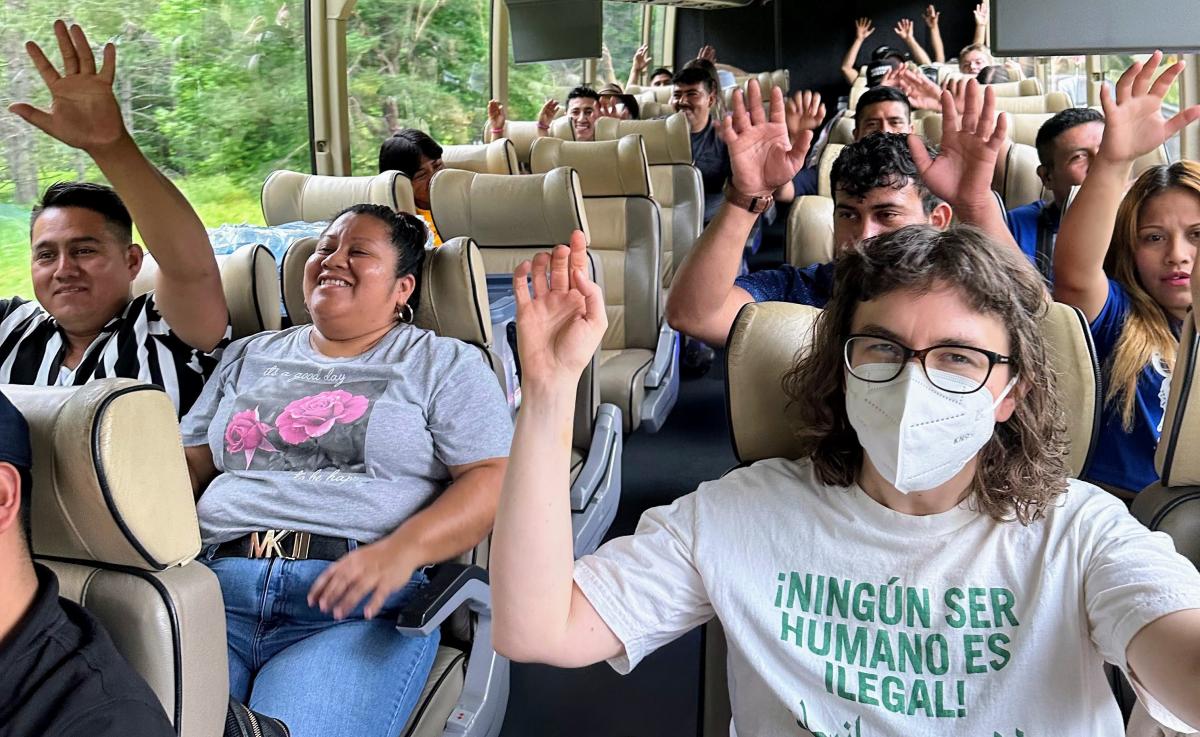 Farmworkers and allies loaded three buses in Vermont to make the trip to Maine. We took advantage of the travel time to practice chants along the way!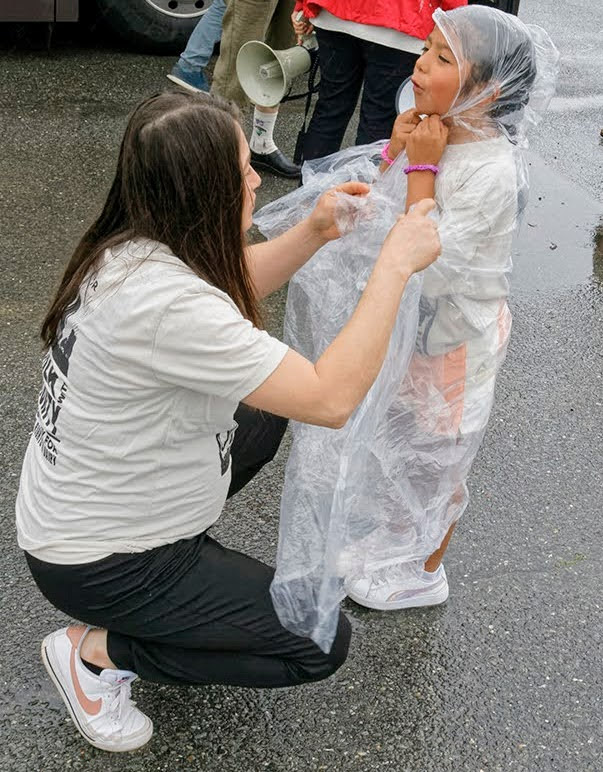 The buses were met by supporters from Maine and around the region. We arrived in a driving rain – time to put on the ponchos!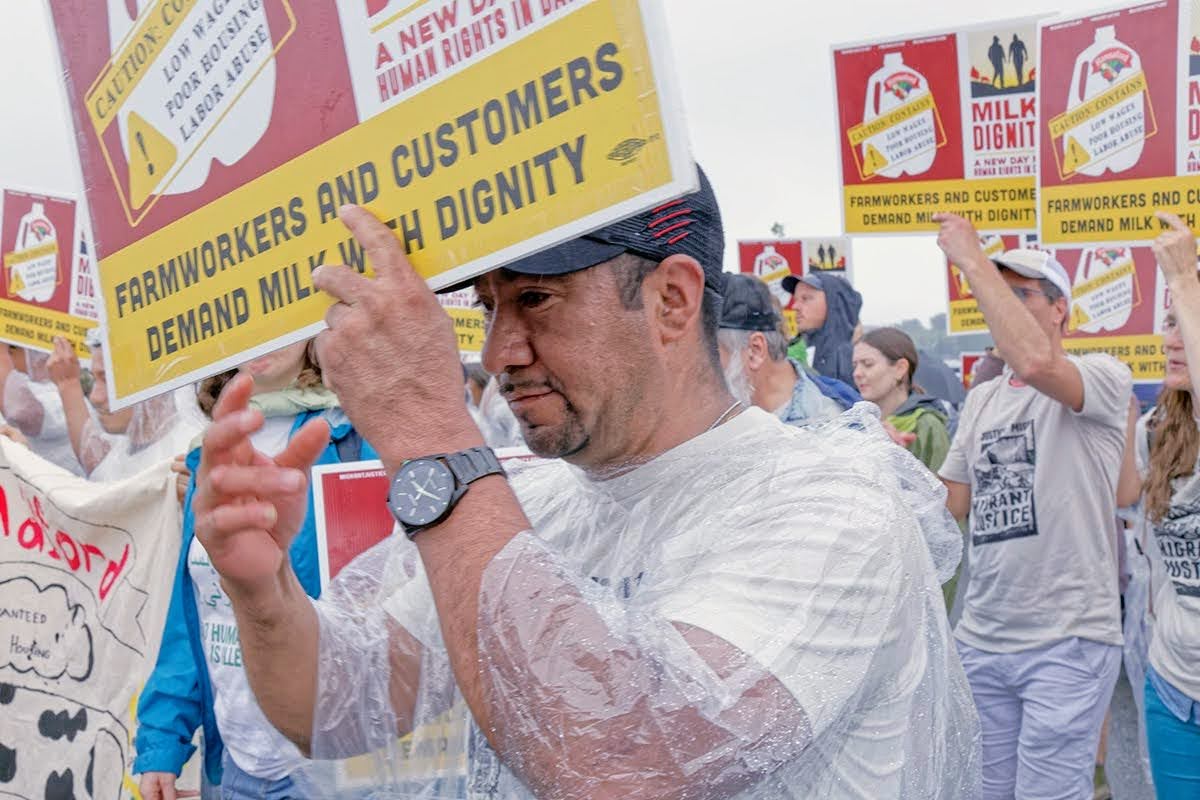 Marchers were undeterred by the weather: "Ni lluvia, ni viento, detendrá el movimiento!"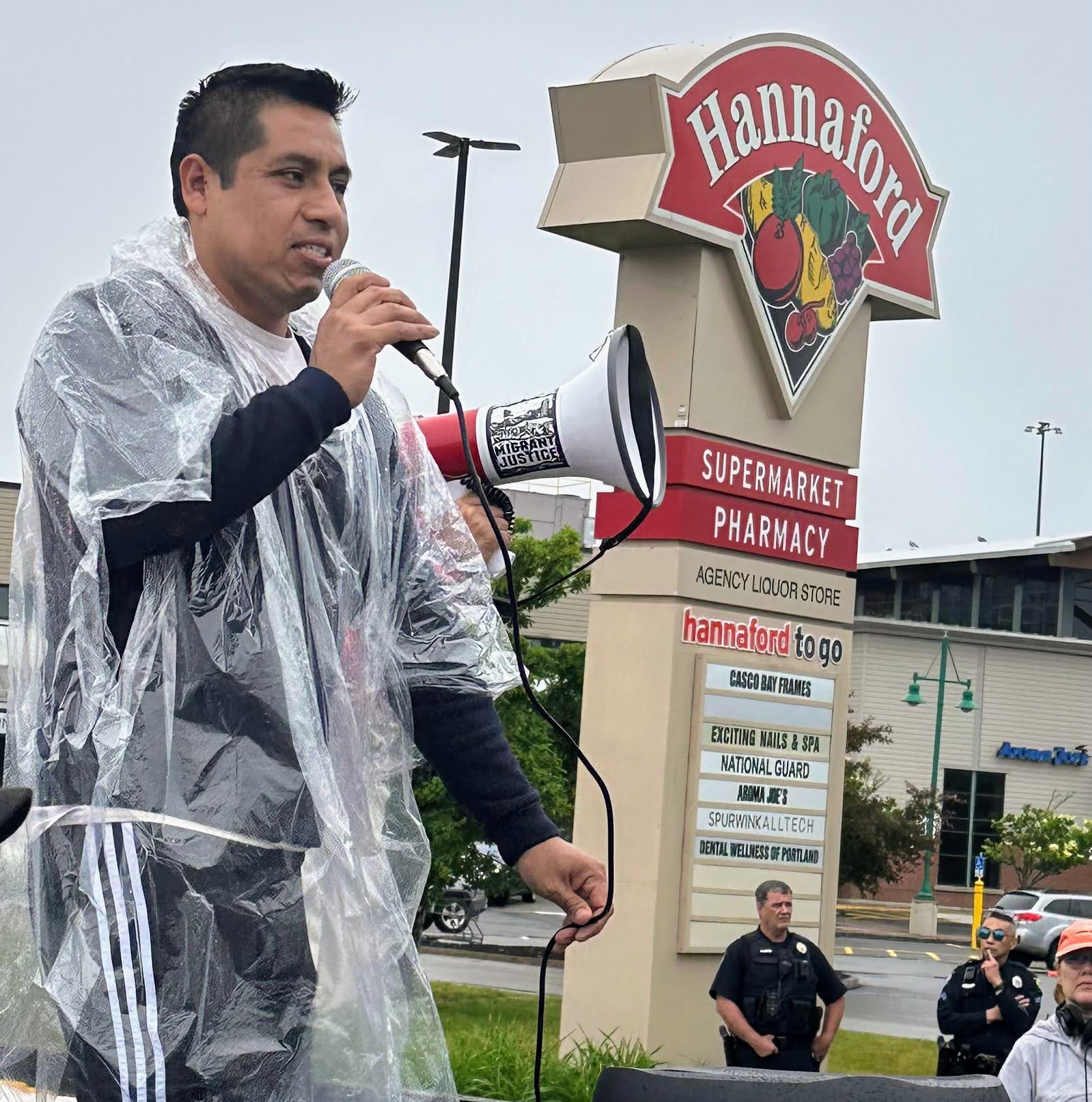 Arriving at the first Hannaford, Migrant Justice leader Yobani rose to speak about the transformations on his farm from Milk with Dignity and called on Hannaford to join the program so all workers could share the same rights and benefits that he has.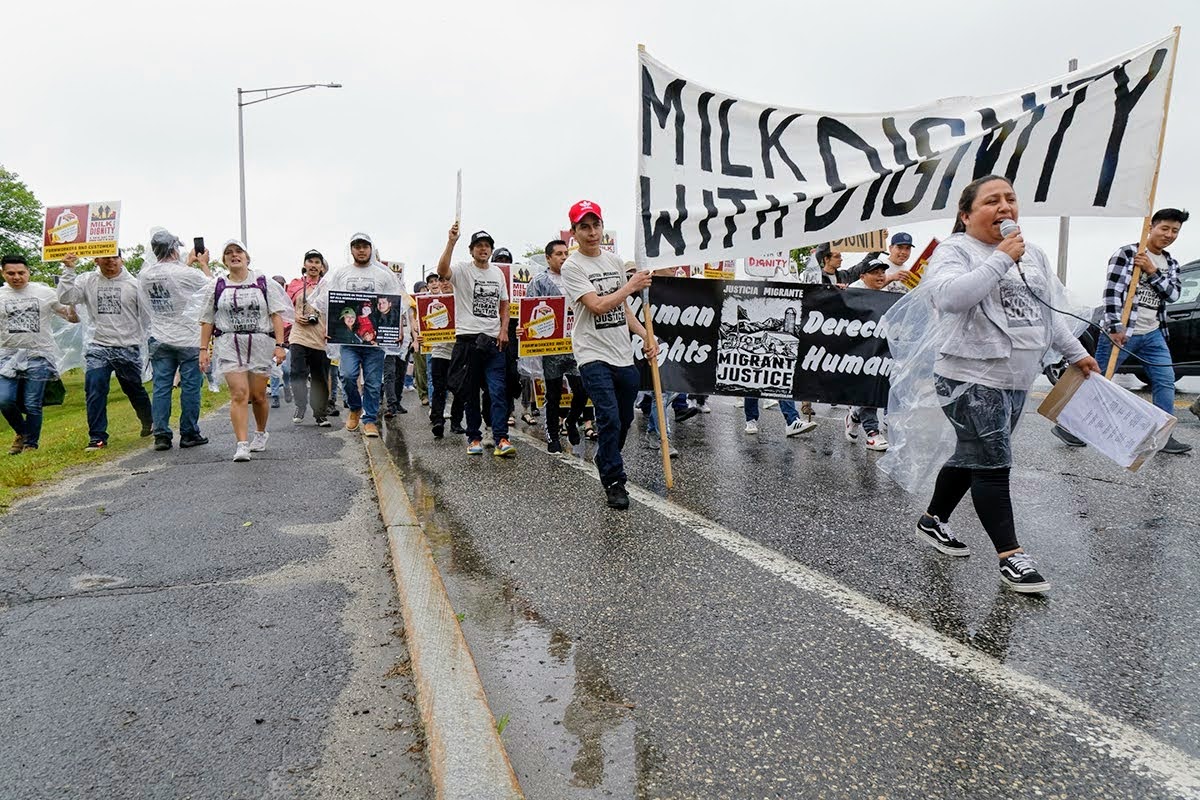 "What do we want? Milk with Dignity! When do we want it? Now!"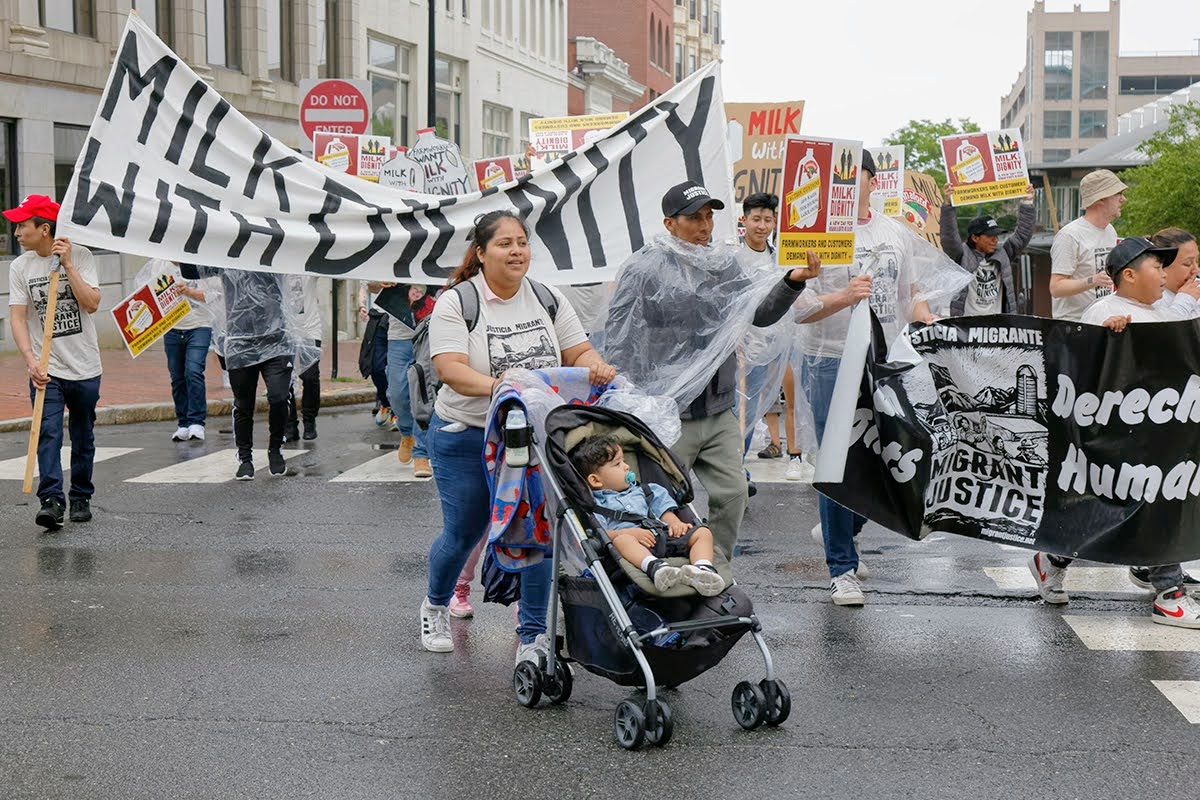 As always, the march was a family affair. Parents pushed kids in strollers for the miles-long march route.
"Leche justa, a mí me gusta!"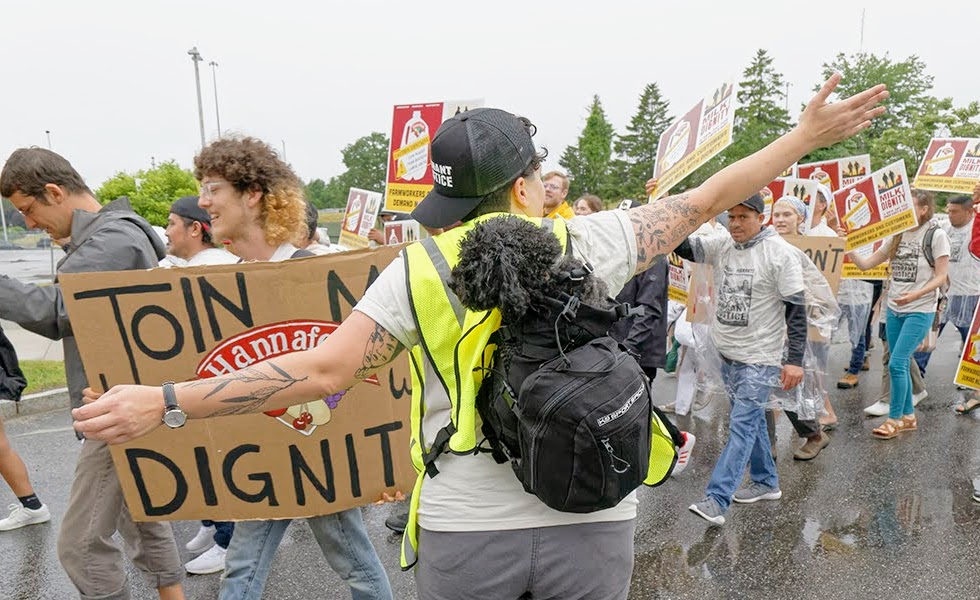 We were joined by four-legged supporters as well!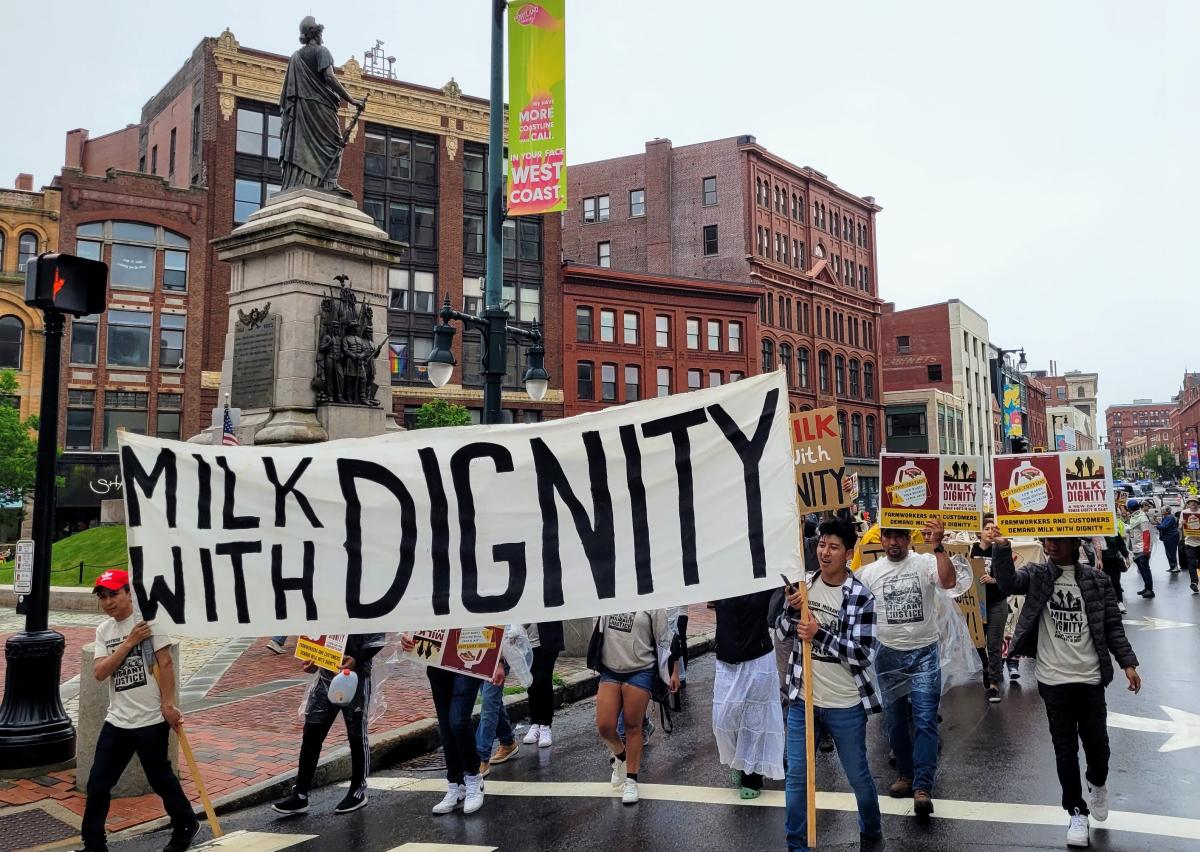 After a mile march, we arrived at the iconic Monument Square in downtown Portland. Our chants echoed through the city's streets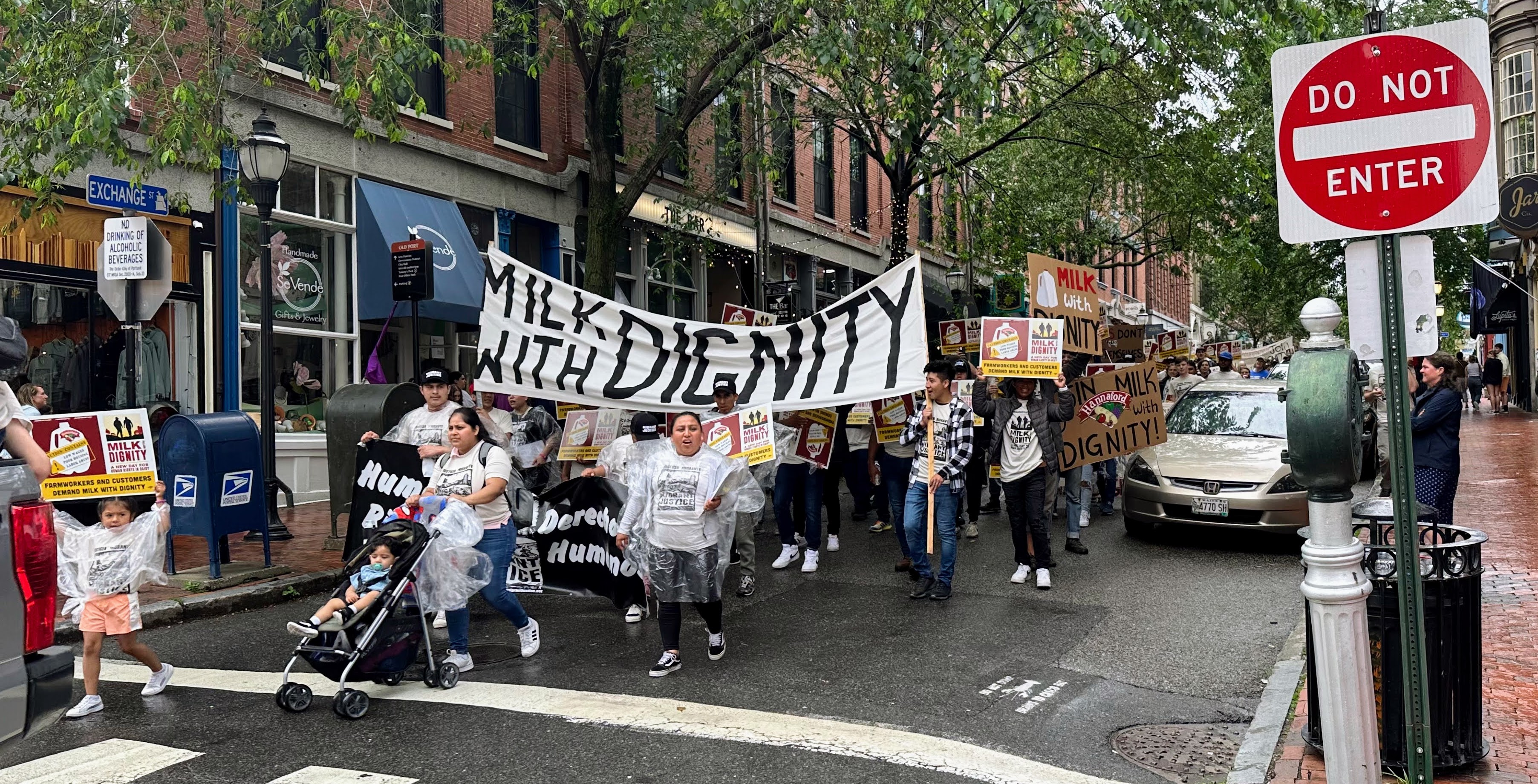 As we made our way through Portland's Old Port, onlookers came out of local shops and cafes to show their support.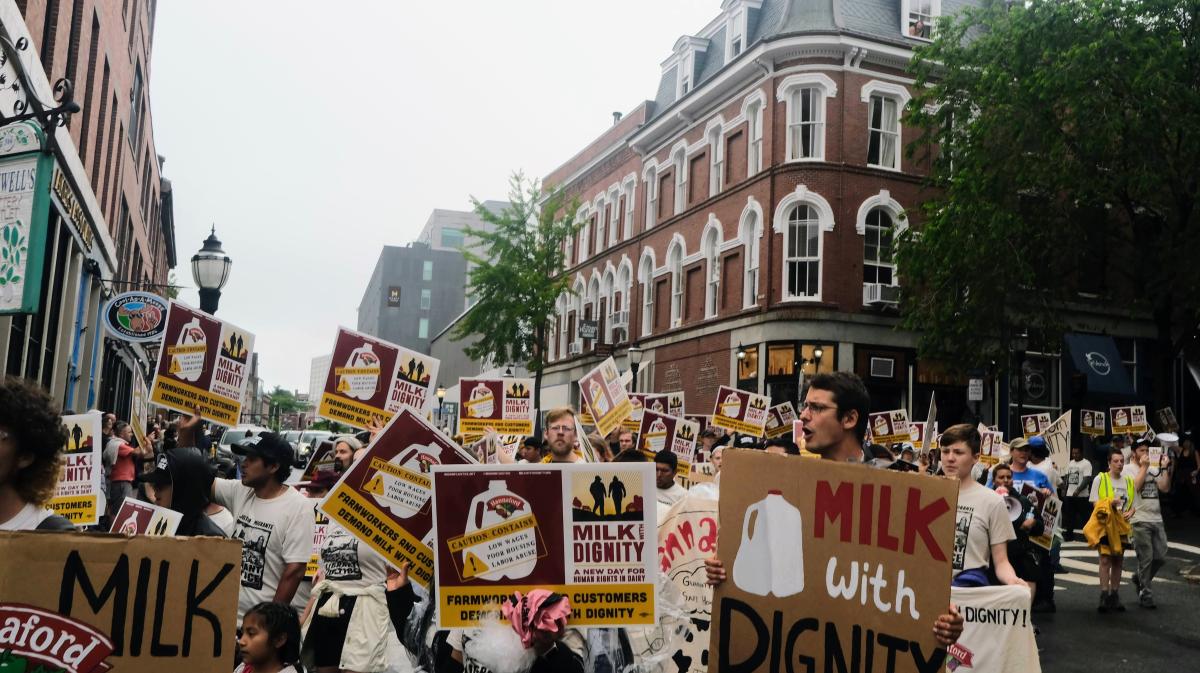 "Get up, get down, Milk with Dignity is coming to town!"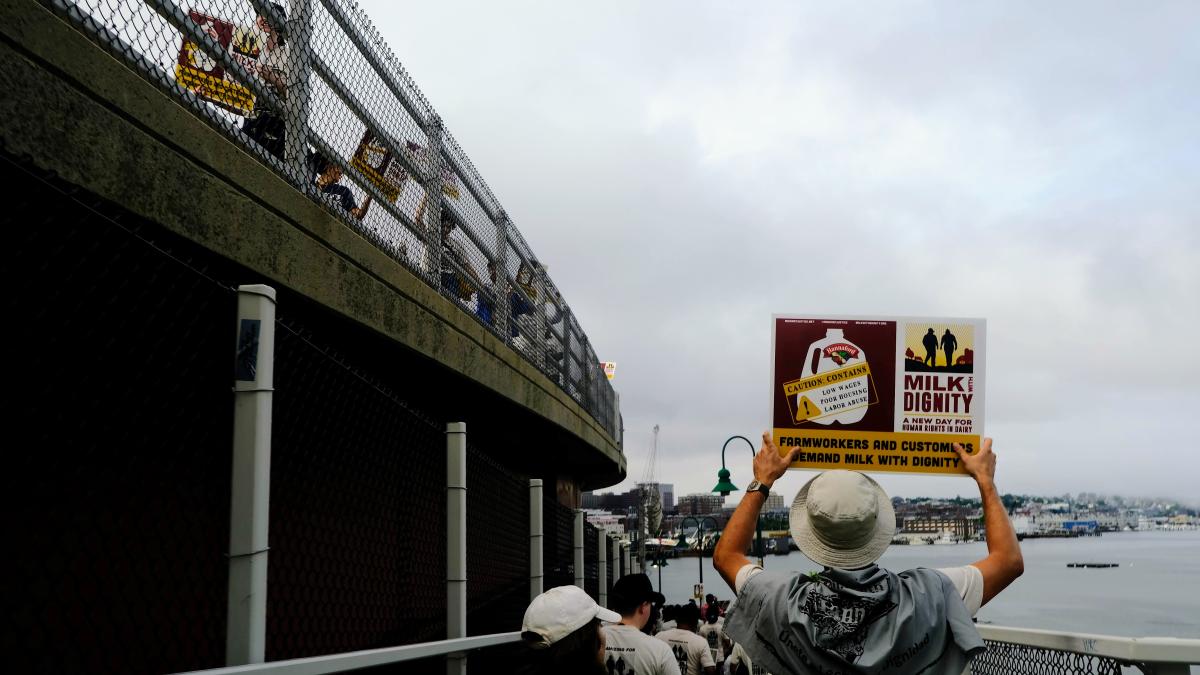 After two miles in Portland, we crossed the expansive Casco Bay Bridge to make our way to South Portland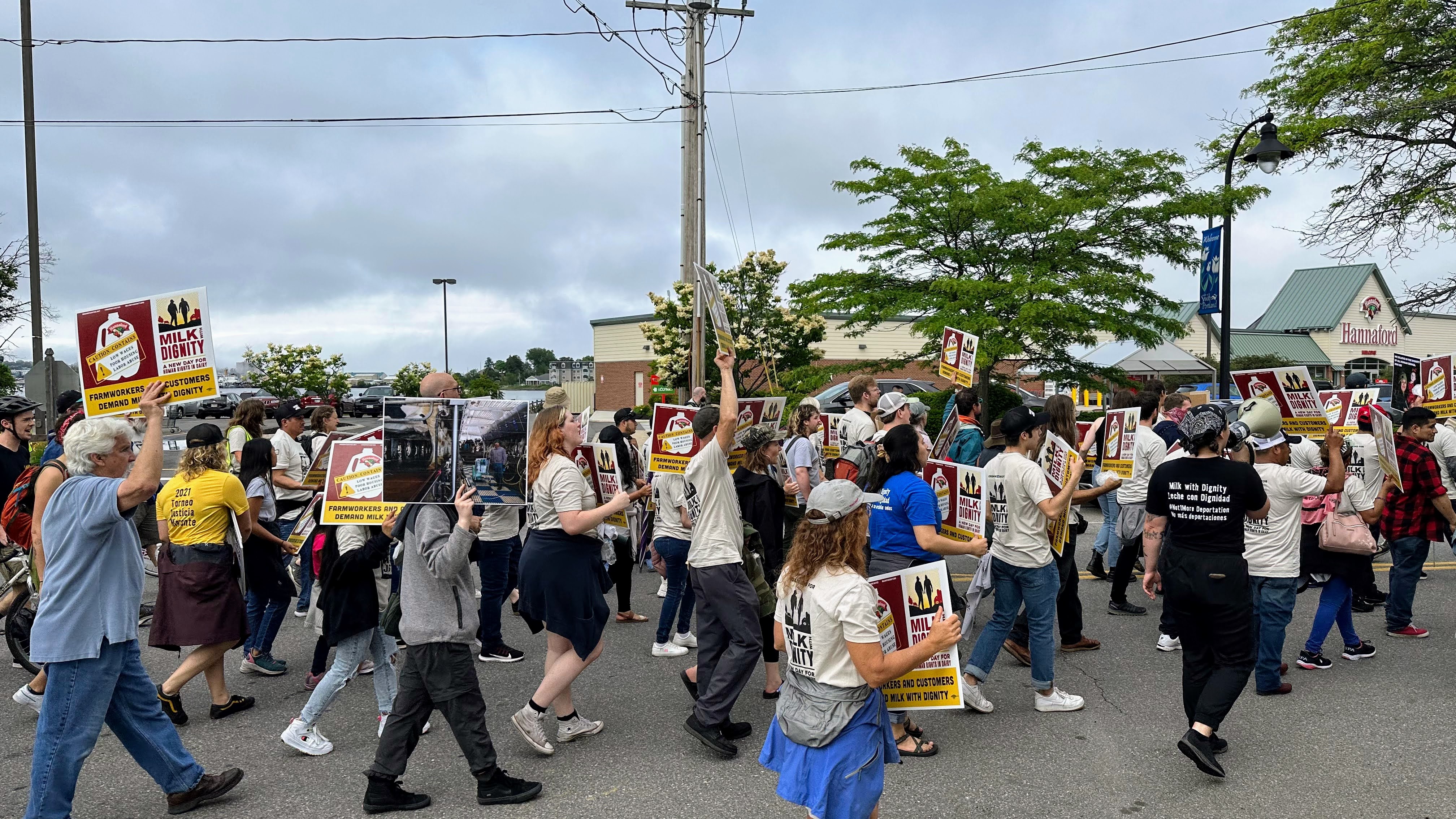 Marching a final mile through South Portland, we approached another Hannaford Supermarket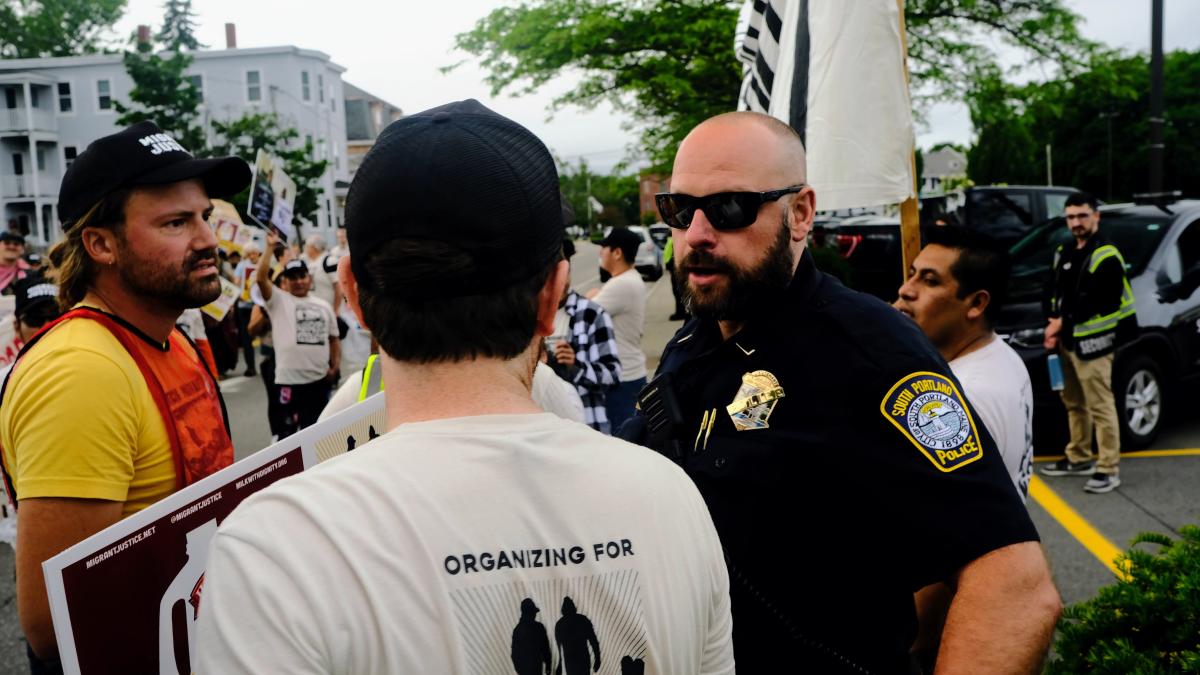 Hannaford met farmworkers with heavy security and police presence…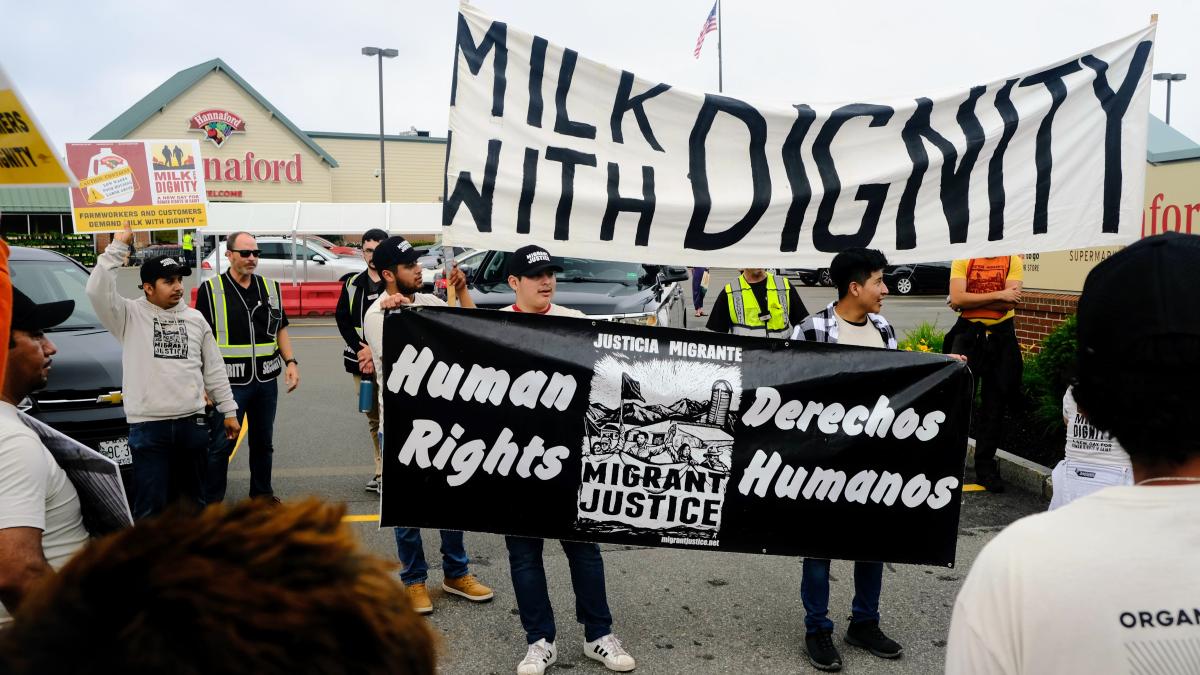 …but undeterred, marchers set up in front of the store entrance.
The hundreds of marchers spilled into the streets, demanding Milk with Dignity.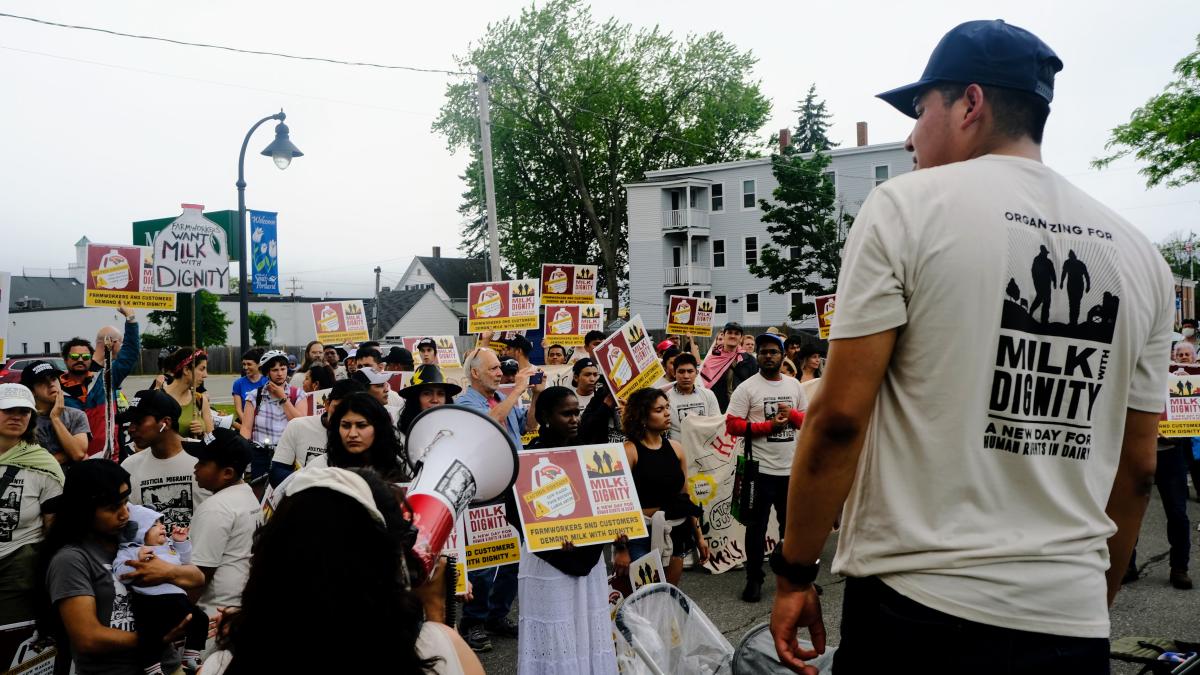 Migrant Justice leader Emilio addressed Hannaford executives and an electrified crowd. Hoarse from hours of chanting, he spoke of the poor conditions on his farm, the official complaint that he and his co-workers lodged with Hannaford, and how it was ignored by the company.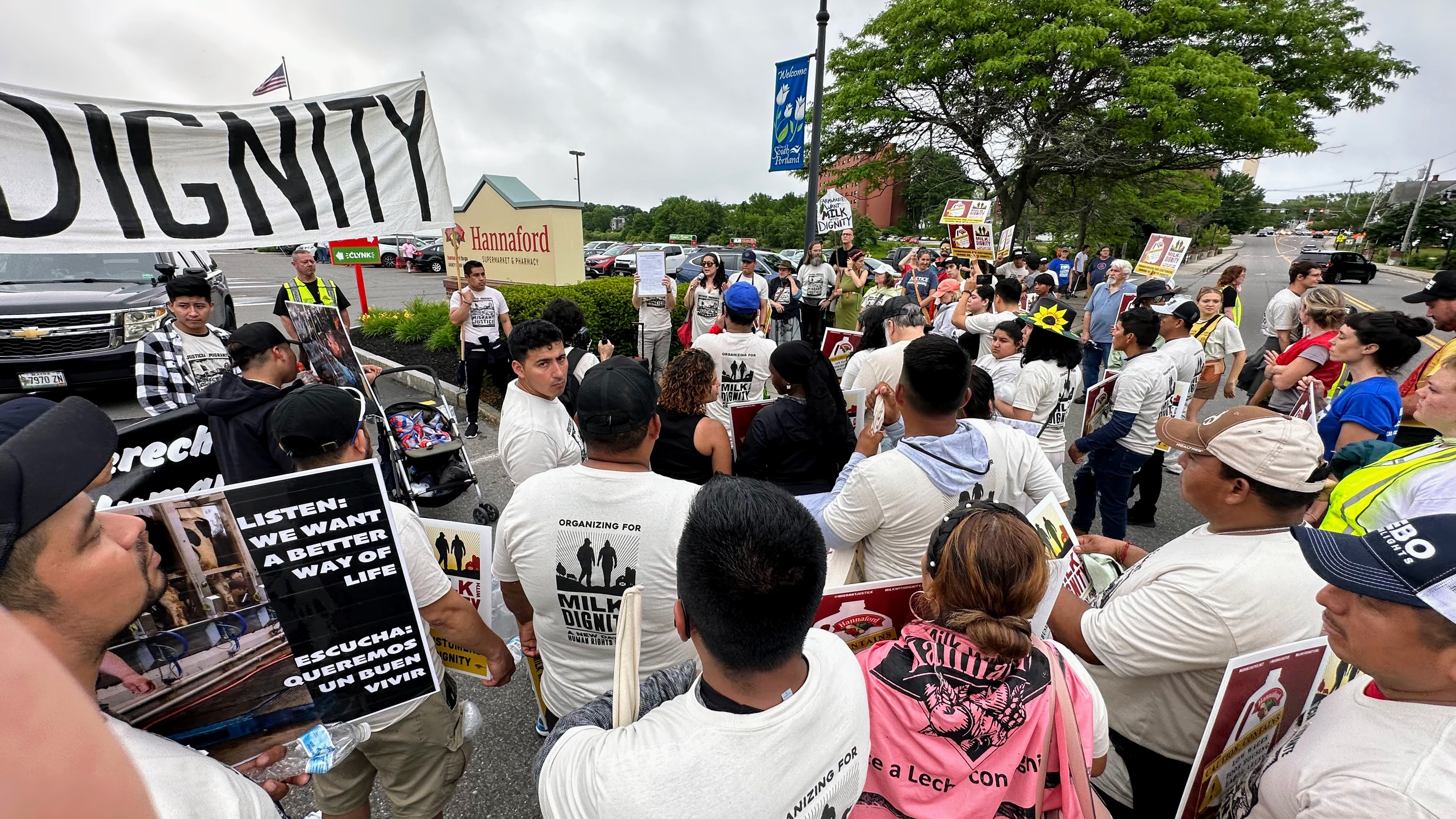 We presented Hannaford with Emilio's complaint, along with nine others, before wrapping up the action. "Hannaford, listen up! Farmworkers aren't giving up!"
Thanks to Colin Monahan, James McCarthy, and José Luis Córdova for the photos