Posted Wed, 10/12/2016 - 2:11pm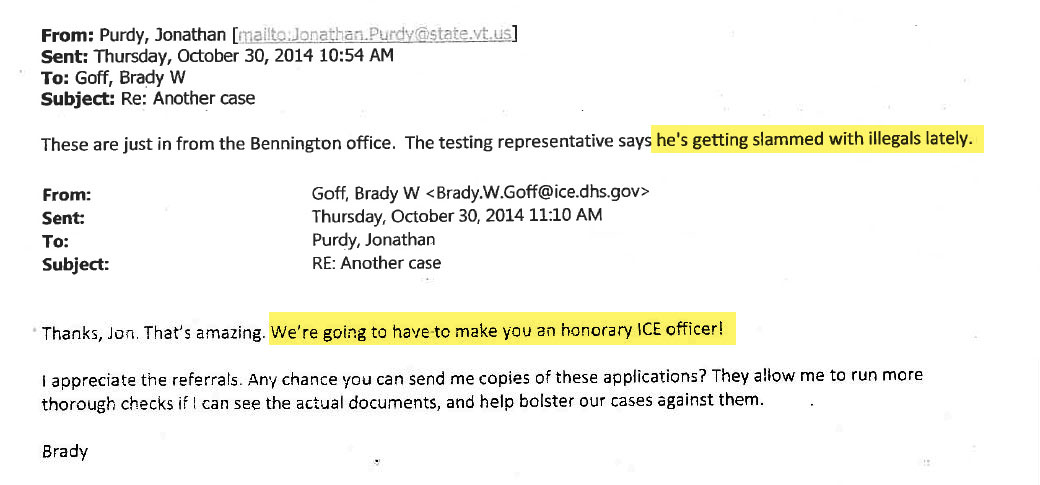 In an explosive new report, investigative journalists at VTDigger have published an exposé of routine and casual collusion between Vermont DMV employees and federal immigration agents to target, arrest, and deport DMV customers.  The report draws from over 50 pages of emails obtained by Migrant Justice in a public records request that show rampant discrimination against immigrants in the months following the 2014 implementation of a state law allowing undocumented drivers access to a license.
Excerpts from emails between DMV employees, and between DMV and ICE employees, include:
"I can send you a list of the names if you like but they are all 'South of the Border' names"
"I've emailed the docs to Border Patrol and they will research further and get back to me. They sound pretty excited. I let them know [applicant] has re-scheduled for this Friday.  I will also contact [DMV employee] and let him know what is going on, should he have to play stupid.  [He] loves to play stupid!"
"We are being over run by immigrants"
Read the full report to learn how immigrant Vermonters are fighting back against discrimination at the DMV!