Posted Thu, 06/25/2015 - 2:04pm
***November 2016 Campaign Update: Migrant Justice and Ben & Jerry's agreed in May 2015 to work together to operationalize the Milk with Dignity Program in the Ben & Jerry's Supply Chain and have been working steadily towards that goal ever since!
"Congratulations to everyone! We are a strong team. We have seen that we have a lot of power! By organizing and defining what we want we achieved this big step forward as workers. ¡Si Se Puede!"
-Jessica Ramirez, Migrant Justice Farmworker Coordinating Committee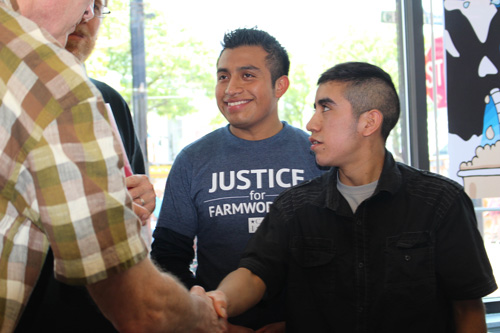 Last week was an amazing week for Vermont dairy workers' movement!
If you haven't heard already we reached an important agreement with Ben & Jerry's on the evening before 17 Milk with Dignity solidarity actions were planned at scoop shops across the nation!
This is a major step forward towards securing the fundamental human rights of farmworkers in Ben & Jerry's supply chain. The heart of our agreement reads:
"This document represents Ben & Jerry's commitment to work with Migrant Justice towards a written agreement to further detail and realize the essential elements of Migrant Justice's Milk with Dignity program that will be adopted within Ben & Jerry's Northeast dairy supply chain."
Photo by Pat Jackson.