Posted Thu, 05/14/2015 - 4:59pm
***November 2016 Campaign Update: Migrant Justice and Ben & Jerry's agreed in May 2015 to work together to operationalize the Milk with Dignity Program in the Ben & Jerry's Supply Chain and have been working steadily towards that goal ever since!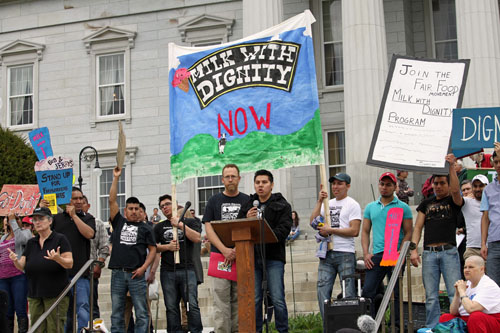 On May Day a powerful grassroots movement of Vermont dairy farmworkers marched in the streets of Montpelier, VT with hundreds of workers and allies demanding Vermont step up its commitment to workers' rights.  Farmworker leader Enrique Balcazar told a crowd of supporters that dairy workers are fed up with wage theft, dangerous working conditions, no time off, substandard housing, and no enforcement of their rights. He offered farmworkers' solution:
"Join us for a national day of action on June 20th calling on Ben & Jerry's to take responsibility for these conditions in their supply chain. They've stood up to protect cows and chickens but not farmworkers! We need Milk with Dignity!"