On MLK Day, Announcing the "Dignity Tour"
Posted Mon, 01/20/2020 - 11:09pm
In the final act of his life, Martin Luther King, Jr. traveled to Memphis to support striking Black sanitation workers. Bolstering workers' demands for a fair wage and dignified treatment, King delivered his "All Labor Has Dignity" speech, affirming: "Whenever you are engaged in work that serves humanity and is for the building of humanity, it has dignity, and it has worth. One day our society must come to see this."
Today on Martin Luther King Day, inspired by the legacy of MLK and the Black freedom struggle, farmworkers are announcing the Dignity Tour. In mid-March, Migrant Justice will hit the road for a two-week speaking tour, presenting to audiences throughout the northeast to build support for the Milk with Dignity campaign.
We are continuing to call on Hannaford supermarkets to recognize the dignity and humanity of the dairy workers behind Hannaford brand milk. Earlier this month, farmworkers sent Hannaford CEO Mike Vail a letter with 3,500 signatures urging the company to listen to workers' demands.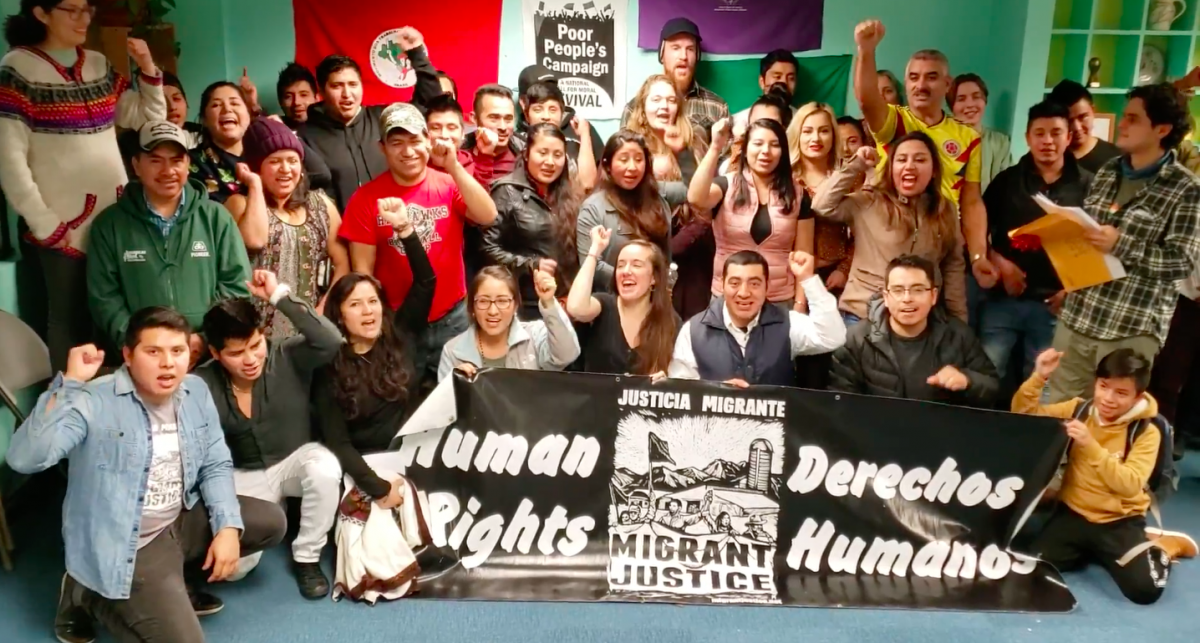 Farmworkers and allies gathered at the Migrant Justice office on Three Kings Day -- or Epiphany -- to deliver a message to Hannaford supermarkets, sending a petition with thousands of signatures demanding Milk with Dignity
In the coming weeks, we will be announcing the stops on the Dignity Tour. In the meantime, we are asking supporters to take action by writing postcards to Hannaford echoing workers' demands to be treated with dignity.
Can you commit to asking people to write postcards at your work, school, faith community -- or better yet, in front of a Hannaford store? Follow this link for all the information you need, and fill out the form for us to send you postcards!
Through the Milk with Dignity program, hundreds of farmworkers have won higher wages, improved conditions, and a new sense of dignity in their jobs. Now we must fight to expand the program to cover thousands more. We know that this is no easy task, but we find inspiration in the message of Doctor King.
Standing in front of striking workers in 1968, King closed his speech with those timeless words:
"Never forget that freedom is not something that is voluntarily given by the oppressor. It is something that must be demanded by the oppressed… If we are going to get equality, if we are going to get adequate wages, we are going to have to struggle for it."