"I knew I wasn't alone:" Workers picket wage theft and violence at Goodrich Farm
Posted Sun, 03/01/2020 - 8:45pm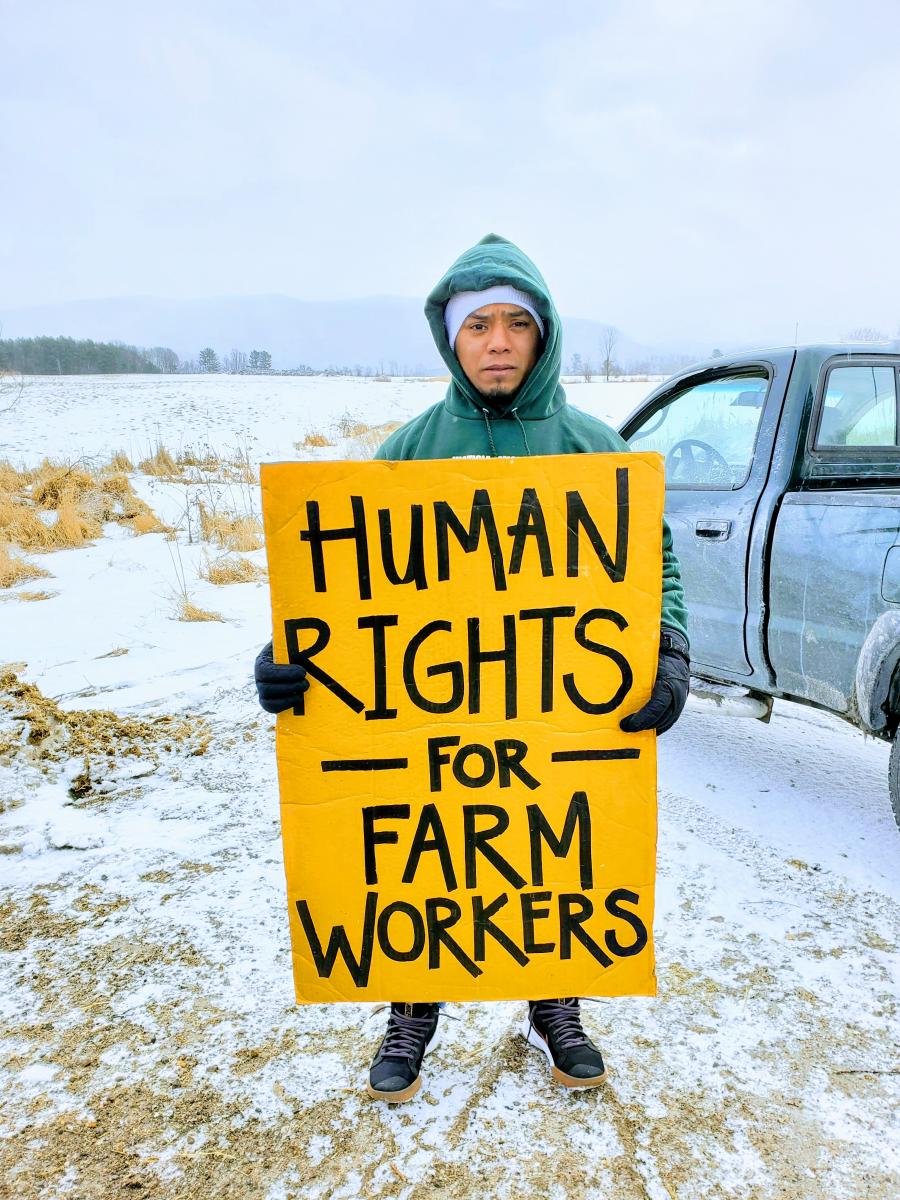 "When I saw them coming at me, I felt scared. But when I looked around I lost my fear. I knew I wasn't alone."
Saturday morning, farmworker José Ramos marched down a back road in Addison County at the head of 50 fellow workers, neighbors, students and faith leaders. When the crowd arrived at the notorious Goodrich Farm -- long known among workers as a farm that rips off and mistreats workers -- the owners came charging at the marchers, pushing people and shouting obscenities.
For José, the scene was a flashback. Earlier in the week, he had gone to Goodrich Farm, his former employer, to collect his final paycheck.  Accompanied by a Migrant Justice organizer, José found his former boss in the barn and asked for the $600 he is owed. In response, she forcefully shoved him out of the barn and slammed the door in his face. A supervisor also assaulted the Migrant Justice organizer. The farm owner screamed at the two to leave, threatening to call the police. Terrified, José ran from the farm. As he drove off, he was followed by one of the farmers.
On Saturday, José felt the same fear rising in him again as the bosses came rushing toward him. But this time, something was different. His community had his back. José climbed on to the bed of a pickup, looked out on the crowd, and addressed the farm owners.
"I'm not here to cause trouble; I'm just here to get what I am owed. When our rights are stepped on, we have to speak up and say enough is enough. We are human beings!"
José is not the first worker to face abuse at Goodrich Farm. Workers over the years have reported mistreatment and stolen wages. A Migrant Justice volunteer accompanied another worker onto the farm several months ago to collect unpaid wages and was also sworn at and run off. José's bravery in speaking out and taking action is putting an end to the culture of silence that has allowed this abuse to go unpunished.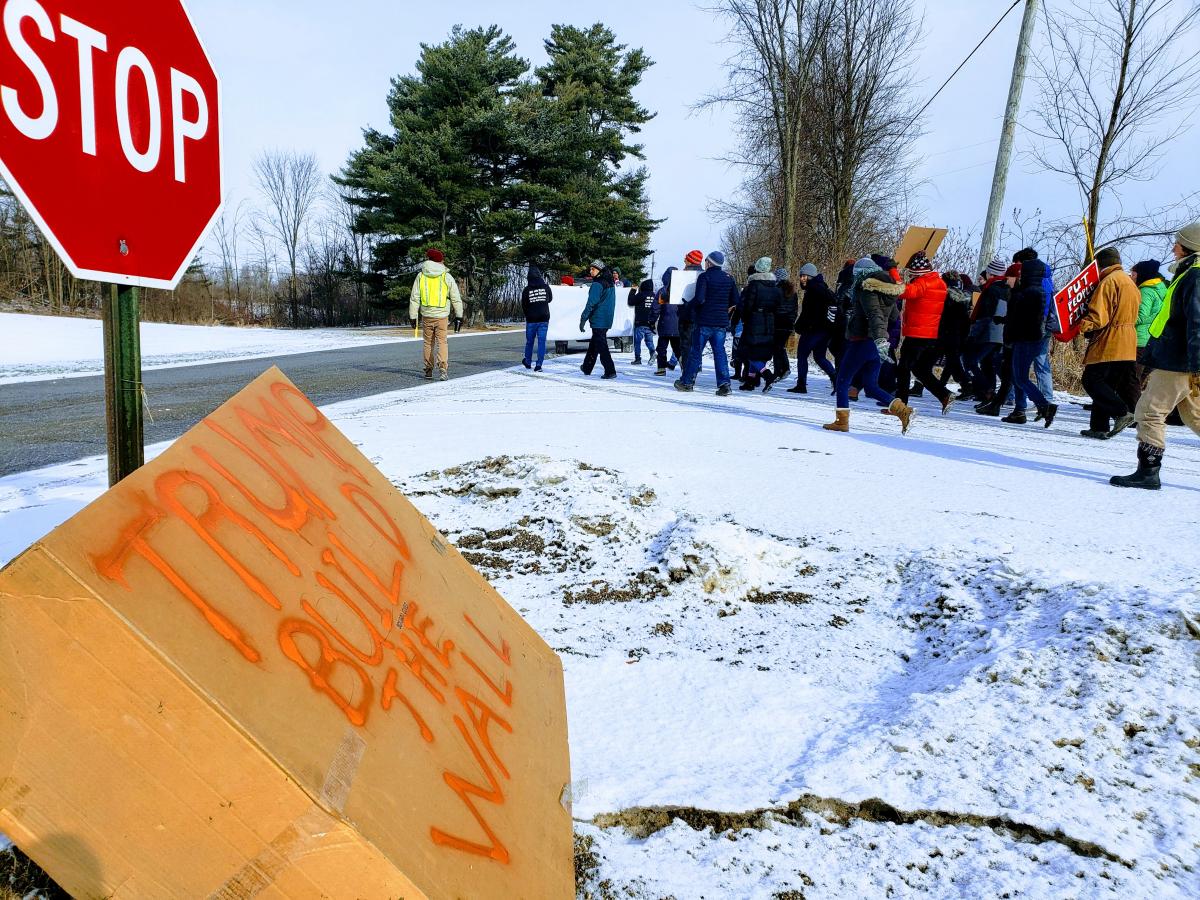 When farmworkers and supporters began their march to Goodrich Farm, they were confronted with a hastily-made cardboard sign reading "Trump: Build the Wall." Undaunted, they made their way toward the farm, braving freezing temperatures and high winds. Holding signs proclaiming "The Cows Don't Milk Themselves" and "Farmworkers are not Alone," marchers established a picket in front of the farm's entrance. As they picketed, they chanted: "No hate, no fear. Immigrants are welcome here!"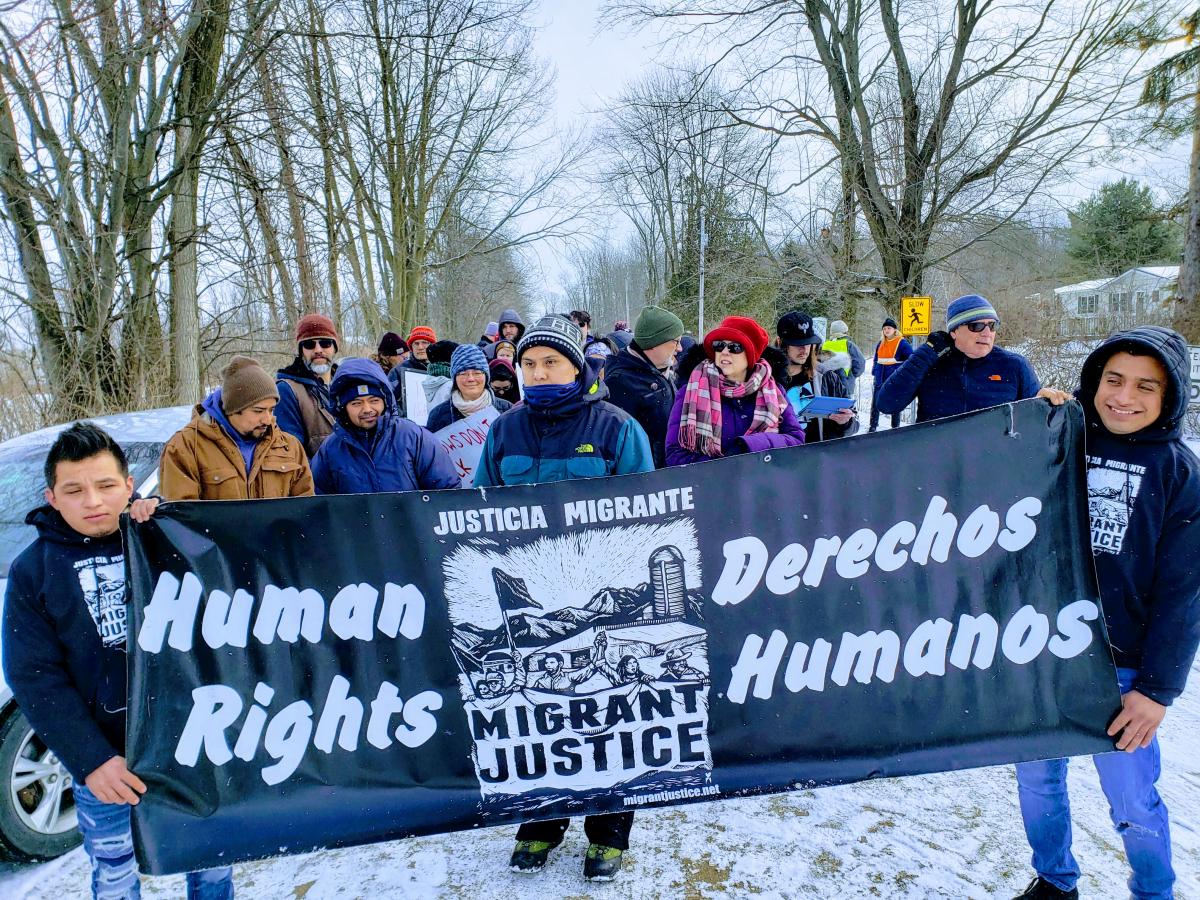 Marching alongside congregants and neighbors was Reverend Tim Franklin, pastor of the Bridport Congregational Church. He movingly addressed the crowd:
"Love leads me to support José and stand in solidarity with him. Love also leads me to insist that these farmers treat José and all their workers with respect and dignity and fairness and love. In this beloved community we all need each other... We are not enemies. We are neighbors. We are family."
As supporters continued their picket line in front of the farm's entrance, Migrant Justice organizer Abel Luna took the microphone, addressing the farmer community.
"We know that many dairy farmers would never physically assault their workers and are privately outraged by reports of violence against workers. We invite farmers to publicly denounce abusive treatment and join with farmworkers to improve conditions in the dairy industry by expanding the Milk with Dignity program."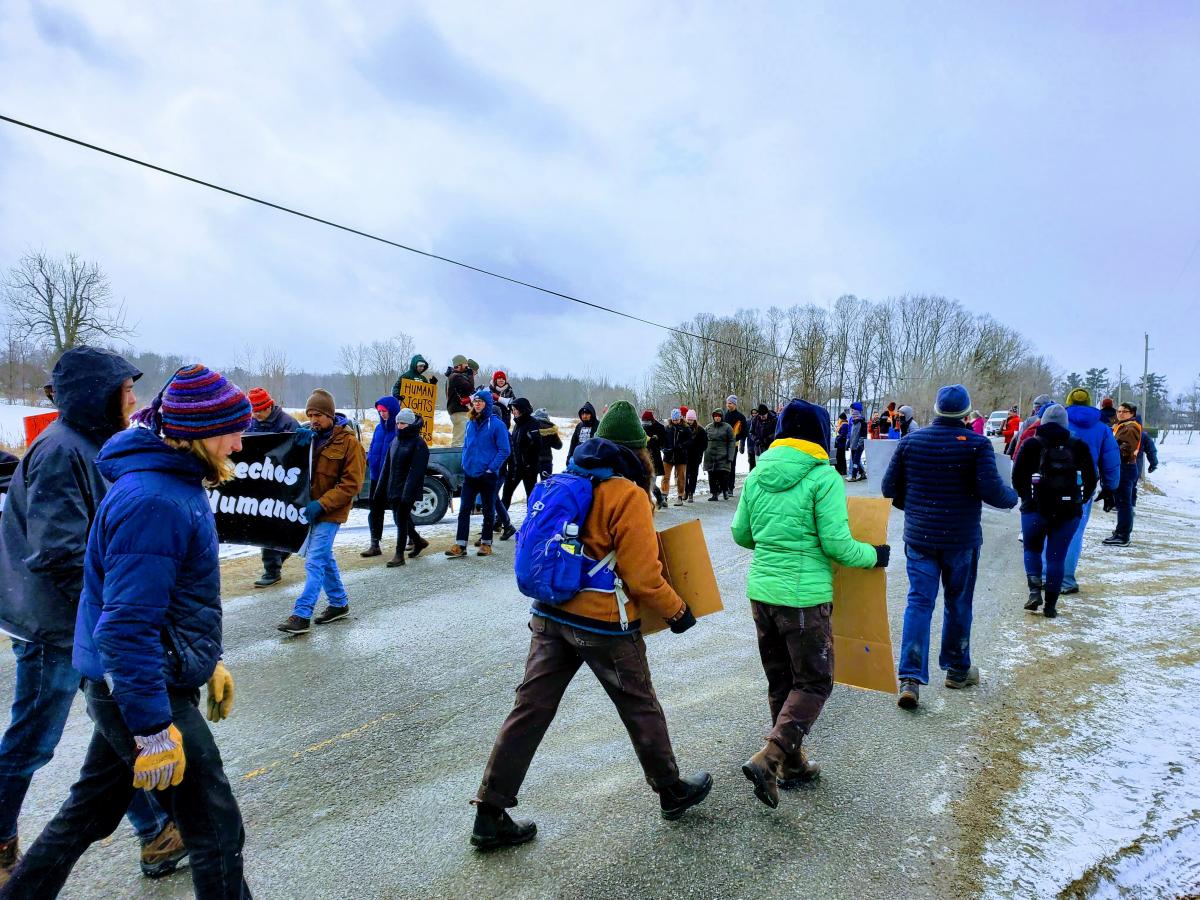 The case of Goodrich Farm shows clearly the pressing need to expand Milk with Dignity.  The 250 farmworkers covered by the program benefit from its worker-defined standards and its strong enforcement mechanisms -- backed up by the market power of Ben & Jerry's. Farms enrolled in Milk with Dignity understand clearly that any violence against workers could cause their suspension from the program, resulting in their removal from Ben & Jerry's supply chain and the loss of the program's premiums.
The supermarket chain Hannaford now has an opportunity to make the same commitment to eradicate violence from its dairy supply chain. For months now, Migrant Justice has invited Hannaford to join Milk with Dignity -- without response.
On March 8th, we will be embarking on a 15 day speaking tour across New York and New England to build support for the campaign. Stay tuned for an upcoming announcement of the tour stops!