Posted Sat, 05/06/2017 - 1:25pm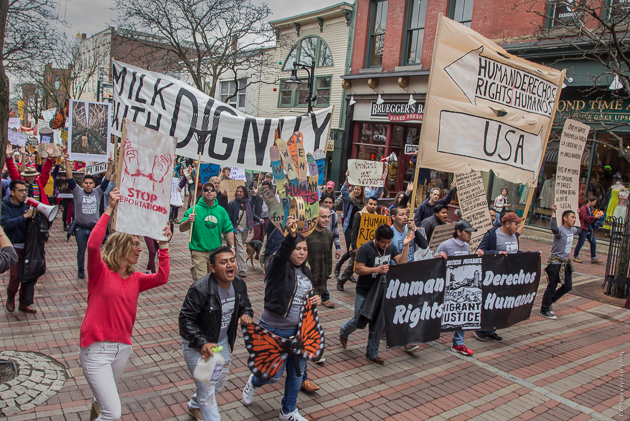 This May Day, hundreds came together in Burlington for a beautiful and powerful "March for Dignity." The action coincided with marches, rallies, and strikes across the country and around the world on International Workers' Day.  The streets echoed with chants calling on Ben & Jerry's to make good on its June 19, 2015 commitment to source its milk in compliance with the the human rights of dairy workers: "Get up! Get down! Milk with Dignity's comin' to town!"
Outside company's flagship store, Migrant Justice leader David Diaz called the ice cream maker to task for two years of delay in joining the Milk with Dignity program: 
"Listen up Ben and Jerry's because the people are rising up. I am a dairy worker and I know the conditions in the industry; I know what it is to suffer in your supply chain. Thanks to the hard work of farmworkers -- the workers who are putting the cream in Ben & Jerry's Ice Cream -- you are making a delicious product sold around the world. But it is a product made without dignity."
Marchers delivered thousands of postcards to the company, taped together in a 150-yard-long chain that extended for a full city block, demanding that Ben & Jerry's sign the Milk with Dignity program.
Read the full story and see more pictures here!