Photo-report from the Milk with Dignity Month of Action: Week 1
Posted Mon, 09/18/2023 - 11:16am
On September 13th, farmworkers and consumers turned out in force to picket Hannaford Supermarket and demand Milk with Dignity. This was the first of four weekly pickets in the Milk with Dignity Month of Action.
Picketers gathered in front of the Hannaford Supermarket on the highly-trafficked Vermont Route 7 in South Burlington. To the cheers and honks of cars passing by, workers and allies chanted and beat their drums – with the rhythm set by the local Samba Batucada band. Ralliers then marched towards the store only to be turned back by Hannaford managers and security guards.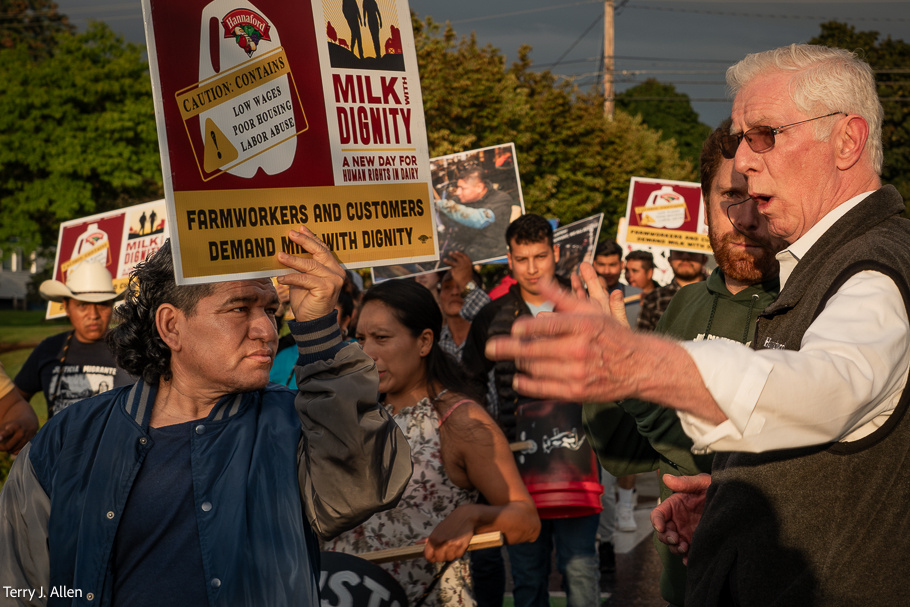 During the action, Migrant Justice member Cristian Santos addressed the crowd:
I recently got sick. My body ached and I didn't feel able to work. But I didn't have the option to stay at home; I was forced to go into the barn to work my shift. If my farm had belonged to Milk with Dignity, I would have had the right to paid sick leave and I could have recovered at home. But instead of listening to the workers milking the cows for their store-brand Milk, Hannaford has decided to shut us out and create false "solutions" of their own. To [Hannaford President] Milk Vail, I say: your failure to join Milk with Dignity results in the violation of the human rights of farmworkers in your supply chain.
The Milk with Dignity Month of Action will continue all month, with pickets on 9/22, 9/28, and the grand finale on 10/3 – the anniversary of the launch of the program in Ben & Jerry's supply chain. Each picket starts at 5:30pm at 935 Shelburne, Rd, South Burlington, VT.
Get more information on the Month of Action event page and join farmworkers on the picket line!