Photo-report from the Milk with Dignity Month of Action: Week 2
Posted Mon, 09/25/2023 - 10:34am
On September 22nd, farmworkers and consumers turned out in force to picket Hannaford Supermarket and demand Milk with Dignity. This was the second of four weekly pickets in the Milk with Dignity Month of Action.
This is the second week in our month of action. Picketers gathered in front of the Hannaford Supermarket on the highly trafficked Vermont Route 7 in South Burlington with Bread and Puppet bringing their art and music protesting side by side with workers and allies chanting and making the noise that resonated in the streets. Again ralliers then marched towards the store where community leader Olga and Isaiah Gonzales from LALSA (Latinx American Law Students Association) at Vermont Law School spoke to Hannaford's managers and security guards who kept ignoring the crowd and the voices of workers and consumers..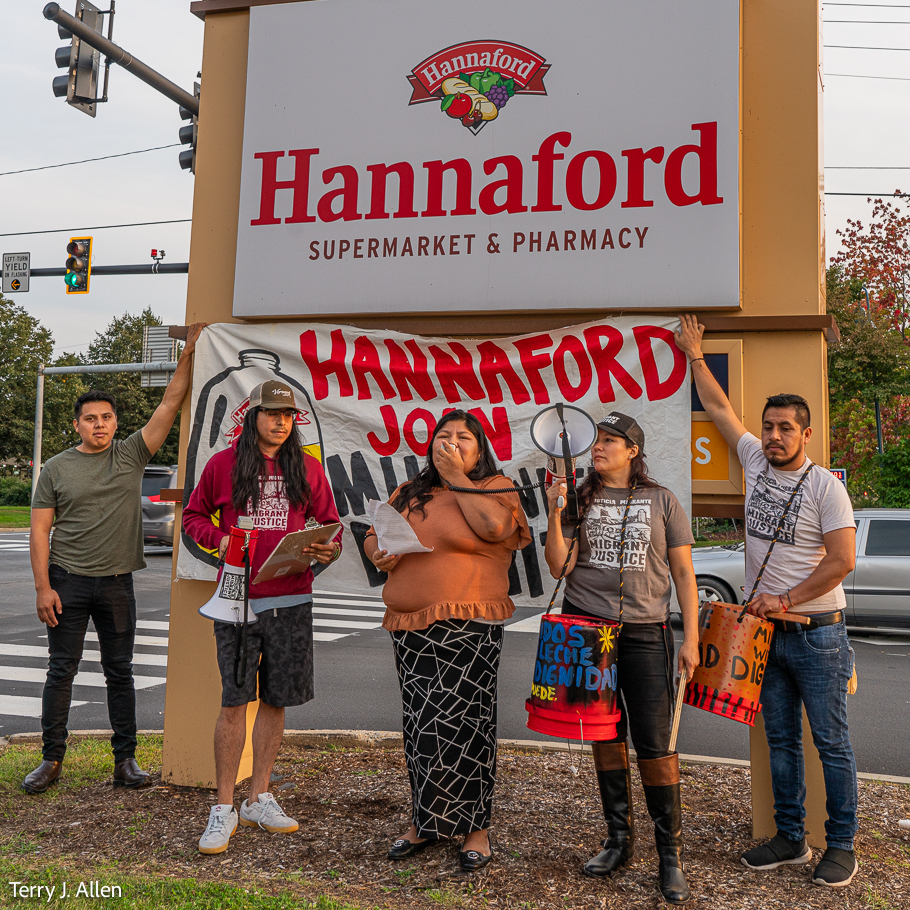 During the action, Migrant Justice leader Olga Cruz addressed the crowd and Hannaford managers:
While you [Hannaford] keep waiting and time passes, the injustices in the dairy industry, and in your supply chain don't stop. While workers suffer you [Hannaford] keep spreading awards and funds everywhere except to the essential workers who matter.
It's time you [Hannaford] stop creating false programs where workers' voices aren't heard, programs where workers are afraid to participate due to retaliation, and when they do nothing gets done.
The Milk with Dignity Month of Action will continue in the coming weeks, with pickets on 9/28 and 10/3 – the anniversary of the launch of the program in Ben & Jerry's supply chain. Each picket starts at 5:30pm at 935 Shelburne, Rd, South Burlington, VT.
Get more information on the Month of Action event page and join farmworkers on the picket line!