Posted Sat, 06/20/2015 - 3:47pm
***November 2016 Campaign Update: Migrant Justice and Ben & Jerry's agreed in May 2015 to work together to operationalize the Milk with Dignity Program in the Ben & Jerry's Supply Chain and have been working steadily towards that goal ever since!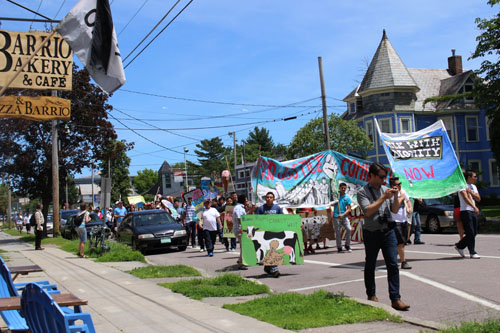 On the evening before 17 Milk with Dignity actions were planned at Ben & Jerry's scoop shops across the nation, Ben & Jerry's committed to work towards an agreement with farmworkers that contains the 5 essential elements of Migrant Justice's Milk with Dignity Program and to work to adopt the program into their Northeast dairy supply chain!  This is a big step forward on the road to securing fundamental worker's rights in Ben & Jerry's supply chain!
So Saturday's actions took on a more festive tone than envisioned From Hollywood, Florida, to San Francisco to Atlanta to New York City. Photos are beginning to come in demonstrating that communities across the nation are "screaming for fair ice cream" and are hungry for Ben & Jerry's to join the Milk with Dignity Program--because human rights cannot wait!
Here are some photos from the day's actions -- We'll keep updating this post as more come in!