2016: A year of headlines for human rights
Posted Sat, 12/31/2016 - 8:37pm
Migrant Justice's groundbreaking organizing for human rights and food justice made headlines time and time again throughout the year.  Both locally and nationally, Vermont immigrant farmworkers shaped the story on worker's rights, deportations, the dairy industry, the election, and sanctuary cities, to name just a few of the issues covered in 2016.  Below is a selection of headlines that tell the story of Migrant Justice in 2016.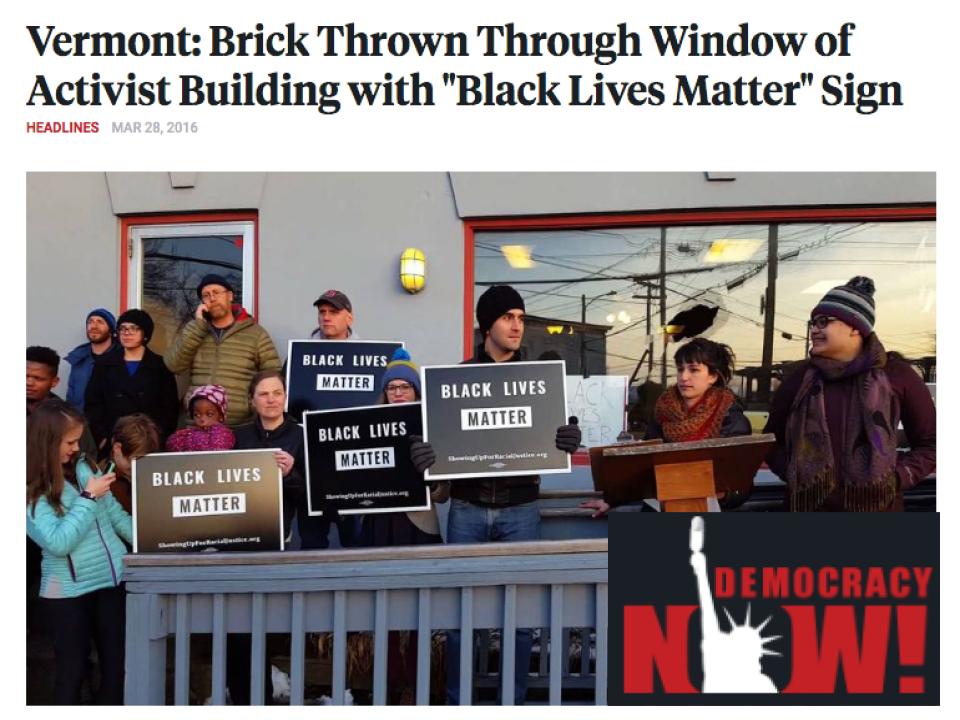 The year started with a crash -- quite literally.   In an act of reactionary racism that would foretell political developments througout the year, an unknown individual threw a brick through the window of the office that Migrant Justice shares with a number of other social justice organizations.  More than 50 people turned out the day of the attack in a show of solidarity and resistance covered by nationally-syndicated news program Democracy Now.  Migrant Justice member Yessica Sanchez, holiding her newborn baby, told the crowd:
"The person who did this felt threatened by all the progress that we've made as a community -- first winning driver's licenses and now Milk with Dignity. We shouldn't let ourselves be intimidated by this act; rather, we should draw strength to unite and keep marching forward."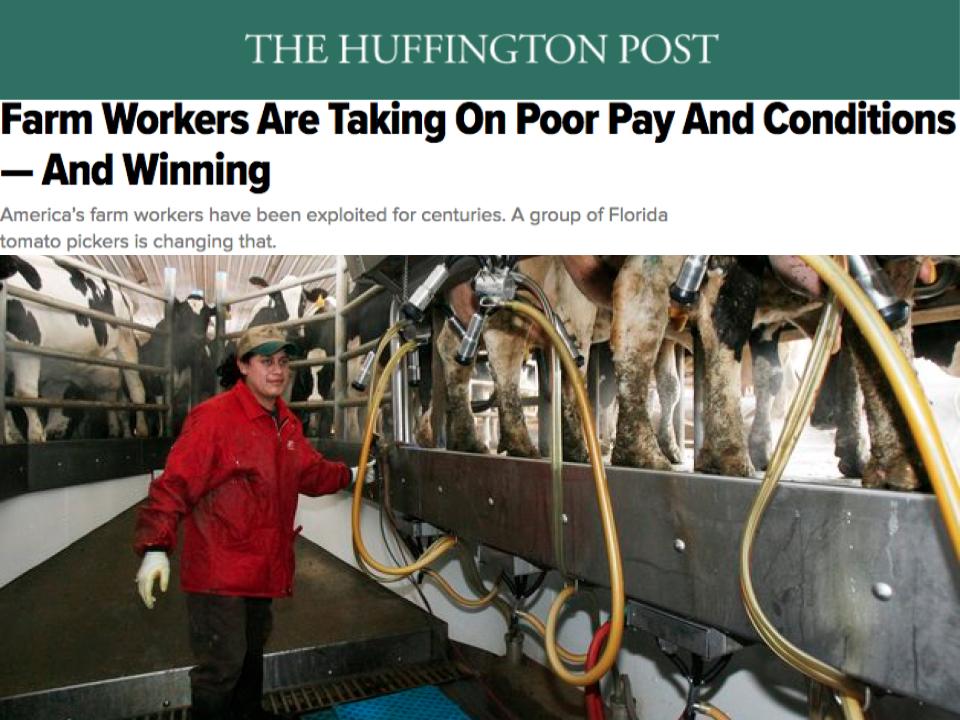 In the spring, Migrant Justice's "Milk with Dignity" campaign was profiled by the Huffington Post in a feature on farmworker organizing nationally.  The article highlighted Milk with Dignity alongside the Coailition of Immokalee Worker's "Fair Food Program" as two examples of campaigns changing working conditions using the principles of "worker-driven social responsibility."
Migrant Justice continued to develop Milk with Dignity throughout the year, following Ben & Jerry's 2015 commitment to implement the program on the dairy farms in their supply chain.  When the program is launched, labor and housing conditions throughout the industry will improve, ensuring human rights for farmworkers and economic relief for struggling farmers.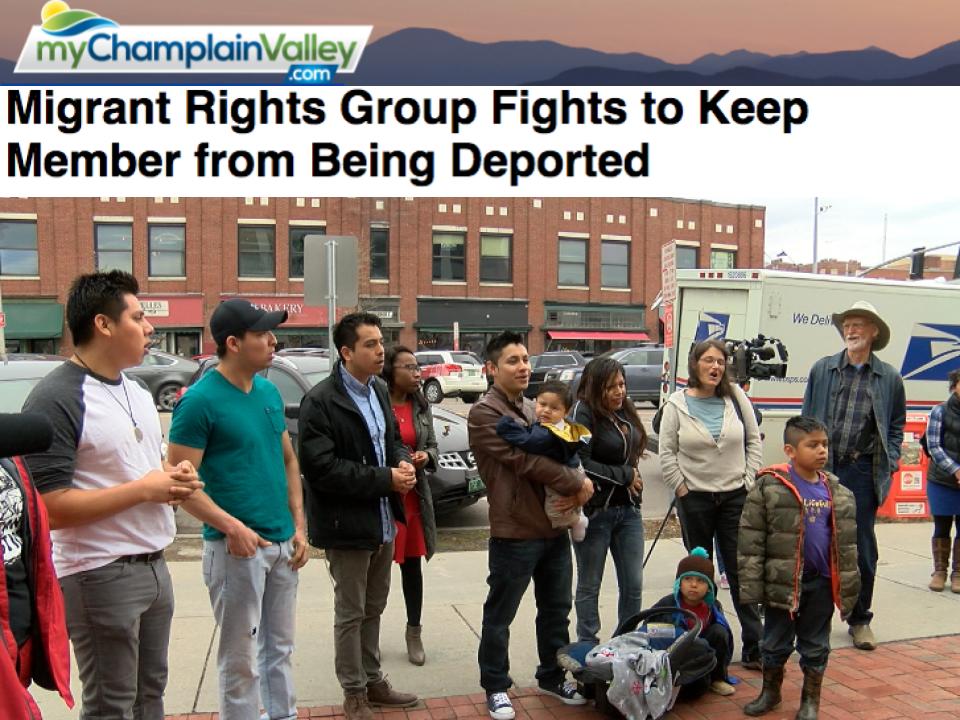 In April, Migrant Justice leader Victor Diaz -- one of the architects of the Milk with Dignity campaign and a nationally recognized human rights leader -- was arrested by undercover agents of Immigration and Customs Enforcement (ICE) outside a Mexican cultural event.  Local news covered the story, as farmworkers converged on U.S. Senator Patrick Leahy's office, demanding that the Senator intervene to call for Victor's release.
Community pressure won freedom for Victor.  Thousands signed a petition, and dozens of individuals and organizations from around the country wrote letters to the immigration judge, who granted Victor the lowest bail possible.  After two weeks in detention, Victor was back in Vermont, where he has continued to organize for human rights.  Said Victor: "There are days of winds, days of fury and days of tears.  But there are also days of love that give us the courage to carry on."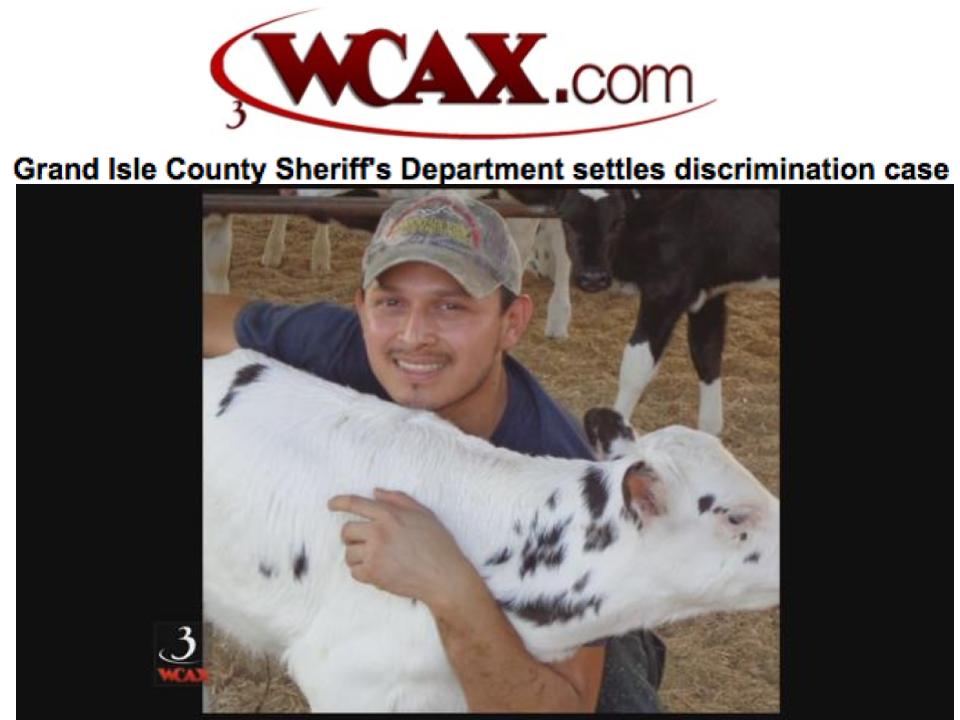 In June, news outlets around the state announced the settlement terms of a landmark discrimination lawsuit.  The Grand Isle County Sheriff department had to pay out $30,000 after Migrant Justice leader Lorenzo Alcudia sued over a 2015 traffic stop.  Lorenzo was the passenger in a car pulled over for speeding.  The sheriff's deputy repeatedly asking if Lorenzo was "supposed to be here," contacted Border Patrol, and held Lorenzo on the side of the road for more than an hour to await federal agents' arrival.  Lorenzo was arrested by Border Patrol agents and put in deportation proceedings.
With Migrant Justice's support, Lorenzo filed suit.  The Vermont Human Rights Commission found "overwhelming evidence" the the Sheriff department discriminated against Lorenzo because of his national origin.  Following his victory, Lorenzo spoke with the press: "I hope that police will learn from this case and stop discriminating against people like me."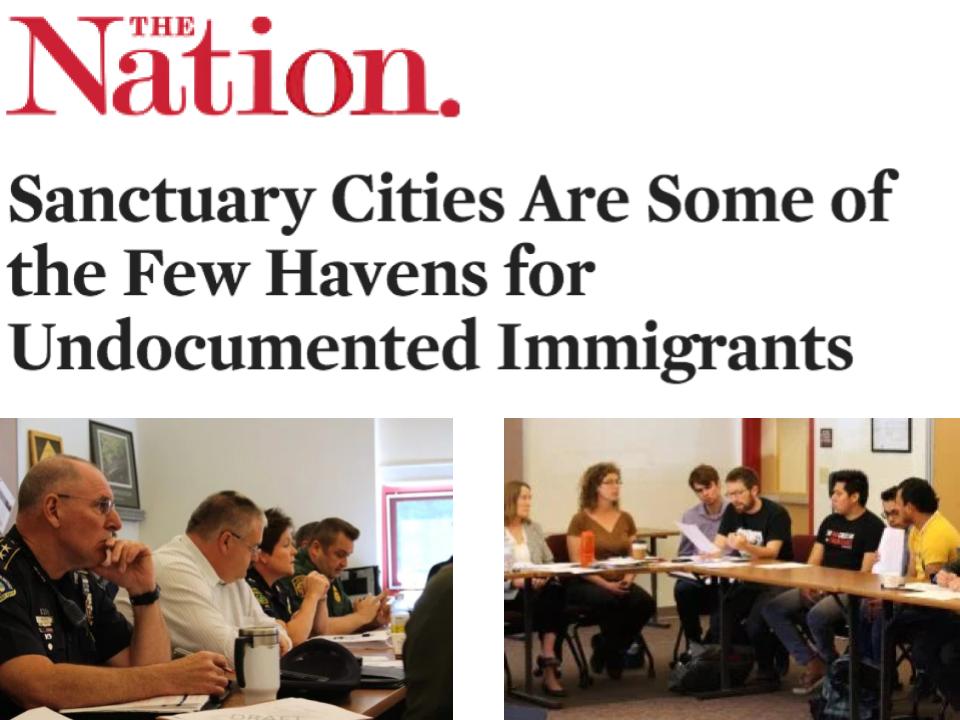 In July, after months of negotiations and years of organizing, Vermont implemented a new, statewide "Fair and Impartial Policing" policy, creating some of the country's strongest and most comprehensive protections against police discrimination for immigrant workers.  The policy was finalized over the course of a full-day meeting, where police and Border Patrol sat across the table from advocates for a stronger policy, including Lorenzo Alcudia, fresh off his victory over police discrimination.
The Nation highlighted the win in a review of "sanctuary" jurisdictions around the country: "In Vermont, migrant farmworkers with ... Migrant Justice have tried to get one step ahead of [immigration agents'] dragnets by campaigning for a statewide policy of police accountability.... The framework sets firm anti-discrimination guidelines and curtails practices like arbitrary detention after a traffic stop, or invasive 'show me your papers' checks."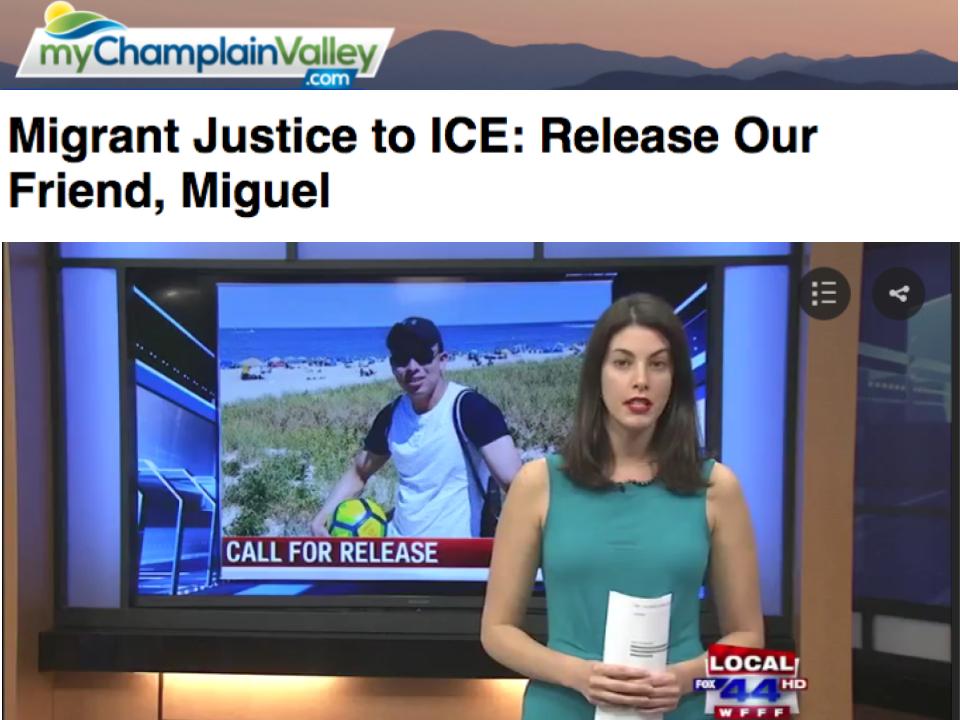 In September, ICE agents staked out the farm of Migrant Justice leader Miguel Alcudia and arrested him as he drove to the bank to deposit a hard-earned paycheck.  As with the detention of Victor in the spring, thousands around the country joined the call to demand Miguel's release, including a march of 150 supporters down Church Street in Burlington.  One of those joining the call was U.S. Senator and presidential candidate Bernie Sanders, who wrote in a letter to ICE: "I urge you to look into Mr. Alcudia's situation at your earliest convenience, consider all factors in this case, and give full and fair consideration to Mr. Alcudia's request for prosecutorial discretion."
After three weeks holding Miguel on over $20,000 bail, ICE folded.  Overnight, the deportation agency dropped Miguel's bail and ordered his release. Agents drove him from the detention center to the Vermont state line and handed him off to Migrant Justice members, who brought him home.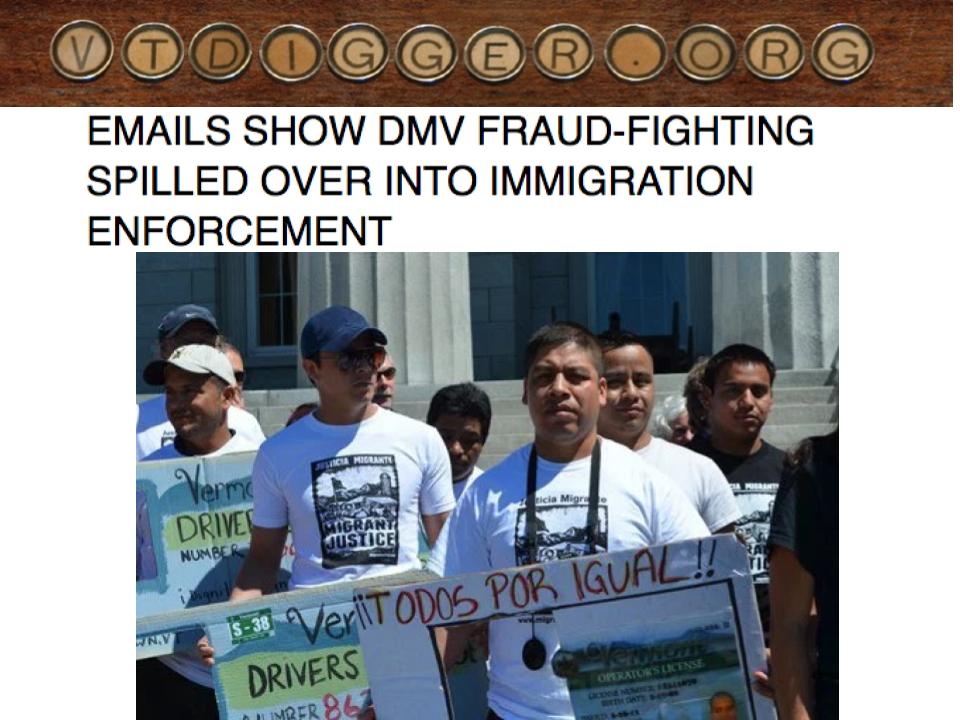 In October, investigative journalists at VTDigger published an exposé of routine and casual collusion between Vermont DMV employees and ICE agents in order to target, arrest, and deport DMV customers.  The report draws from over 50 pages of emails obtained by Migrant Justice in a public records request that show rampant discrimination against immigrants in the months following the 2014 implementation of a state law allowing undocumented drivers access to a license.
Email exchanges included a DMV employee providing information on applicants to ICE, writing: "we're getting slammed with illegals lately."  The ICE agent wrote back: "Thanks Jon. That's amazing. We're going to have to make you an honorary ICE officer!"  The story, and a lawsuit against the state agency, helped bring about significant reforms to put in place protections against discrimination at the DMV.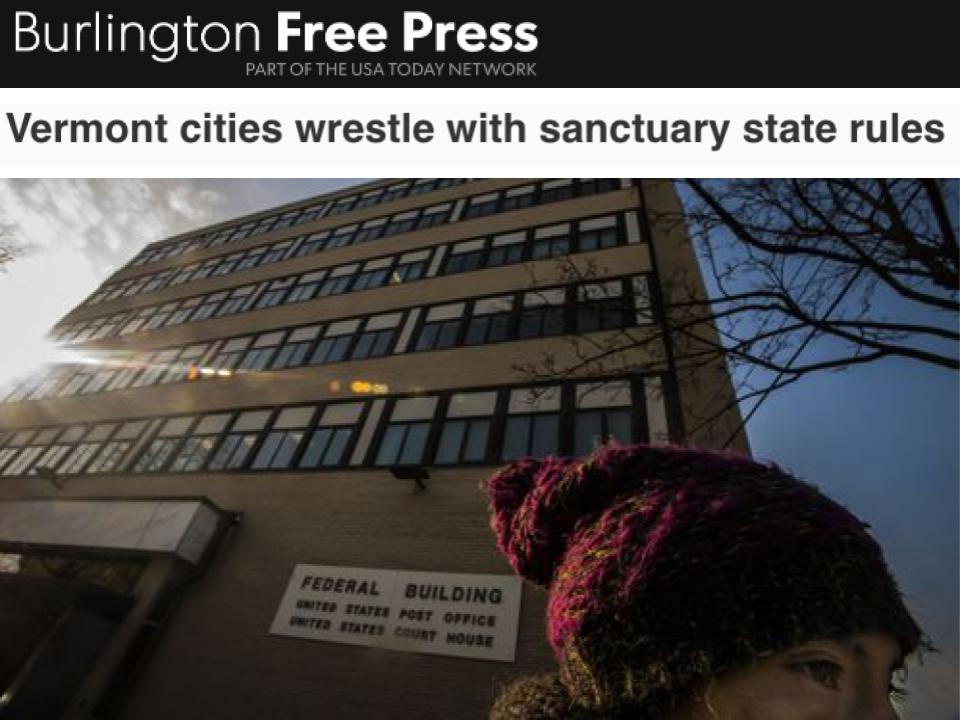 Following the November elections, a slew of news stories covered Migrant Justice's response to the anticipated crackdown on immigrants in the Trump administration.  As the debate around "Sanctuary Cities" heated up, the Burlington Free Press reported on the implementation of Vermont's Fair and Impartial Policing policy.  The article was re-published by news outlets around the country, showcasing the policy won by Migrant Justice earlier in the year and grounding the national debate in sound policies advanced by immigrant communities.
2016 was a year of headlines for Migrant Justice, documenting significant advances for the human rights of immigrant farmworkers in Vermont despite severe and persistent challenges.  We know that 2017 will be a difficult year; though the challenges won't let up, neither will the community of immigrant farmworkers and allies that powers Migrant Justice.  By continuing to organize and fight for justice, Migrant Justice will make 2017 another year full of headlines for human rights.