Demand the release of detained human rights leaders Enrique and Zully!
Posted Sun, 03/19/2017 - 9:48am
Sign the petition below to #FreeKike and #FreeZully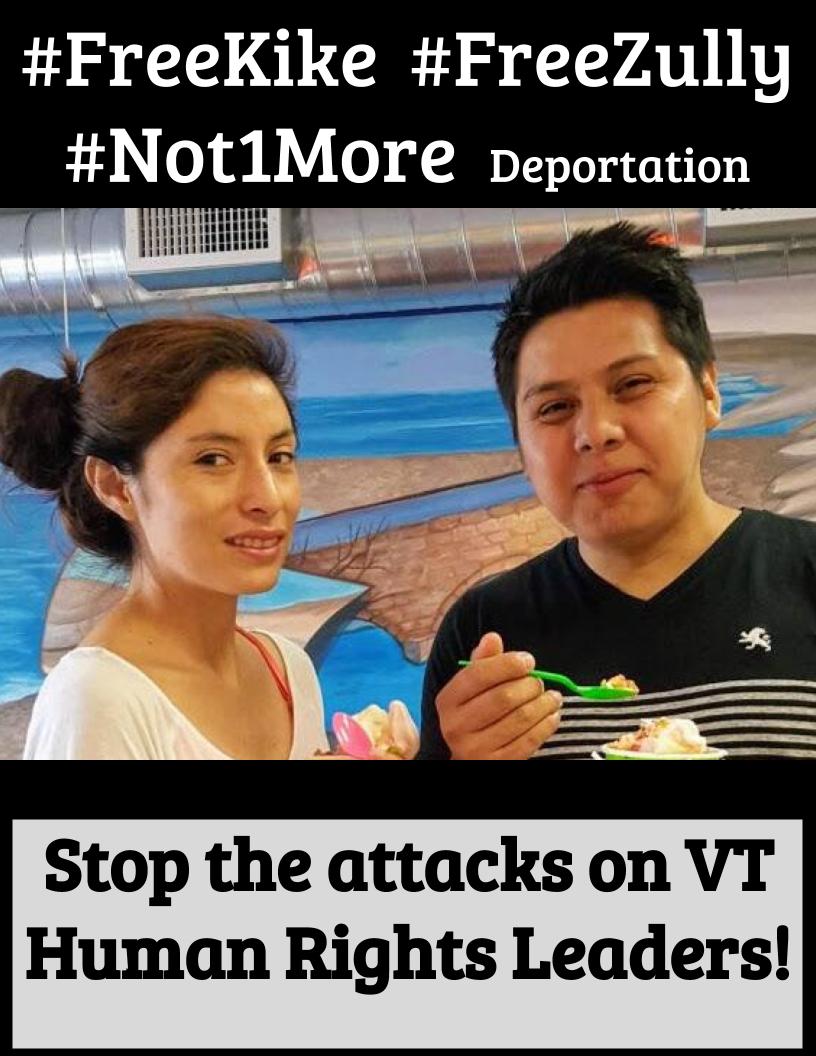 Enrique "Kike" Balcazar, is a seasoned human rights leader in Vermont. Kike has lived in the state since 2011, when he became one of the many migrant dairy workers who make Vermont's iconic dairy industry possible. He joined Migrant Justice in 2012, and soon became a spokesperson for his community, helping to lead the successful campaign for driver's licenses for all Vermont residents. Kike has represented migrant workers at numerous national gatherings and coalitions, including the national Food Chain Workers Alliance, the Northeast Organic Farming Association's recent convetnion, and in the Cosecha National Assembly in Boston. He has received an invitation to speak at Harvard University on April 1st.  Kike leads the nationally-acclaimed Milk with Dignity campaign, and is part of the Vermont Attorney General's task force on immigration. Kike's infectious smile has cheered all of us who have had the fortune to interact with him.
Zully Palacios is an active member of Migrant Justice. Zully has participated in Migrant Justice Assemblies, learning about the reality that dairy farmworkers face in Vermont. She has been an active member since 2015, leading presentations, participating in activities of an immigrant women's group, and designing know-your-rights information for the immigrant community. Zully participated in the campaign to secure a commitment from Ben & Jerry's to join the Milk with Dignity Program. Her work for human rights includes joining meetings and trainings about the rights of workers and immigrants at the national level. In November, Zully went to New York for the Food Chain Workers Alliance's Justice in the Food Chain Training, and in February, Zully participated in the Cosecha National Assembly in Boston.
On Friday, March 17, Enrique and Zully were leaving the Migrant Justice office in Burlington, when Immigration and Customs Enforcement (ICE) agents targeted and arrested them. They are now in detention awaiting a court date. Neither has a criminal record. Their targeting appears to be political retaliation for their effective work in defending the human rights of workers and immigrants in this country.
Please sign to send the following letter to ICE Boston Field Office Director Todd Thurlow demanding the immediate release of Enrique and Zully, and calling for their deportation proceedings to be terminated!
Field Office Director Todd Thurlow
DHS/ICE/ERO
Boston Field Office
1000 District Ave
Burlington MA 01802
Director Thurlow:
I am writing to ask you to please grant Prosecutorial Discretion to Jose Enrique Balcazar Sanchez (birth date: 03/09/1993) and Zully Palacios (05/14/1993).  
Mr. Balcazar is a seasoned community leader and spokesperson. He has lived in Vermont since 2011, where he is known for his advocacy to improve living and working conditions for all farm workers, particularly migrant workers. Enrique has lived in Vergennes, Burlington and South Burlington, where he has developed strong ties with his neighbors and peers. Mr. Balcazar has shown tremendous solidarity and integrity by traveling the state to listen to farmworkers' problems, then sharing them with government and corporate leaders to develop solutions. He currently sits on the Vermont Attorney General's task force on immigration, leads the Milk with Dignity campaign, and led Migrant Justice's successful campaign to win access to driver's licenses for all Vermonters.
Ms. Palacios is not a threat to the public or to her community. Rather, she is an outstanding community activist and human rights defender. ICE should not be spending resources keeping Ms. Palacios detained. She is an important figure in her community and her continued detention does harm not only to Ms. Palacios but to the farmworker movement for human rights of which she is a respected and beloved member.
I trust that this request will be promptly considered and that Mr. Balcazar and Ms. Palacios will soon be released.
Sincerely,