Students from Stanford Ask in their OP-ED: "Got Milk with Dignity"
Posted Sun, 03/05/2017 - 8:46pm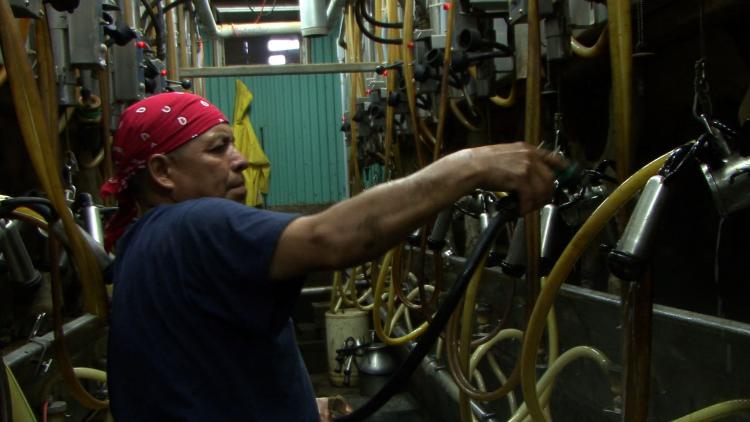 Check out this recent Op-Ed from the Stanford Student and Labor Alliance just published in the Stanford Daily. For more on Stanford students and Real Food Challenges recent Milk with Dignity actions in California head over to the Migrant Justice blog.
Got milk with dignity?
The Stanford Daily 
March 3, 2017
Countless representatives from large corporations speak at Stanford every quarter. Stanford students allowed into these talks have a level of access to CEOs and business executives that workers who sustain those businesses have to fight for. Recognizing this privilege as a responsibility, five student organizations, including Student and Labor Alliance (SALA), decided to support Vermont dairy workers by holding Jostein Solheim, the CEO of Ben and Jerry's, accountable to farmworkers' demands when he visited campus two weeks ago.

It started when Stanford's Graduate School of Business invited Solheim to speak as part of their ongoing Global Speakers Series on the topic of  "Conscious Capitalism."Through Migrant Justice, an organization of Vermont farmworkers working to win economic justice and human rights, SALA learned that Ben & Jerry's had not followed through on a public commitment it made to dairy workers back in June 2015. In anticipation of Solheim's talk, SALA invited members of Migrant Justice to speak about working conditions in Vermont's dairy industry.

In 2015, Ben & Jerry's committed to joining Migrant Justice's Milk with Dignity Program. Milk with Dignity is founded on the transformative worker-driven social responsibility model originated with Florida's Coalition of Immokalee Workers, a model that flips the script on corporate social responsibility by placing the power where it really belongs: with workers. Nearly two years later, farmworkers still don't have a legally-binding agreement in hand.

The majority of Vermont's 1,200-1,500 immigrant farmworkers are part of the state's iconic but struggling dairy industry.  Ironically, the only player in their entire dairy supply chain who makes a decent living off the main ingredient in Ben & Jerry's world famous ice cream is Ben & Jerry's.

While those at the top of the supply chain get rich, the market's downward pressure on farm income has real consequences for farmworkers' wages and working conditions. In the summer of 2014, Migrant Justice surveyed 176 farmworkers, over 10 percent of immigrant dairy workers in the state finding that 29 percent regularly work 7 or more hours without a break to eat, 30 percent have had a work related injury or illness, 40 percent receive less than VT minimum wage and 40 percent don't have a day off (meaning many work 12+ hours a day, 365 days a year). Echoing these dismal statistics, Thelma Gomez, a member of the coordinating committee of Migrant Justice, reflected on her experience with farmwork: "I once lived on a farm where we had to live in the barn. And there was no bathroom, and there were many hours of work, and they didn't pay even minimum wage, and there was no day off."

On top of this, behind Ben & Jerry's happy go lucky facade of dancing cows, family farms and bright blue skies, dairy farms are among the nation's most dangerous workplaces. For example, the N.Y. State Department of Health reports 61 fatalities on New York dairy farms from 2006 to 2014 alone. Workplace fatality rates in New York state's agriculture, forestry, fishing and hunting industries are fifteen times the state workplace average.

During the Q&A section of Solheim's February 17th talk, students from SALA pressed Solheim to define if and when he planned to honor Ben & Jerry's 2015 public commitment to stand for the human rights of farmworkers in his Northeast dairy supply chain by joining Migrant Justice's Milk with Dignity Program. Solheim shared: "If you want to ensure that you have no human rights abuses in your supply chain the only way you can do that is through a worker-led program. It's the absolute only way. The only way you can know is if you've created the conditions where every worker can self report without fear of reprisal … That is a sure fact and there is no other way of addressing it."

Despite this promising response, members of SALA continued to push Solheim to clarify his intentions as to when he would sign an agreement. Solheim responded: "I have in my bag a contract that I hope I'm going to sign next week but we'll see…"

We look forward to the signing of this contract, and hope to soon hear good news from Vermont dairy workers.

In the meantime, we look forward to working with Stanford students to hold Ben & Jerry's and other corporations accountable for supporting the human rights and listening to the demands of the people who enable their profits.
Contact Stanford Student And Labor Alliance at stanfordsala 'at' gmail.com