¡Aquí estamos, y no nos vamos!
Posted Fri, 02/03/2017 - 6:14pm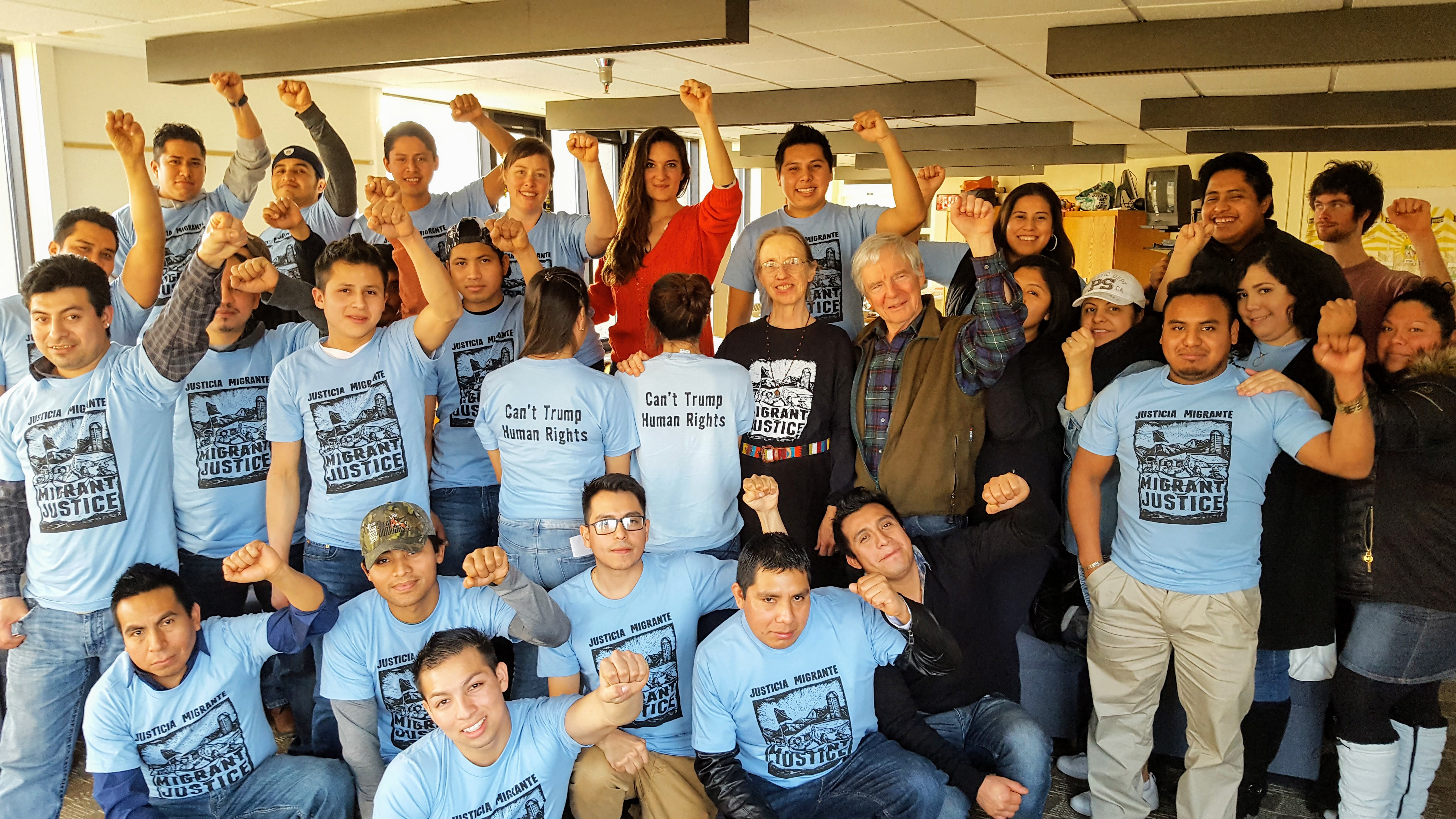 Aquí estamos, y no nos vamos.  Migrant Justice leader Enrique Balcazar led a crowd of nearly 1,000 in Burlington on Tuesday night in chanting this refrain.  "We are here, and we're not leaving."
Meanwhile, the Associated Press reports, some Vermont agriculture officials are meeting to discuss how to replace deported dairy workers, including by "training inmates to do the work." To this we say: Aquí estamos, y no nos vamos.
Donald Trump's executive orders last week shook us hard but did not break our resolve.  We stand with our Muslim sisters and brothers targeted by Trump's ban, because we won´t be fooled by white nationalism masquerading as national security.  We stand with communities on the Southern border fighting the wall, because we know that the only thing a wall will bring is more death on the border, as the journey north for those fleeing poverty and violence becomes more perilous still.  And we stand against the criminalization and deportation of our community, because we know that migration is a human right, and you can't trump human rights.  Aquí estamos, y no nos vamos.
But we need your solidarity in this moment.  Faced with threats from the Trump administration, local and state officials are wondering whether they can defend the state's "Fair and Impartial Policing" policy, which Migrant Justice and others have won, and which establishes sanctuary-style restrictions on police supporting Trump's deportation agenda.  Public outcry in support of immigrant communities is having its effect -- Governor Phil Scott this week became the highest ranking Republican in the country to push back against Trump's orders -- but the fight is far from over.
Now is not the time for retreat; it is the time to advance and strengthen the Fair and Impartial Policing policy.  Migrant Justice will be at the State House (Room 11) this Wednesday 2/8, from 9am-11:30am, giving testimony in support of the policy.  Please come and show your support.  For those who can't make it, send a quick message to the House Judiciary Committee saying you support Migrant Justice and full implementation of the Fair and Impartial Policing policy.  Email smorse@leg.state.vt.us or call (802) 828-2257.
For those in the Burlington area, Migrant Justice will be hosting a forum of the Burlington Police Commission, as the city seeks public input on its adoption of the Fair and Impartial Policing policy.  Come to our Burlington office at 294 N. Winooski Ave., Suite 112B on Friday, February 17th at 6pm to send a clear message: Burlington police must not be a party to Trump's deportation agenda.
Finally, Migrant Justice will be renting a van to send a group of Vermont immigrant farmworkers to the national assembly of the Cosecha Movement in Boston next weekend.  Migrant Justice members will be participating in strategy sessions with other immigrant organizers from around the country to build power for resistance in the Trump era.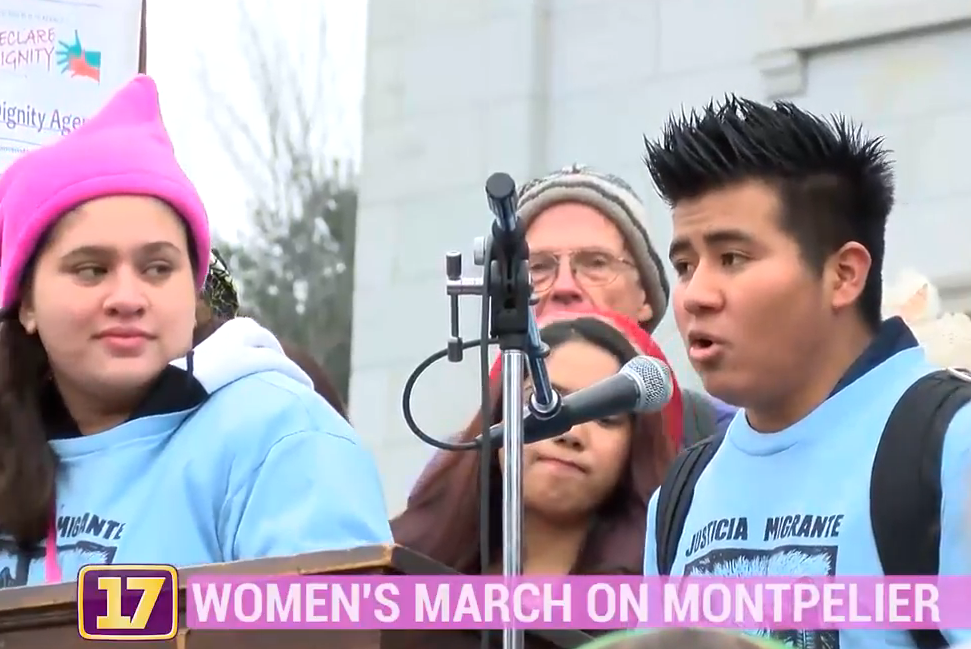 Make a donation today to help send Vermont farmworkers to the Cosecha Movement national assembly in Boston!
(Click the image to see the video of Wilmar´s speech at the Women´s March!)
Wilmar Santiz, a member of Migrant Justice's farmworker Coordinating Committee, spoke at the Women's March on Montpelier.  "If we lose the rights that we have won -- access to driver's licenses and for cops to not act as immigration agents -- we go back to living in a world of darkness, where police could arrest us at any moment.  I have a question for all of you: will you stand with us if Donald Trump tries to take away our rights?"  The crowd of 20,000 -- the largest ever assembled for a political protest in the history of the state -- yelled back its assent. 
"That's good news," Wilmar responded to the crowd, "because Migrant Justice will be with all of you!"
Aquí estamos, y no nos vamos!