From Coast to Coast: Ready for Milk with Dignity
Posted Thu, 02/23/2017 - 10:21pm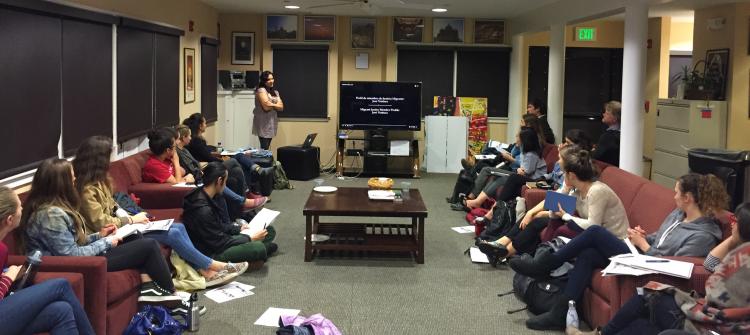 Migrant Justice hit the road last week, traveling from coast to coast, in response to the fair food movement's growing hunger for farmworkers' rights. From Stanford University to Vermont's huge annual Northeast Organic Farmer Association conference the Milk with Dignity (MD) Program was lifted up as an innovative and ready to go 21st century worker-led solution to advance farmworker's human rights in dairy supply chains.  
On Thursday, student leaders from Real Food Challenge (RFC) teamed up with five different Stanford University organizations asking for an update from Vermont farmworker's about the Milk with Dignity (MD) Program just one day ahead of a campus visit from Ben & Jerry's CEO, Jostein Solheim. Emma Hartung with Stanford's Student and Labor Alliance (SALA), who helped organize the event, reflected after, "As students we are inundated with conversations, conferences, and research about the food system or corporate social responsibility that all somehow, remarkably, manage to completely ignore farmworkers' rights. So, SALA was really excited to team up with RFC to raise awareness on campus about the Milk with Dignity Program as a real innovative worker-led solution to secure the human rights of dairy workers in supply chains."
We share below an excerpt of Real Food Challenge's report back on student actions at Stanford last week:
Nearly two years have passed since B&J's made a public commitment to join the program and farmworkers still don't have a legally-binding agreement in hand.  So on Friday, Jan. 17, students from RFC and SALA pressed Solheim to define if and when he planned to honor B&J's 2015 public commitment to stand for the human rights of farmworkers in his Northeast dairy supply chain by joining Migrant Justice's Milk with Dignity Program. Solheim shared:
"If you want to ensure that you have no human rights abuses in your supply chain the only way you can do that is through a worker-led program. It's the absolute only way. The only way you can know is if you've created the conditions where every worker can self report without fear of reprisal...That is a sure fact and there is no other way of addressing it."
Though the response certainly sounded quite promising students from RFC are familiar with the difference between action and rhetoric. So we continued pushing the CEO to clarify when he would sign an agreement to join the Milk with Dignity program as he had committed to nearly two years ago pushing Solheim to share:
"I have in my bag a contract that I hope I'm going to sign next week but we'll see…"
And still the students persisted--Rosie Linares from Real Food Challenge then asked Solheim if the agreement would contain the 5 essential elements of the Milk with Dignity Program, to which, according to Real Food Challenge, he responded: "Yes".  
RFC is a network of hundreds of students across the country with student organizers spanning from the west coast, midwest, south, and east coast. Students in the RFC network know what it looks like to win and get commitments from decision makers. They also know what it looks like when their demands are being deliberately stalled and when it comes to farmworker rights RFC has an inseparable vision for Real Food and fair labor standards and will stand in solidarity with farmworkers until justice is served. Hopefully, RFC will be hearing the good news from Vermont dairy workers but until then we look forward to working with all of you to hold B&J's accountable until they sign this agreement!

Be sure to check out RFC's full blog post "RFC and Stanford Students Team Up for Milk With Dignity: 'Hey Ben & Jerry's can I get some milk with dignity in my Cherry Garcia?'" here.