Posted Thu, 06/13/2013 - 9:55am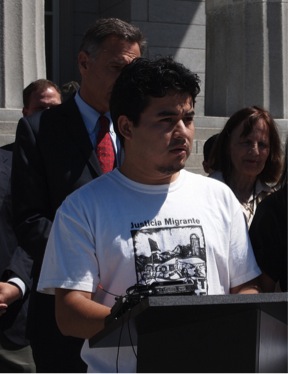 Dear Migrant Justice friends,
Last week represented a bittersweet stage for our movement for human rights. While we celebrated the official signing of S.38 into law, Danilo Lopez, our human rights leader who has been instrumental to Migrant Justice's successes, got news that he is facing deportation on July 5th.
STOP DANILO'S DEPORTATION BY SIGNING THIS PETITION NOW!
The Obama Administration is deporting 1,100 people per day, many of whom like Danilo, would qualify for immigration reform should it pass!
Read and share this article about the big drivers license victory and Danilo's story:
http://migrantjustice.net/node/207
We are launching a public campaign to fight this injustice! We call on ICE Director to use prosecutorial discretion to stop this deportation. Not only has Danilo worked tirelessly to make Vermont a better place for everyone, but he would also likely qualify for immigration reform.