#JoseLuisFreed: Mass campaign wins release of detained farmworker!
Posted Thu, 03/01/2018 - 4:47pm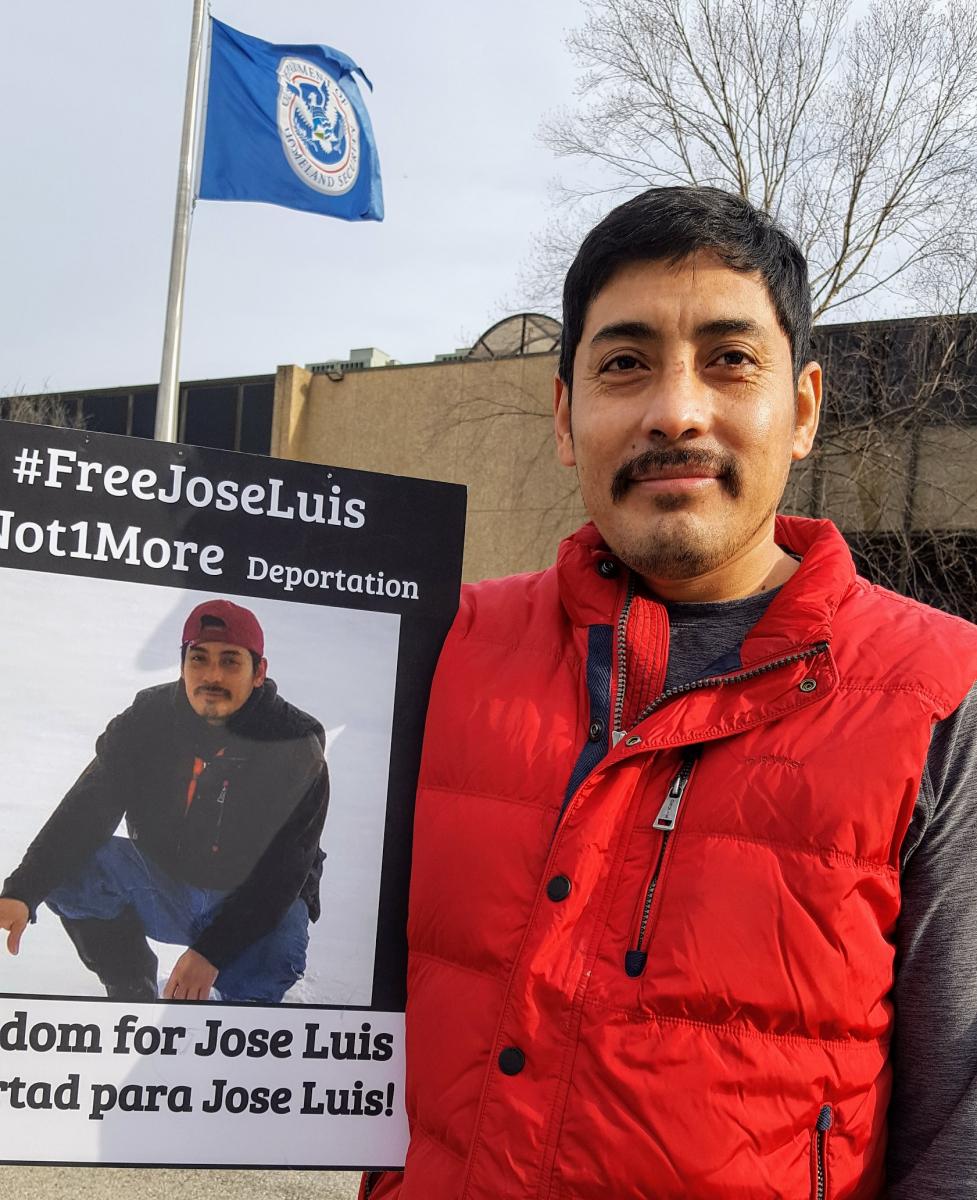 Jose Luis Cordova Herrera was freed today following a mass community campaign calling for his release.  Nearly 1,500 people -- including Vermont's congressional delegation -- wrote to Immigration and Customs Enforcement (ICE) asking for freedom for the 40-year-old farmworker and father of three.
Upon his release from the prison where he spent nearly three weeks, Jose Luis reflected: "I want to thank everyone who supported me while I was locked up.  Being in prison you have a lot of time to think, to meditate, and I came to realize how important it is to be part of an organization like Migrant Justice. My freedom is proof of the power of an organized community."
Citing Jose Luis' history as a dairy worker in Vermont and his lack of criminal record, Senator Leahy, Senator Sanders, and Representative Welch wrote in a February 16th letter: "It is unclear why ICE would consider Mr. Cordova Herrera an enforcement priority."
Jose Luis and a friend were detained by agents of the U.S. Border Patrol on February 8th as they left the Richford Health Clinic.  An agent saw them enter the clinic in Richford, Vermont. When the two came out an hour later, the agent was still there. As they drove away, Jose Luis and his friend were followed for eight miles, pulled over, and arrested.  The driver -- a grandmother and legal permanent resident -- was detained for four hours, searched, interrogated, threatened, and released.  Jose Luis was transferred to Strafford County House of Corrections in Dover, NH and held on $14,000 bail.
The arrest generated national headlines due to concerns that the targeting of immigrants at health facilities hinders access to health care.  Both Border Patrol and ICE have policies counseling agents to avoid making arrests at "sensitive locations," such as health clinics "to ensure that people seeking to participate in activities or utilize services provided at any sensitive location are free to do so, without fear or hesitation."
Migrant Justice leader Zully Palacios, speaking at a February 20th press conference outside the Richford Health Clinic, said "Jose Luis was arrested leaving a dentist's appointment.  This is an attack on our human right to access healthcare without fear of arrest and deportation."  Ms. Palacios was arrested by ICE agents in 2017 while leaving the Migrant Justice office and was released after a similar campaign.
On February 28th, Jose Luis appeared in immigration court, represented by his attorney, Matt Cameron.  An Immigration Judge reviewed the case and ordered Jose Luis released on $3,000 bond.  Fellow farmworkers raised the funds and the bond was posted today by Migrant Justice.  Though free, Jose Luis remains in removal proceedings and will have to return to immigration court.
"We have serious concerns about the circumstances of Jose's arrest, and look forward to raising them with the court in future proceedings," Cameron said.
Jose Luis immigrated to Vermont from Mexico in order to send money home to pay his children's school fees. He has worked on three dairy farms around the state, milking cows and shoveling manure in order to support his family. When his elderly father needed heart surgery, Jose Luis' earnings paid for the surgery and hospital stay.
He is now back in Vermont where he will continue to participate in Migrant Justice and in the fight for human rights.