Investors call on Hannaford to address persistent labor abuses by joining "Milk with Dignity"
Posted Sun, 06/20/2021 - 11:23am
A group of 71 investment firms, pension funds, and other shareholders have published a letter addressed to Hannaford Supermarkets urging the company to clean up its dairy brand. 
The signatories, representing over $121 billion in assets under management, call on the Maine-based grocery chain to "address material reputational and compliance risks related to the human rights of workers in their dairy supply chain."
The letter goes on to offer a solution, inviting Hannaford to join Ben & Jerry's Ice Cream as a participant in the Milk with Dignity (MD) program. "MD stands apart from any other compliance program, supplier code of conduct, or company run audit by directly engaging workers in the business of protecting their own rights and wellbeing."
A subsidiary of Dutch grocery conglomerate Ahold-Delhaize, Hannaford Supermarkets is headquartered in Scarborough, ME and has nearly 200 store locations in New England and New York. The company sells milk and other dairy products under its owned brand label.
Excerpts from the letter – along with Father's Day messages from farmworker dads to Hannaford – were published in a full-page ad in today's Maine Sunday Telegram, Hannaford's hometown newspaper and the state's largest.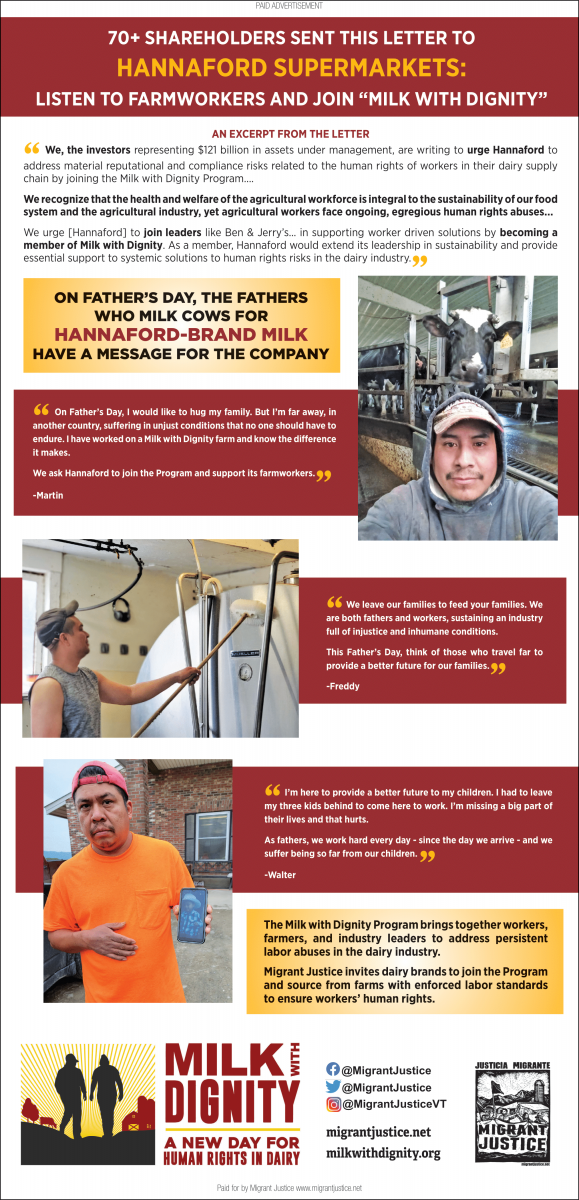 Migrant Justice created Milk with Dignity as a worker-driven program to improve labor and housing conditions and ensure human rights protections for farmworkers in the notoriously exploitative dairy industry. Studies in Vermont and New York have shown the prevalence of sub-minimum wages, long hours with inadequate breaks, high incidences of injury with few protections, and substandard housing for a primarily immigrant workforce. 
In 2017, Ben & Jerry's became the first company to join the program and is currently enrolled in the program for 100% of its northeast dairy supply chain. In 2019, Migrant Justice invited Hannaford to join Milk with Dignity as well.
"So many in my community are suffering from unjust wages and undignified housing. They are working without a day off, never mind paid vacations," said Uriel Calvo, dairy worker and Migrant Justice leader. "I want Hannaford to know that the cows don't milk themselves, and I hope that one day they can hold their heads high knowing that they have acted on their values and brought a new day to the dairy industry. All they need to do is join the Milk with Dignity program."
Farmworkers in Migrant Justice have found multiple avenues to urge the supermarket chain to join the program, finding widespread support among Hannaford customers. Thousands have written emails to the company President Mike Vail, hundreds have called the company, and supporters have held dozens of rallies outside stores around the region (including, most recently, the delivery of 1,200 signed postcards from customers calling for Milk with Dignity).
The shareholders who penned the recent letter to Hannaford are the latest to lend their support to the effort pushing Hannaford to join the Milk with Dignity program. The campaign had already received support from national faith organizations, food and agriculture groups, and international human rights organizations.
The 71 investors have now added their names to the list of Milk with Dignity supporters, concluding in their letter: "We urge the Company to join leaders like Ben & Jerry's ... in supporting worker driven solutions by becoming a member of [Milk with Dignity].
Hannaford has not responded directly to Migrant Justice or its supporters. However, company spokesperson Erick Dodge responded to a press inquiry, stating "We expect all our suppliers to follow the law and treat workers fairly. We require our suppliers to comply with standards of engagement — similar to a code of conduct — including provisions for: how they treat and compensate workers; maximum allowable working hours and days; premium pay for overtime; and workplace health and safety." 
The stated expectation would appear to line up with parent company Ahold-Delhaize's 2020 Inaugural Human Rights Report pledge: "If we find ... serious violations of occupational health and safety regulations, we will suspend our relationship with that supplier." 
Despite these claims, workers on farms supplying Hannaford-brand milk continue to experience human rights violations, including deplorable housing conditions, sub-minimum wages, and retaliatory firings. No evidence exists of Hannaford cutting ties with any dairy farm suppliers, and farmworkers and their supporters continue to push the company to back up its rhetoric with a firm commitment.
In a statement released by the Interfaith Center on Corporate Responsibility announcing the letter's publication, Nadira Narine concludes: "Ahold Delhaize has based its human rights policies on the UN Guiding Principles on Business and Human Rights which clearly set out the company's responsibility to respect the rights of workers in its supply chain. By joining the Milk with Dignity program Hannaford can put concrete action behind its policy."