May Day March and Rally Big Success! Food Justice! Put People First!
Posted Fri, 05/04/2012 - 1:58pm

Follow us
PLEASE DONATE to Migrant Justice

Dear Friends of Migrant Justice,
Below you will find:
1) Update from 5/1 Food Justice Block in the Put People First
March and Rally!
2) Sign the BRAND NEW Petition for Driver's Licenses for All
VT Residents!
3) Update from the Desk of Governor Shumlin, S-238 Passed!
---
1) Update from 5/1 Put People First Success!
It was truly a momentous day as 37 organizations were represented and thousands of people came to show support for the Put People and the Planet First May Day March and Rally. Over 20 farmworkers, dozens of farmers, UE Food System workers, and many more allies showed our solidarity from farm to plate marching together from City Hall to the State House. Before embarking on the march, we share the story of migrant farmworkers through the song the Golden Cage, "Jaula de Oro" performed as part of a Bread & Puppet skit to communicate the "ice-cold actions of ICE" and the pivotal role our farmworker neighbors play in the dairy industry. Behind a beautifully crafted Food Justice/Comida Justa banner and life sized puppet Cows, Milk Jugs, and farmers and farm workers carrying hoes and pitch forks chanted "The people united, will never be defeated! El pueblo unido, jamás será vencido!"... "Comida Justa--A Mi Me Gusta" alongside groups from all over Vermont.
At the rally, Shela Linton, of the Workers' Center's Windham County organizing committee, spoke to the struggles represented: "We need to fight for environmental justice, fight to end racism, fight for workers' rights, for women's rights, for disability justice, for migrant justice, for democracy. So my friends, I am honored to be here with you all on May Day 2012 for the Vermont Put People and the Planet First Rally!" Following the speech of Senator Bernie Sanders, our own Berni Hernandez stood before the crowd accompanied by 20 farm workers to declare, "Those of us who work in the food system, as farmers, farm workers, food service workers, or in supermarkets...need to unite for good jobs, dignity, and justice from farm to plate.".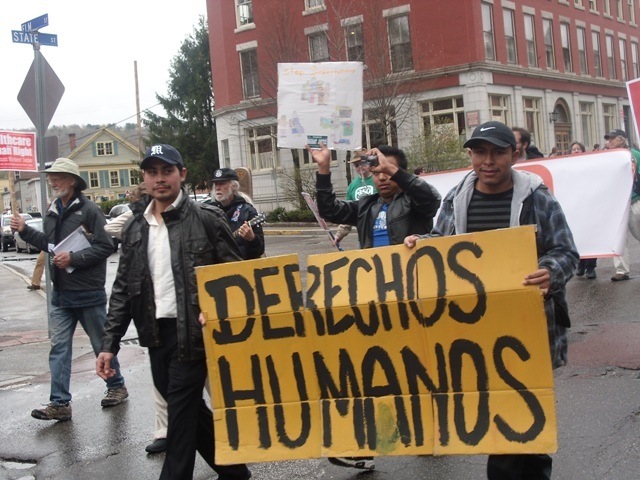 Enthusiasm grew, and we were immediately flooded by people seeking more information about how they could get involved with Migrant Justice. We also launched a brand new petition drive for driver's licenses and we need your support!
Check out more photos here.
2) Sign the BRAND NEW Petition for Driver's Licenses for All VT Residents!
We need your help to demonstrate broad support for driver's licenses for all VT residents, regardless of immigration status. Though we came a long way this year and will be working hard to make the study committee this summer deliver a concrete program next year we still need to demonstrate to our legislators that we support Human Rights, Public Safety and Healthy Farms and affirm that our neighbors must be able to move freely to meet their most basic human needs . Please join us in solidarity by pledging your support and signing this petition and spreading the word at the following link:
migrantjustice.net/petition/driverslicense
3) Update from the Desk of Governor Shumlin, S-238 Passed!
Finally, we'd like to announce that Governor Shumlin signed S-238! Thanks to your support and dedication this legislative session, we have made history and taken another big step on this road to human rights for all in VT! This summer Migrant Justice will be a part of the Study Committee alongside the DMV, the VT Human Rights Commission, the VT Farm Bureau, the Secretary of Agriculture, the Department of Public Safety and the Addison County Economic Development Corps. We will also be organizing a state-wide speaking tour and regional community organizing trainings in order to build upon this momentum and involve more people in this Driving Towards Human Rights campaign! Contact us if you want to host or help organize an event this summer!
Thanks!
Migrant Justice / Justicia Migrante
info@migrantjustice.net or 802-658-6770