VT Farmworkers Gain National Recognition For Milk with Dignity Campaign
Posted Wed, 11/25/2015 - 1:51pm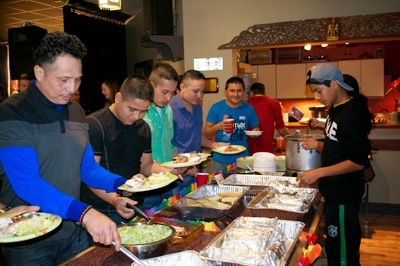 *Purchase tickets here for our annual Fiesta on December 19 and join on facebook here!
Food workers across the globe are joining forces this thanksgiving time demanding recognition, rights and dignity as part of International Food Workers Week. Migrant Justice was recognized as one of 21 organizations across the nation leading the way to advance the human rights and dignity of food workers:
"These laborers deserve a voice in the food system. From farm to fork, laborers deserve a living wage, safe working conditions, the right to organize, and access to benefits. Furthermore, they deserve recognition for the role they play in feeding families across the globe, and their stories should be highlighted. 
Many organizations around the world are working to ensure that workers' voices are heard at every stage of food supply chains, and to protect these laborers' rights, safety, and livelihoods. Food Tank is highlighting the work of 21 notable organizations working for labor justice around the world…" (More here).
This year Vermont farmworkers have much to give thanks for after fighting for and securing an historical commitment from Ben & Jerry's to incorporate our Milk with Dignity Program in their supply chain. The program was crafted to ensure dairy corporations use their considerable resources and power to:
* Source their milk in compliance with the fundamental human rights of farmworkers; AND
* Pay farmers a premium price for their milk to alleviate the downward pressure on farms and farmworkers
Farmers Add Their Voices for Milk with Dignity 
Farmworkers have been hard at work since June in order to negotiate a final agreement with Ben & Jerry's to deliver on this promise and farmworkers will accept nothing less than their human right to work with dignity. Vermont dairy workers welcomed recent news that Vermont's most progressive farmer movement has pledged their support to stand for Milk with Dignity joining the ranks of Family Farm Defenders and the National Family Farm Coaltion:
"On behalf of the Rural Vermont Board of Directors, I write to express our solidarity with and support for Migrant Justice and the work you are doing through the Milk with Dignity Program to ensure economic justice and safe conditions for Vermont's farm workers and farmers. Rural Vermont shares Migrant Justice's commitment to building a fair and just food system in Vermont including the movement toward a truly sustainable dairy industry. We further support your efforts to create a new worker-driven social responsibility program."
Last year hundreds of dairy workers came together to define what a dignified workplace would look like and set out in search of a model truly capable of securing their rights and dignity.  In doing so, farmworkers peeled back the layers of problems they face:
Exclusion and No Enforcement: Farmworkers are excluded from fundamental labor, health and safety protections and there is little to no real enforcement of the insufficient laws that exist

No Voice No Rights: A sustainable food system must be fueled by truly sustainable and dignified jobs and workers must lead in order to create this change

Profiting from Downward Pressure on Farms: Milk prices drop below costs of production about 3 ½ out of every 12 months placing downward pressure on dairy farmers' income and worker's wages; corporations profit from this downward pressure and therefore they can and should be held responsible to fix it;

Corporations Avoid Accountability: Too many corporations avoid real accountability to workers in their supply chain by shopping around or creating Corporate Social Responsibility (CSR) initiatives which exclude real worker participation; fail to educate workers to know and enforce their rights; lack real enforcement mechanisms; and seek to dictate the conditions of their own oversight and auditing.
So, these problems led Vermont dairy workers to design, build and launch the Milk with Dignity Campaign and Program expanding a new model of supply chain organizing dubbed Worker-Driven Social Responsibility (WSR) that is based on the groundbreaking success of the CIW's Fair Food Program.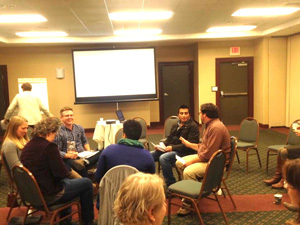 Over the past several months farmworkers have been out on the road winning support for the Milk with Dignity Program from Boston to Burlington, from Fairfield to Brattleboro and back again. Students across the region, in particular, are hungry for Milk with Dignity and are gearing up to organize their own campaigns to hold corporations accountable for these systemic problems.  
Farmworkers have been connecting up with students from Real Food Challenge and speaking out for Milk with Dignity in local classrooms, regional food system gatherings such as Food Solutions New England, VT Farm to Plate, and the Amherst Field to Fork Conference, and Middlebury College to standing ovations.
Since we launched our Milk with Dignity Campaign dozens of organizations and hundreds of consumers have reached out to Migrant Justice over the past year and asked, "What can we do to stand up for worker's rights in the dairy industry."  Our movement is eager and ready to expand so let us know if you're ready to join us to by taking and sharing this Milk with Dignity Pledge!
And don't forget to join Vermont farmworker's for our now legendary annual Fiesta on Saturday December 19th from 6pm-11pm at 1 Main St in Burlington! Don't miss this big celebration of another hugely successful year in our struggle for human rights! Purchase tickets here.
In Solidarity,
Migrant Justice