Migrant Justice Visits With FLA Coalition of Immokalee Workers Envisioning a New Day for Worker's Rights
Posted Tue, 11/18/2014 - 12:04pm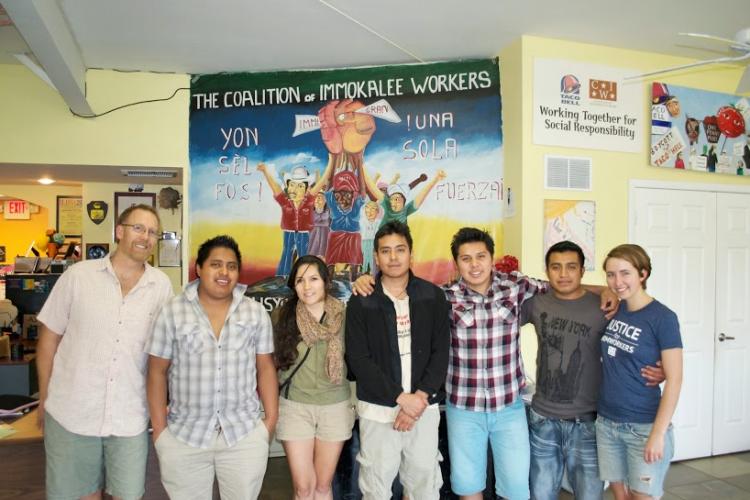 Migrant Justice's historical delegation to Florida's Coalition of Immokalee Workers: Building A Vision for "El Nuevo Dia"--the new day of farmworker dignity and rights 
"I was honored to travel to Florida and went with a commitment to bring back ideas to my community. There are many ideas to spread through VT like how the Coalition uses theater to educate, engage and recruit workers. The community is deeply united. They have their own community run food cooperative. There office walls are covered with photos and worker testimonies displaying achievements and victories that are the footprint that the community leaves behind!"-Victor Diaz, Migrant Justice farmworker leader reflecting on last weeks delegation to Florida.
Last week Migrant Justice's 7 person delegation, including farmworker leaders, staff, and allies, got an in-depth look inside the recipe for Florida's Coalition of Immokalee Worker's (CIW) success. Our mission was for our farmworker leaders to learn directly from CIW worker leaders about how they are building such a powerful movement to transform the lives of thousands of farmworkers in particular exploring how we could apply lessons learned to help build our Milk with Dignity Campaign. What we learned was much more than expected--the CIW is not an organization---it is a family, a community and a movement that is truly changing reality and steadily securing human rights together working towards "El Nuevo Dia"--the new day of dignity and rights for farmworkers.
We accompanied the CIW for a week, bearing witness to their powerful education in the fields, appearing on the CIW's own community radio station, learning about their work to end modern day slavery, learning about the formula behind their 12 historical agreements with tomato industry giants and learning about the Fair Food Standards council, checking out their worker-run food cooperative, getting to know their 3 sister organizations...(and here and here). But most of all learning, seeing, sharing, and envisioning "El Nuevo Dia"-the new day for workers.  
The CIW have completely transformed business as usual in the Florida Tomato industry and are fighting successfully to create what they call "El Nuevo Dia". Lupe, one of the many amazing CIW leaders explained El Nuevo Dia--"Now we feel less fear now to defend our rights." She shares that they've turned the tide,  "Its the bosses that fear us now--if they want to sell tomatoes they know they need to comply with our Code of Conduct." So, we spent much of the week with the CIW sharing how to create our own vision and build a movement for El Nuevo Dia here in Vermont...
...Not only did we leave with a taste of El Nuevo dia--Migrant Justice left with a clear plan moving forward. In the coming months our Milk with Dignity Campaign will be inviting corporate players in the dairy industry to comply with farmworker defined Milk with Dignity standards. Our long term vision is to create El Nuevo Dia not just for farmworkers but for those farmers who agree to partner in this struggle for dignity and human rights!  
We returned this past Saturday to an enthusiastic reception and tremendous honor from the Peace and Justice Center receiving the 1st Annual Ed Everts Social Justice Award recognizing farmworkers important struggles for human rights in VT!!! It turns out the award was an original United Farmworker banner from the famous Grape Boycott days of Dolores Huerta and Cesar Chavez!!!
We need you to make El Nuevo Dia a reality!!! Stand with us in this struggle for Milk With Dignity and El Nuevo Dia by reading over this campaign description and contacting us to see how you can organize in support of Milk with Dignity!