NEW: JOIN THE "STOP DANILO'S DEPORTATION" VIDEO PROJECT!
Posted Thu, 06/13/2013 - 6:49pm
Dear Friends of Migrant Justice,
Below you will find:
1) UPDATE: Stop Danilo's Deportation Campaign w/ 1000 signatures in 2 days! Sign petition. Call ICE! Spread the word!
2) WATCH OUR NEW CAMPAIGN VIDEO AND JOIN THE STOP DANILO'S DEPORTATION VIDEO PROJECT. Add your voice!
3) SAVE THE DATE! Thursday 6/27 GET ON THE Migrant Justice BUS for the Not One More Deportation Rally with a send off rally in Burlington VT in the a.m; then off to Burlington MASS ICE detention Center for a regional action in the afternoon! 
Join immigrant rights supporters from all over New England and head to the heart of deportation decision-making, calling to stop Danilo's and all deportations. MORE INFO SOON! (Take the whole day off if you can now!) 
1) First, thank you so much for all of you who have signed the petition to stop Danilo's deportation and call ICE! We've got nearly 1000 signatures in just a couple days!
If you haven't already please sign it now and do the follow up phone call . Its really important. The more noise we make the more power we have to stop this.
Remember, this campaign is much bigger than Danilo. WE ARE ALL DANILO!
Danilo is the 11 million plus immigrants who are living and working in this country every day yet are denied fundamental human rights.
We must stop the deportations! Stop dividing and criminalizing our communities! We need a path to citizenship for the over 11 million NOW!
2) So, now what? We invite you to participate in the next phase of the campaign! We need to spread the word far and wide with this new video project! Join us!
A) Watch & share this 2 minute new campaign video about Danilo.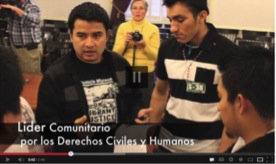 B) Watch these video responses from friends and community members sharing their Danilo story.
C) Record, upload and share your own video response by following the below steps or call/email us and we will walk you through it! When you share the video be sure to share it with your friends and family calling upon them to signt the petition, make the call and spread the word!
Stop Danilo's Deportation
Video Project Guide
Available as PDF here
Please submit only one video. Videos should be around 1 minute long. 
First watch this video about Danilo here:
https://www.youtube.com/watch?v=kItU3OQkB7Q
For a good sample go here:
https://www.youtube.com/watch?v=60MieIbqTjw
https://www.youtube.com/watch?v=S-cPRgRZi-0
The basics:
To upload a video, you must have a YouTube/Google account. To set that up, see the instructions at www.youtube.com/create_account. If you have a Google account (like Gmail) use that to sign into YouTube (OR) if you can't figure out how to create an account and want to participate email info@migrantjustice.net or call 802-658-6770

The most important thing is to be heard. Go somewhere quiet to record your video and project your voice.

Make sure the light is on your face, not behind it. In other words, don't sit in front of a bright window or light.

If you have or can borrow a smartphone, this works just fine! Many digital cameras have video functions too. Upload the video onto a computer and then onto YouTube.

To make sure that people can find your video on YouTube, use your full name, then "Stop Danilo's deportation" in the title. So, for example: "Carlos Diaz: Stop Danilo's Deportation".

Type in these tags to help people find your video: "Danilo Lopez" "Vermont,"  "Migrant Justice", "immigration reform"

If you are having trouble taking these steps, don't worry! Contact us at info@migrantjustice.net or call 802-658-6770

SEND US YOUR LINK TO YOUR VIDEO!
Your video will be most powerful if it comes from the heart, but these talking points might be effective.
Talking points:
State your name, where you live, and how you came to know Danilo (EVEN IF YOU JUST HAVE WITNESSED HIS WORK FROM AFAR AND SEEN HIS CONTRIBUTIONS)

Talk about why Danilo is indispensable to our community and movement

If you can share a story when you saw him in action that would be awesome

Make it personal! Danilo has touched so many lives. Mentioning an experience – as a friend, neighbor, compañero – can make all the difference.

Conclude each video with the following message:
DON'T DEPORT DANILO. WE NEED A PATH TO CITIZENSHIP AND HUMAN RIGHTS NOW FOR OUR 11 MILLION FRIENDS, FAMILY AND NEIGHBORS! STOP TEARING OUR COMMUNITIES AND FAMILIES APART.  
In Solidarity,
Migrant Justice