TAKE ACTION: STOP DANILO'S DEPORTATION! HUMAN RIGHTS AND A PATH TO CITIZENSHIP NOW FOR OUR 11 MILLION FRIENDS, FAMILY AND NEIGHBORS!
Posted Thu, 06/13/2013 - 9:55am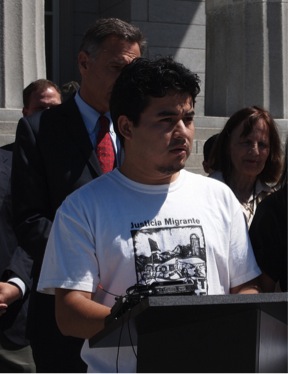 Dear Migrant Justice friends,
Last week represented a bittersweet stage for our movement for human rights. While we celebrated the official signing of S.38 into law, Danilo Lopez, our human rights leader who has been instrumental to Migrant Justice's successes, got news that he is facing deportation on July 5th.
STOP DANILO'S DEPORTATION BY SIGNING THIS PETITION NOW!
The Obama Administration is deporting 1,100 people per day, many of whom like Danilo, would qualify for immigration reform should it pass!
Read and share this article about the big drivers license victory and Danilo's story:
http://migrantjustice.net/node/207
We are launching a public campaign to fight this injustice! We call on ICE Director to use prosecutorial discretion to stop this deportation. Not only has Danilo worked tirelessly to make Vermont a better place for everyone, but he would also likely qualify for immigration reform.
In Danilo's words:
I'm motivated to fight against this deportation by all the support from my farmworker community, my friends and our allies. By working to stop one deportation, we are demonstrating that we can stop more while we fight to win immigration reform"
With the Driver's License victory under our belt, let's send a strong message together to stop deportations that disrupt families and communities, across the country and right here in Vermont!
Take Action:
We have less than a month to stop Danilo's deportation. Here are some urgent steps you can take:
SIGN and SHARE this petition to ICE director John Morton:
http://www.notonemoredeportation.com/portfolio/danilo-vermont-human-rights-hero-and-immigrant-rights-organizer-facing-deportation-on-july-6th/
CALL ICE Director John Morton at 202-732-3000. Phone calls have a great impact in demonstrating our support for Danilo. (Daniel is his birth name, Danilo his nick name)
Tell him "Please use prosecutorial discretion to halt the deportation of Daniel Alejandro Lopez Santiago (A089-088-623). Daniel is a civic leader and human rights organizer who has worked tirelessly to make Vermont a better place for everyone. He's a vital part of our community."
WRITE A LETTER OF SUPPORT by Friday, June 12th. Especially if you know Danilo personally or have been directly involved with Migrant Justice campaigns.
-See samples from last year at:
http://migrantjustice.net/sites/default/files/sample-letters-danilo_0.pdf
-Email your letter to info@migrantjustice.net, or mail it to
Migrant Justice
Attn: Danilo's campaign
294 N. Winooski Ave, Suite 130
Burlington, VT 05401
Volunteer! We need volunteers for phone banking, or who can organize their union, place of worship, or other organization you belong to take action in support of Danilo and an end to deportations! Call us at 802-658-6770 or email info@migrantjustice.net
Stay tuned for ways to send a video testimony to support the campaign!
Thank you!