VT Poised to Create New Program For Residents to Access ID and Drivers Licences Regardless of Immigration Status
Posted Fri, 03/23/2012 - 2:45pm
Vermont Poised to Create Program for Residents to Access ID and Drivers Licenses Regardless of Immigration Status
VT Senate Votes for Freedom of Movement for ALL Creating Committee to Introduce ID and Drivers License Legislation
Friday, March 23. Montpelier, VT-- Vermont farmworkers, farmers and community supporters are celebrating a Senate vote today that establishes a committee to introduce new legislation for Vermont residents to access state issued ID and Drivers' Licenses regardless of immigration status. Senator Baruth, of the Senate Agricultural Committee which has championed the bill, directly addressed the farm worker community from the VT Senate floor, "Si, Ustedes Tienen Razon" ( "Yes, you are right"). Baruth then reported that the farm workers who have poured into the state house to share their experiences of living without the basic right and ability to move freely in rural Vermont convinced law makers that accessing health, food, and other basic human needs is nearly impossible for the community without access to drivers licenses. He then shared the extensive hearings that took place in the Senate Agricultural and Transportation Committees and Senate over the past 2 months listing off the names of farmers, farm workers, the DMV, the Commissioner of Public Safety, the State Police, The VT Farm Bureau, legal experts, and education and health care providers who expressed that S-238 could provide critical support for Vermont's migrant workers to be able to identify themselves and move freely in Vermont. Long time Senator Dick Mazza, Chair of Senate Transportation, added, "The formation of this study committee decision is not only ours, its migrant workers, the administrations, and many others we heard from. Only a few states have done it. This is an important piece of legislation."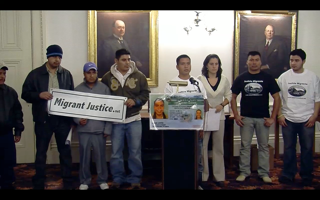 Danilo Lopez, who was turned over by Vermont State Police to border patrol after a routine traffic stop in September inspiring a campaign producing a new and improved State Police Bias-Free Policing Policy, has since emerged as a farm worker community leader on S-238. He was present for the Senate vote today and shared, "We are deeply grateful to the Vermont Senate today. Vermont stood up today for what it has always valued. The civil and human rights of all our community members. This is a huge step forward for my community and will have a huge impact on our lives here." Lopez then explained, his personal story, "I was kicked by a cow and waited for 24 hours in pain with deeply bruised ribs, and hurt wrist and ankle until my employer was able to help me access medical services. With an ID and license me or my co-workers would have been able to drive and I wouldn't have feared calling 911 with a state of VT ID." He continued, "This bill isn't about just migrant workers. We have worked hard with many farmers, many of whom take us in as family members, to win this support in the Senate. This bill is for the public safety and human rights of all Vermonters and offers direct support to our dairy farmers and migrant workers."
Dairy farmer Phyliss Bowdish explains her support for S-238, "I value the employees that work and live on our dairy farms. They are hard working, trusted members of our farm families. Common everyday activities that we take for granted such as driving, shopping, banking, seeking medical advice or just socializing with their fellow countrymen are not readily available to the migrant farm workers especially the closer to the Canadian border they live. Everyone needs to feel appreciated and I am here to show, not only to our employees, but to all the other migrant farm workers in Vermont that they deserve to be recognized for their contribution to Vermont agriculture."
Next up for S-238 is a 3rd and final reading and vote in the Senate on Tuesday, which it is expected to pass easily after a unanimous vote today, and then its over to the House.
Migrant Justice organizes to build the voice, power, and capacity of farm workers to work with community allies for socially and economically just farming communities and human rights for all.
More information or Interviews:
www.migrantjustice.net
802-825-1609
info@migrantjustice.net