ACTION DAY A SUCCESS! 2 URGENT ACTIONS NEEDED FOR S-238.
Posted Wed, 03/14/2012 - 5:15pm
We are making history THIS WEEK with Vermont farm workers, farmers, and fair food and human rights allies by organizing to pass S-238, a bill that will make accessible Vermont IDs and drivers' licenses to Vermont's migrant workers!
1. Update on S-238 and the STATE HOUSE ACTION DAY ON WED 3/14!
2. TAKE 2 URGENT ACTIONS for S-238!
3. NEW Talking points on S-238 available here:
http://migrantjustice.net/sites/default/files/drivers-licenses-talking-p...
11 am Thursday update: Gov. Shumlin speaks out in support of S-238!
http://www.vpr.net/news_detail/93775/shumlin-supports-drivers-license-pr...
1. Update on S-238 STATE HOUSE ACTION DAY on Wed 3/14
We continue to make history. For the first time in Vermont State Legislators are seeing and hearing directly from the very folks that sustain our dairy industry and this work is turning the tide towards human rights in Vermont!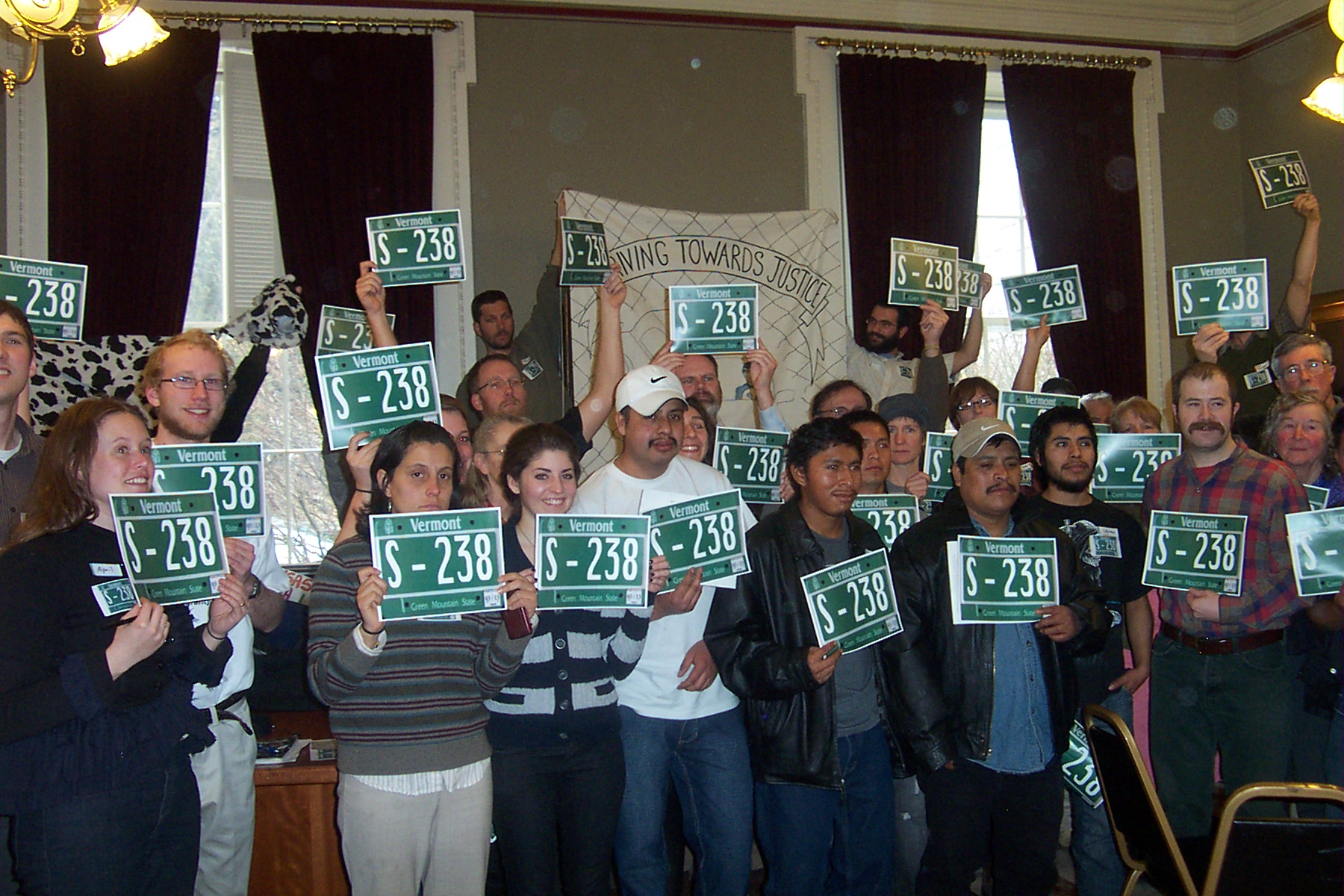 While a crowd of over 50 gathered in Room 10 to meet and strategize about how to move S-238 out of the Senate, Migrant Justice leader Danilo Lopez testified to the Senate Transportation Committee, "I was kicked in the ribs by a bull and waited in pain for over 24 hours to get a ride to the doctor by my employer. A license would have allowed me to go the hospital on my own and I could have identified myself once there." Danilo's story moved the head of the DMV to respond, as a community member, "We all owe Danilo an apology. This should never happen in Vermont."
Natalia later reported back to our growing crowd of support: "Once again, everyone who testified agreed on the need to address the isolation migrant farmworkers face. The committee is taking more testimony tomorrow, and we will be there, once again, to provide answers and support for this bill. The opportunity to bring Vermont's migrant farmworkers out of the shadows is NOW, and your Senators need to hear you want them to pass the bill NOW."
Then, Senators Baruth, Kittell, and Starr from the Senate Agricultural Commitee, champions of S-238 who deserve our thanks, joined us. Senator Kittell shared, "In Vermont we can't allow hard working community members to not have access to transportation. I supported S-238 because I support human rights."
Senator Baruth followed, "Vermont has the power and authority to do this and its the right thing to do and WE CAN DO IT!" Senator Starr echoed, "It's just not right to have farm workers who sustain our dairy farms feeling like they can't move freely in Vermont."
Then, farm workers, farmers, and allies converged on the cafeteria. David, a farm worker from Addison County shared, "This is my only day off and I'm using it to show that I care about this bill because I know we have a chance." farm workers shared their stories of what S-238 would do for them:
"Now I feel like a prisoner. With an ID and license I wouldn't because I could come and go as I need."
"It would be great to be able to identity ourselves whether it be to cash checks or go to the store to buy my own food without waiting for my employer to do so when he can."
Our partners' at the Vermont Workers Center Peoples'Media team worked with Medios Migrantes, our nascient media team, to interview, film, and record this event! Stay tuned for videos and more photos.
We made progress today and got some definitive YES votes that we didn't have yesterday. But we are not done. The bill has a long way before becoming law, and we need your help to make sure that we keep up the building momentum as we are racing the clock!
2) Take 2 URGENT ACTIONS TO SUPPORT S-238!
A) EMAIL YOUR SENATORS NOW by CUTTING, PASTING & PERSONALIZING THIS EMAIL:
Find your senators here:
http://www.leg.state.vt.us/lms/legdir/districts.asp?Body=S&Session=2012
Dear Senator______________,
(If you were in the Senate today; if you called your Senator already about this; or if you have any other personal relationship please say so here.)
I am writing to express my support for S-238, a bill that makes accessible Vermont IDs and drivers' licenses for Vermont's migrant workers and ensures that all our community members have freedom of movement in VT! I know that things are busy this week in the Senate but I want to urge you to please do all you can to partner with your colleagues to GET S-238 through the Senate Transportation Committee and on to the Senate Floor by Friday.
S-238 is fundamentally about the freedom of movement of all our community members. It supports public safety for all Vermonters, provides direct support and relief for our dairy farmers, and addresses urgent human and workers' rights issues.
Vermont has the power and authority to determine who it issues ID and licenses to and how we do it. Please work to get S-238 through the Senate Transportation Committee and on the Senate Floor by Friday!
Lets work together to pass S-238 this year!
Thank you so much for your support.
Sincerely,
Name, Town, Phone, Email
B) CALL YOUR SENATORS TOMORROW AND ASK THEM TO WORK TO MOVE S-238 OUT OF THE SENATE!
CALL THE SERGEANT OF ARMS BETWEEN 8AM-5PM ON THURSDAY (802-828-2228) AND LEAVE A MESSAGE FOR YOUR SENATORS:
"Please partner with VT farmers, farm workers, and human rights allies to move S-238 through of the Senate Transportation Committee and on to the floor by Friday. S-238 IS GOOD FOR OUR FARMERS, FARM WORKERS, PUBLIC SAFETY, AND HUMAN RIGHTS."