VTMFSP Leader Danilo Racially Profiled; Community Mobilizes
VT Farmworker leader Racially Profiled. Vermonters Mobilize with Rapid Response Prompting Governor to Intervene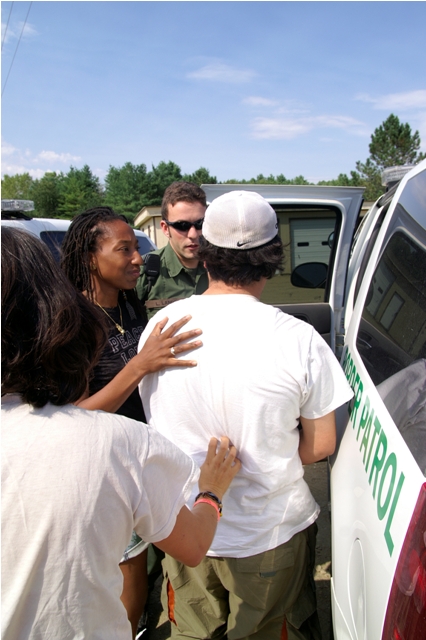 September 13th was a long and painful day for the Vermont farmworker community and friends. Our dear friend and one of the community's most courageous and outspoken leaders, Danilo Lopez, was racially profiled by State Police on I-89 just north of Middlesex during a routine traffic stop. Danilo and his co-worker Antonio spent the day incarcerated by State Police and later Border Patrol. After a long day of community mobilizing, the two farmworkers were eventually released to cheers, hugs and tears by two dozen friends and supporters at 8pm on Tuesday.
Danilo explains that around 8:30 am on Tuesday September 13, "Police stopped us. Though there was no reason to ask for my documented status they did and only for being a different color from our friend who was driving. We chose to remain silent...He called the Border Patrol quickly." Ironically, just 3 weeks ago Danilo had visited the State House to talk with Governor Shumlin and the Department of Agriculture to seek the Governor's support to stop Federal Programs like 'Secure Communities' that blur the lines between Police and Immigration Agents. He was looking forward to a longer meeting with the Governor scheduled for the end of the month, but now he is unsure if he can attend as he awaits a deportation hearing.
While Tuesday was a difficult day, it was also inspiring. As the VTMFSP learned more about the racial profiling incident directly from Danilo via text messages, our allies at the VT Workers' Center blasted out calls to action on the web and via text messages. We were truly amazed by the number of concerned Vermonters who immediately took action, spoke out and organized to raise attention about this injustice, which happens invisibly and unchallenged every day throughout the country. Calls of concern flooded the Police Commissioner and Governor's office asking them to stop Danilo and Antonio from being deported, and to do everything in their power to intervene due to the State Police's breach of their own Bias-Free Policing Policy. At one point a caller was told, "We'll Put you on the list but there are about 100 people ahead of you."
Friends and members of groups supportive of farmworkers' rights responded immediately and selflessly to the VTMFSP and VT Workers' Center's calls to action, including: the Central VT Farmworker Coalition, the VT Human Rights Commission, Vermont Immigration and Asylum Advocates, the Addison County Farmworker Coalition, VT Immigration Assistance, the VT Multicultural Alliance for Democracy and Equity, and the Vermont Federation of Nurses. Concerned legislators called us asking what they could do, and were redirected to call the State Police and Governor's office.
It wasn't until later that day that it became clear the hard work was paying off, when Gov. Shumlin publicly called for an internal investigation of the State Police's possible violation of their own Bias-Free policy. Later, the State Police announced that they would review their own policy. Two big steps in a long battle for Bias-Free Policing in Vermont.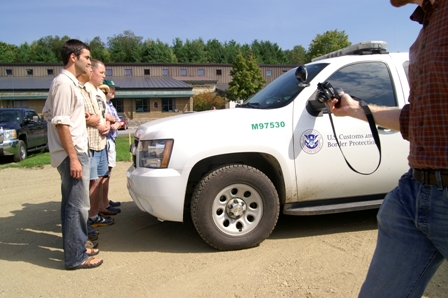 Within a couple of hours of getting a text message or a facebook alert, a group of 15 concerned Vermonters also gathered at the Middlesex State Police barracks to figure out what they could do. When Border Patrol began to take Danilo and Antonio away in the early afternoon, five allies peacefully and spontaneously stood up for justice, putting their bodies on the line, blocking the Border Patrol vehicle in an act of defiant civil disobedience, pledging to not let their friends go invisibly or without resistance. Three were arrested.
As Danilo and Antonio were transported north, a different group of supporters followed the Border Patrol Vehicle to the Richford, VT station, where they later gathered again with reinforcements and organized a candlelight vigil, joined by two dozen people. As time passed, hope spread through the crowd, based on reports from tireless allies who had been on the phone all day with Senators and the Governor, that Danilo and Antonio would be released.
Nearly 12 hours after their original detention, friends and allies cheered in the dark, holding candles and exchanging hugs and tears of joy when Danilo and Antonio emerged having avoided the worst nightmare of disappearing into the dehumanizing deportation system. Later Danilo addressed the crowd, "Inside I felt alone but once we were released and saw all of you I was moved with tears of joy."
Though its hard to call this horrible day a victory because Danilo and Antonio await deportation procedures, the day did show that groups of heartfelt people working together do make a difference in Vermont. The swift and urgent response of so many Vermonters not only may have helped Danilo and Antonio but also, as Danilo himself recognized, it drew attention from powerful decision-makers about the injustice of the immigration system and to the everyday invisible reality of Vermont's migrant farmworkers.
All of us at Vermont Migrant Farmworker Solidarity Project want to express our deepest gratitude to all of you who stood with Danilo, Antonio and all of Vermont's migrant workers on this challenging and inspiring day. We ask you to stick with us in the coming days and to join us as we regroup and prepare to do all we can to stop the deportation of Danilo and Antonio, and to work with the Governor to ensure that Bias-Free-Policing in Vermont be more than a catchy phrase.
What can you do?
1) Write (GovernorVT@state.vt.us) and call (802 828-3333) Governor Shumlin to thank him for starting the investigation on this case, and and ask him to:
· Complete a thorough review of the incident and launch a new model for a democratic, bias-policing grievance process that includes transparent community oversight and accountability;
· Pledge to keep ICE's "(in)Secure Communities" out of Vermont as it would only cause this kind of racial profiling to be more common and burden police with the duties of ICE
· Review and make public and accessible all Memorandums of Understanding between all VT Police agencies and federal law enforcement agencies;
· Strengthen and clarify the State Police Bias-Free-Policing policies in collaboration with the Vermont Human Rights Commission and stakeholder communities.
* Invest in promoting Bias-Free Policies to the community and training officers to adhere to their own Bias-Free-Policing policy.
2) Sign on to the Petition to Stop ICE's "Secure Communities" from coming to Vermont:
http://migrantjustice.net/node/98
3) If you can, please donate to VTMFSP. It takes a tremendous amount of time, energy and resources to sustain this work in support of Danilo and Antonio and all our VT farmworkers.
http://migrantjustice.net/node/91
Thank you again for your support and encouragement. Please stay tuned.
-Brendan O'Neill and Natalia Fajardo, on behalf of everyone at the Vermont Migrant Farmworker Solidarity Project