Vermont's #Not1More Movement Secures Another Release of VT Human Rights Leader from ICE Custody
Posted Fri, 10/14/2016 - 11:49am
Vermont's #Not1More Movement Secures Another Release of VT Human Rights Leader from ICE Custody
ICE Drops Bail After Outpouring of Community Support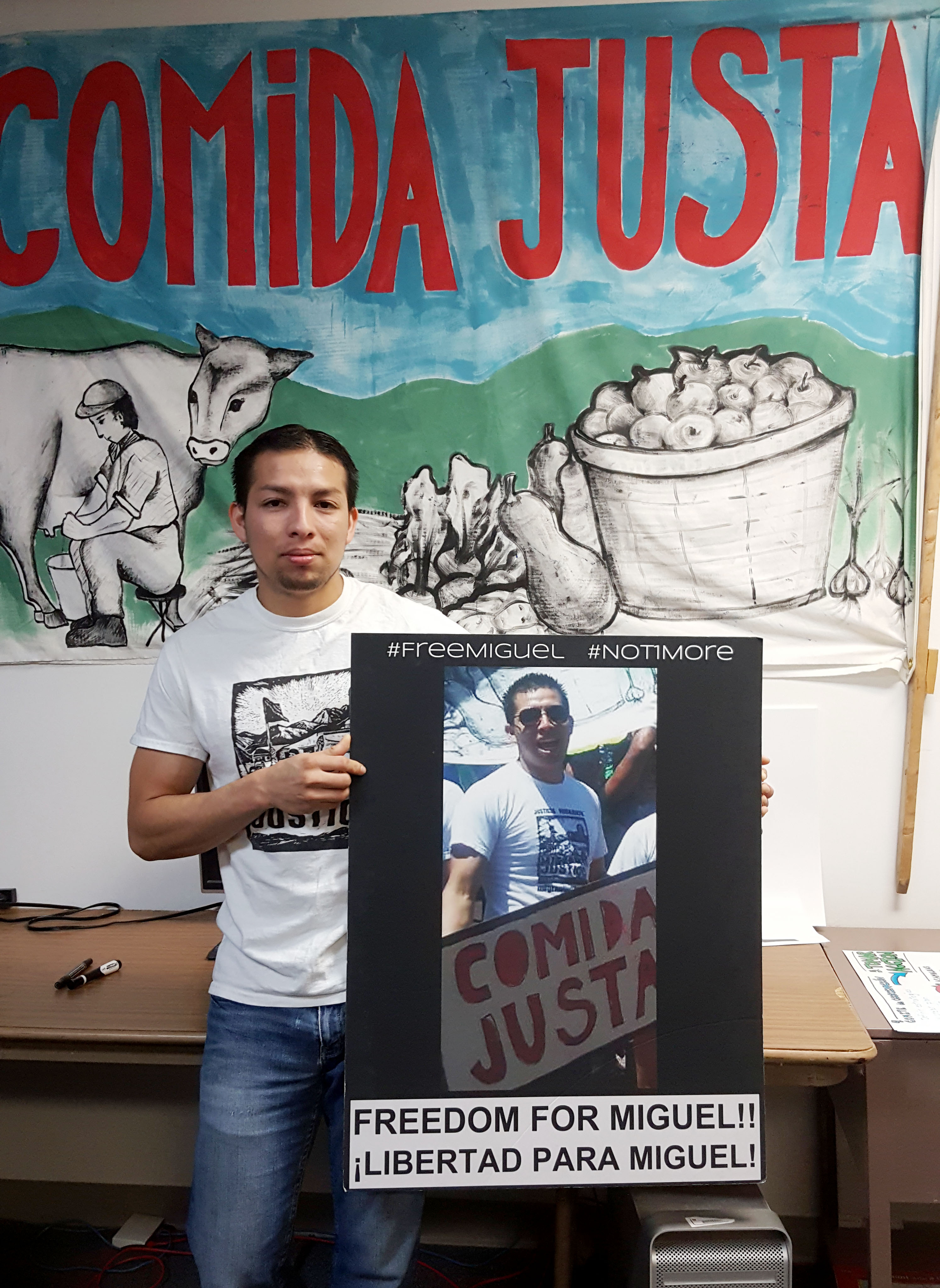 10/14/16 Burlington, VT--Vermont human rights leader Miguel Alcudia received a warm welcome by a group of friends last night after being released from ICE custody after spending three weeks in prison.  In a rare exercise of discretion, ICE dropped Alcudia's $21,000 bail altogether drawing upon its' administrative powers to release immigration detainees like Alcudia who are not considered "priority" for deportation adding to questions of why Alcudia was detained in the first place.  The release comes after a surge of immigrant detentions in Vermont in recent months and on the heels of broad region-wide support calling for the release of Alcudia including over 2 dozen letters of support from friends and community leaders, a series of rallies and a vibrant 150 person march to the Federal Building in Burlington VT, an action at the St. Albans's ICE office and nearly 1500 online petition signatures calling for Alcudia's immediate release.  
Miguel was reunited with friends late last night and remarked:
"I am happy to be free again and to take up again our struggle for human rights...Just because we don't have the right papers they make us endure moments of anguish and depression enclosed in the 4 walls of our cell. I met someone inside who tried to take his life for the difficulty these moments present to us. Since the first moment I was detained I felt the support that I was going to have not just from my community but also from allies and organizations that understand our struggle in this state. I felt that the struggle is not in vain. I could feel the power of our community that pushed and pressured ICE to free me."
Miguel's release also may have been boosted by a letter from Senator Sanders directed to ICE Field Director Chris Cronen:
    "...Mr. Alcudia is Vice President of his organization's Farm Worker Coordinating Committee, which functions as Migrant Justice's Board of Directors....Alcudia is active as a spokesperson for Migrant Justice and presents to and meets with Church groups and schools..."
    "...I bring Mr. Alcudia's case to your attention for appropriate review. I urge you to look into Mr. Alcudia's situation at your earliest convenience, consider all factors in this case, and give full and fair consideration to Mr. Alcudia's request for prosecutorial discretion."
Letters of support attested to Miguel's deep roots in his community as a farmworker on Vermont dairy farms over the past couple of years and as a leader of Migrant Justice's Milk with Dignity campaign to raise wages and improve working conditions in the dairy industry. Sylvia Knight, a beloved veteran and honorary "grandmother" of Migrant Justice wrote, "Miguel is a valued member of our community, demonstrating care, courage, intelligence and leadership skills in his farmwork and in his work as a leader of farmworkers as a member of Migrant Justice. When his wages and the wages of his co-workers were stolen by the farm-owner, he demonstrated courage and caring in his leadership as he stood up for his human rights and for those of his fellow workers."
Undercover agents with Immigration and Customs Enforcement (ICE) arrested Migrant Justice leader Miguel Alcudia after agents staked out his farm and followed him as he drove to the bank to deposit a hard-earned paycheck. Originally from Mexico, Miguel came to Vermont over two years ago to work on a dairy farm.  Miguel's case is part of a wave of recent ICE arrests of dairy workers in the state and raises questions about whether ICE is targeting farmworker's participating in Migrant Justice. Furthermore, a recent feature story from VTDigger, aided by a Migrant Justice FOIA request, suggests that the VT DMV may continue to be collaborating with ICE in the recent surge of deportations in Vermont.
For More information contact Migrant Justice at 802-825-1609 or info@migrantjustice.net