Updated Press Release on Recent ICE detentions
Posted Mon, 03/20/2017 - 3:53pm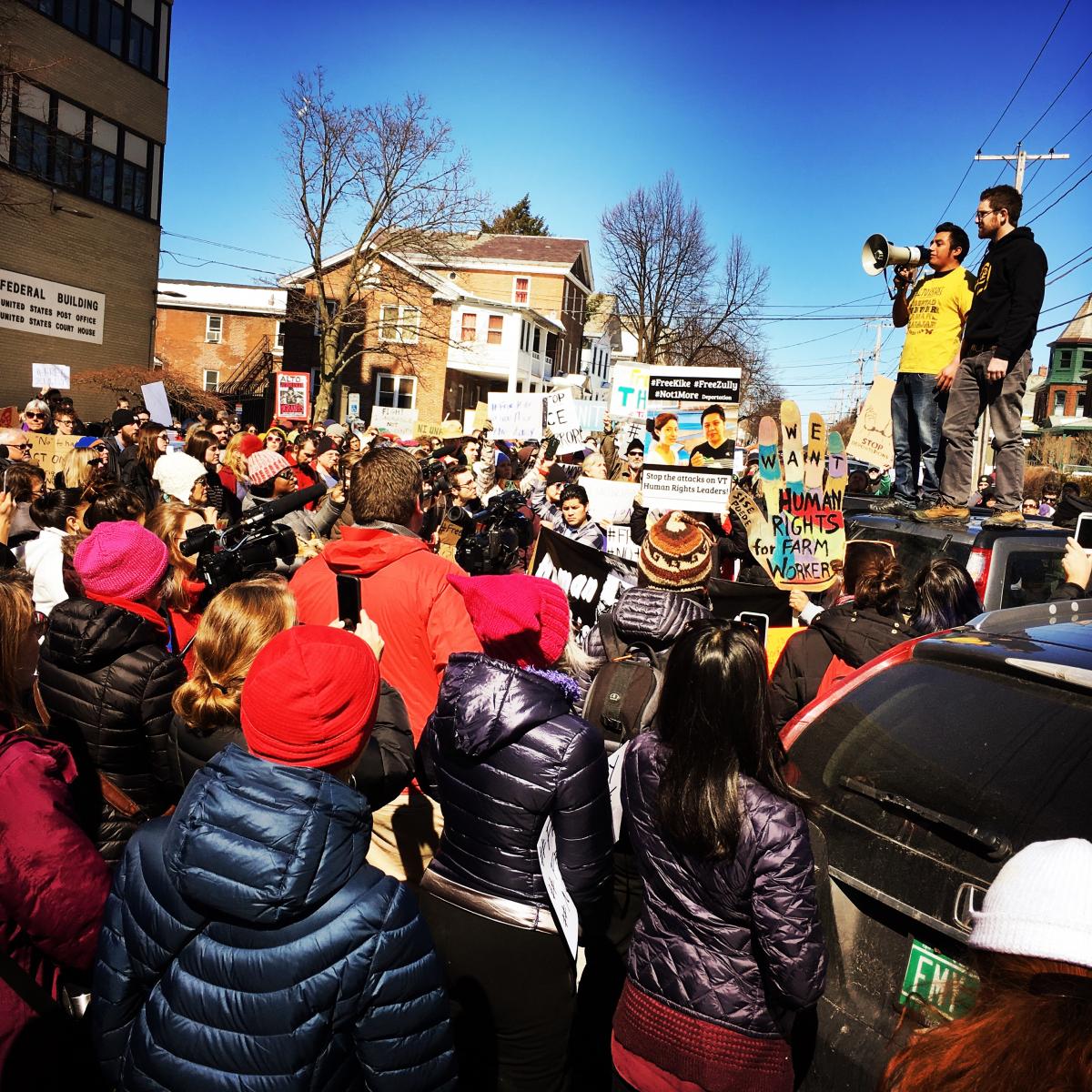 Thousands show support for detained human rights leaders in Vermont
Immigrant leaders of Migrant Justice targeted by ICE for arrest
Burlington, VT. Agents with Immigrations and Customs Enforcement (ICE) have arrested three immigrant members of the Vermont-based human rights organization Migrant Justice within the past week.
Jose Enrique "Kike" Balcazar Sanchez, 24, and Zully Palacios Rodriguez, 23, were surrounded by four undercover ICE vehicles soon after leaving the Migrant Justice office in Burlington on Friday afternoon. Migrant Justice organizers arrived on the site of the arrest in time to see the two being loaded into separate vans and driven away.
"They are targeting our community's leaders," said Migrant Justice organizer Abel Luna.
The detention came two days after agents arrested dairy worker Cesar Alexis Carrillo Sanchez, 23, outside the Chittenden County courthouse Wednesday morning. At the time, Mr. Carrillo, known as Alex, was accompanied by his wife, Lymarie Deida, a U.S. citizen.  The two have a four-year-old daughter together.
Said Ms. Deida of her husband's arrest: "When they arrested Alex, they took away a father, a husband, a human being."
Mr. Carrillo was en route to the Edward J. Costello Courthouse for a hearing stemming from a 2016 DUI arrest.  The hearing's purpose was for state prosecutors to dismiss the criminal charge. According to court documents, prosecutors continued with the dismissal on Wednesday morning, in Mr. Carrillo's absence. Mr. Carrillo came to Vermont to work on a dairy farm when he was 16 years old.
James Lyall, executive director, ACLU of Vermont said: "By targeting people charged but not convicted of any crime, Trump's deportation policy takes the legal principle that people are innocent until proven guilty and stands it on its head. This arrest isn't just an attack on the immigrant community—it's also an attack on the legal system itself."
All are currently being held in ICE custody at the Strafford County detention facility in Dover, NH.  Mr. Carrillo is held on $21,000 bail, Mr. Balcazar on $14,000, and Ms. Palacios is held without bail.  None of the three have criminal records, and neither Mr. Balcazar, nor Ms. Palacios, has ever been charged with any crimes.  ICE has placed the three in removal proceedings and will seek to deport them from the United States.
Supporters organized a march and rally on Saturday to denounce the recent arrests, which took place in downtown Burlington. Hundreds gathered in solidarity with the detained activists, less than 24 hours after Friday's arrest. Supporters will hold more rallies this week in Montpelier and Brattleboro. Migrant Justice has also circulated petitions calling for the release of the three members and for their deportation cases to be closed.
"When Boston ICE Director Todd Thurlow opened up his computer this morning, he saw more than 4,000 emails from supporters calling for the release of these detained human rights leaders," said Migrant Justice staff member Will Lambek on an interview this morning with Democracy Now's Juan González.
Mr. Balcazar is a spokesperson for Migrant Justice and a recognized human rights leader.  He came to Vermont from Mexico when he was 17, joining his parents to work in the state's storied dairy industry. He became involved in the successful campaign to pass legislation granting access to driver's licenses to immigrant workers in Vermont and soon became a leader in Migrant Justice.  He has recently served on the Vermont Attorney General's "immigration task force," representing immigrant farmworkers and helping to craft a guidance manual for VT cities and towns regarding their role in immigration law enforcement.
Ms. Palacios is an active leader with Migrant Justice. After coming to Vermont from Peru, she became involved with Migrant Justice in 2016, aiding in a successful campaign to free then detained Migrant Justice leader, Victor Diaz.  Ms. Palacios helped organize groups of female immigrant farmworkers through Migrant Justice's women's groups.  She has become involved in the national movement for immigrant rights and food justice, attending gatherings of the Food Chain Workers Alliance and the Cosecha Movement.
Mr. Balcazar is one of the principle architects of "Milk with Dignity," a program to improve conditions in the dairy industry through commitments from dairy corporations to implement supply chain codes of conduct. Mr. Balcazar helped to lead the campaign that resulted in Ben & Jerry's signing a commitment to join the Milk with Dignity program in 2015, and both he and Ms. Palacios have been part of efforts to press the ice cream company to follow through on that commitment.  Mr. Balcazar is due to speak about Milk with Dignity at a Harvard University conference on April 1st.