TODAY: 17 #MilkwithDignity actions across the country! "You scream, we scream, we all scream for fair ice cream."
Posted Sat, 06/20/2015 - 3:47pm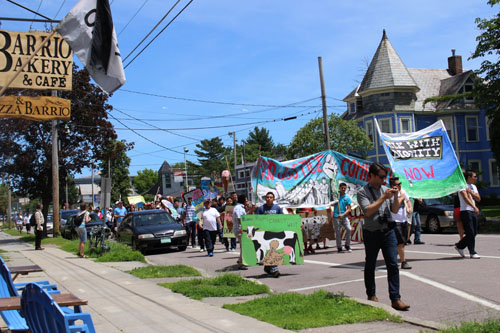 ***November 2016 Campaign Update: Migrant Justice and Ben & Jerry's agreed in May 2015 to work together to operationalize the Milk with Dignity Program in the Ben & Jerry's Supply Chain and have been working steadily towards that goal ever since!
On the evening before 17 Milk with Dignity actions were planned at Ben & Jerry's scoop shops across the nation, Ben & Jerry's committed to work towards an agreement with farmworkers that contains the 5 essential elements of Migrant Justice's Milk with Dignity Program and to work to adopt the program into their Northeast dairy supply chain!  This is a big step forward on the road to securing fundamental worker's rights in Ben & Jerry's supply chain!
So Saturday's actions took on a more festive tone than envisioned From Hollywood, Florida, to San Francisco to Atlanta to New York City. Photos are beginning to come in demonstrating that communities across the nation are "screaming for fair ice cream" and are hungry for Ben & Jerry's to join the Milk with Dignity Program--because human rights cannot wait!
Here are some photos from the day's actions -- We'll keep updating this post as more come in!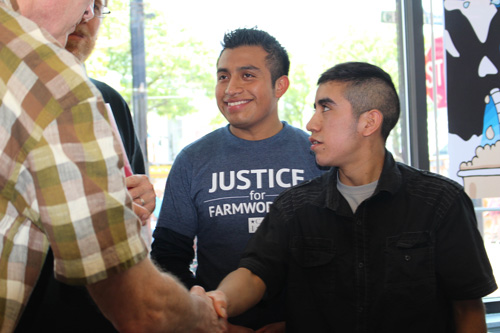 About 200 supporters marched through the streets of Burlington, VT today including over sixty dairy farmworkers ending at the flagship Ben & Jerry's scoop shop, where a delegation from the Milk with Dignity Alliance delivered a letter to CEO Jostein Solheim, urging Ben & Jerry's to take the next step forward by working towards a Milk with Dignity Agreement that truly upholds the fundamental rights of workers in its supply chain. 1st and 3rd photo Pat Jackson. 2cnd Photo by Jonathan Leavitt.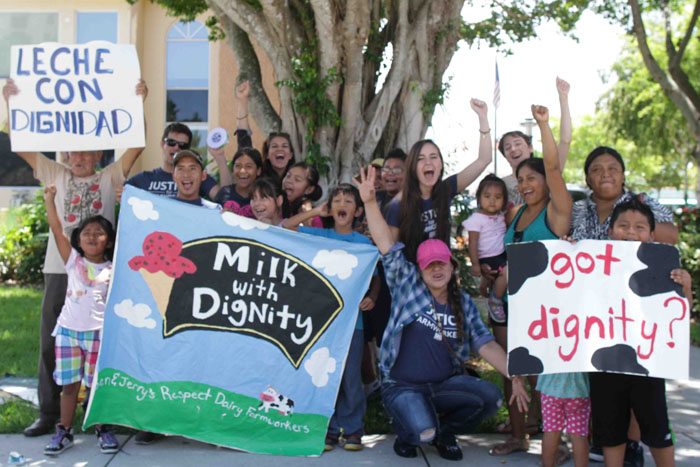 Naples, Florida. (2 pictures above) The action was led by the CIW women's group and a dozen of their children -- a total of about 25 people and was directed by the kids, who created their own chants for the occasion (which may have included constant mooing!). The CIW's Leonel Perez explained how on behalf of the farmworker community in Immokalee, they had come to express their solidarity with their compañeros in Vermont's dairy industry. As it turned out, the manager was a Vermonter herself and demonstrated some awareness of their conditions. She told those gathered that she thought Justicia Migrante's work was important and was hopeful Ben & Jerry's would fully commit to address working conditions for dairy workers!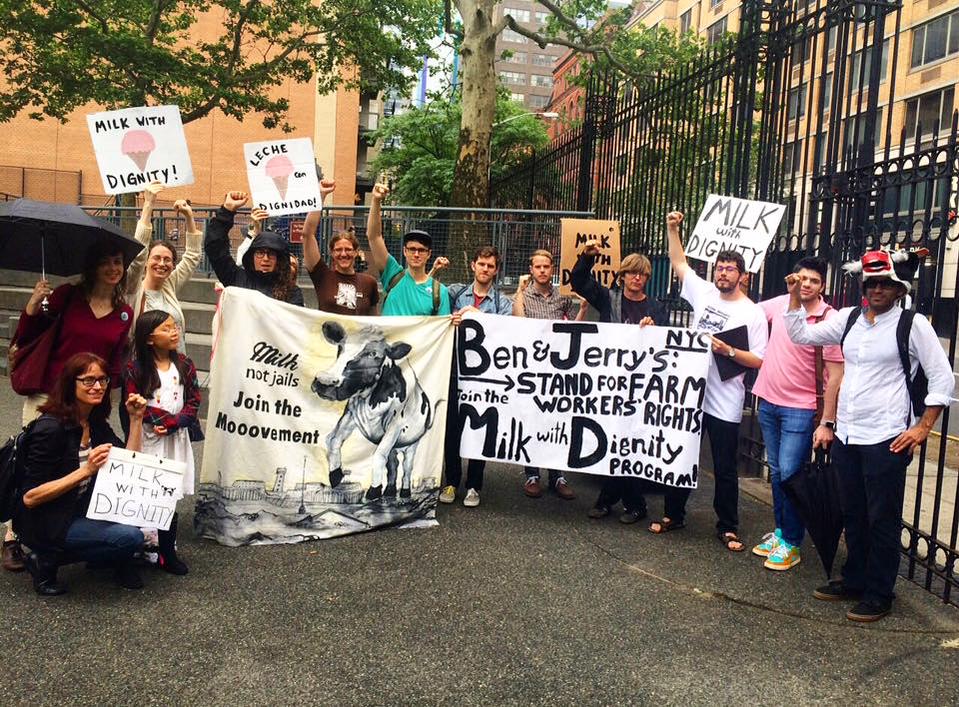 New York City organizers marching to the scoop shop in Times Square.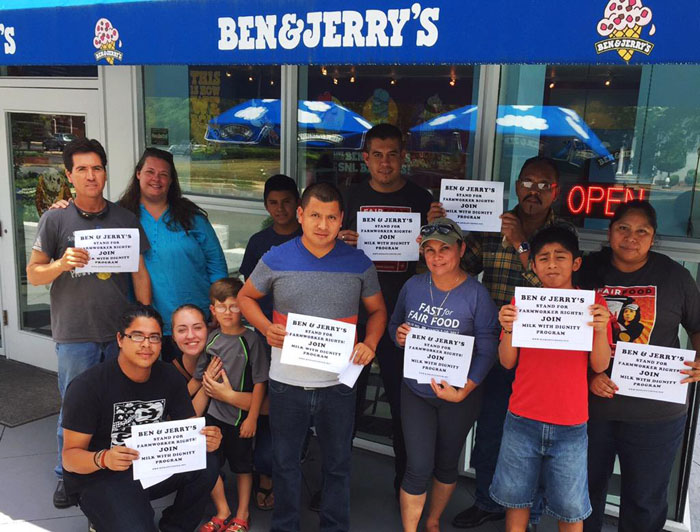 Members of the Coalition of Immokalee Workers in Charlotte, North Carolina.
In Deerfield, Mass, Western Mass Jobs With Justice pulled together about 20 supporters and even got the Ben & Jerry's scoop shop workers to join them for a picture after delivering their letter demonstrating their support for Milk with Dignity!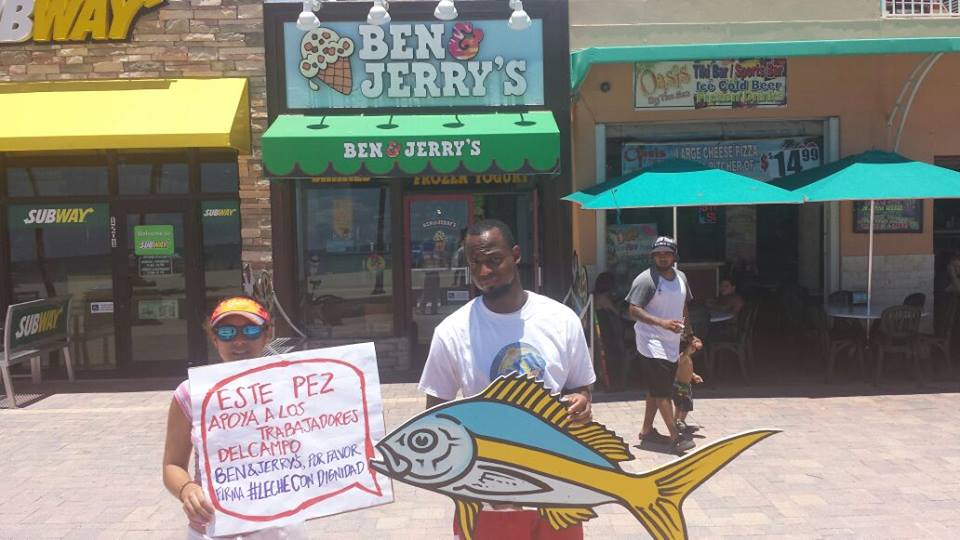 Community members in Hollywood, Florida bringing a message to the local scoop shop.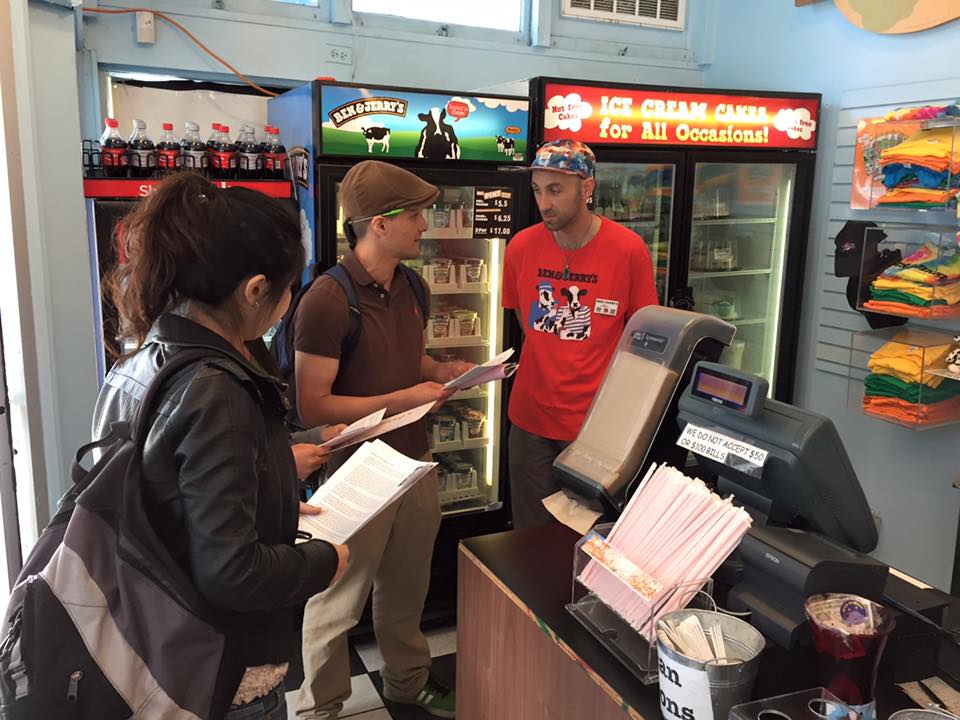 Allies in San Francisco discuss the Milk with Dignity Program with a Ben & Jerry's worker.
Faith allies and community members deliver Milk with Dignity Ice Cream Cone Balloons at Ben & Jerry's in White Plains, New York.
In Atlanta seminarians and theologians from over 15 institutions from across the country demonstrate their solidarity. Jessica Sosa reflects, "Speaking out for the Milk with Dignity campaign was my first encounter with any kind of social activism. I was nervous because I was not sure what to expect. The nerves soon resided when we were getting "honks" of support for the local community in Atlanta. It has been a beautiful experience to come In Solidarity with others around the nation who care about the dignity of immigrant workers". 
The  Workers' Justice Center of New York sent along their support and solidarity with Vermont dairy workers with NY dairy workers calling on Ben & Jerry's to stand for farmworkers rights by joining the Milk with Dignity Program.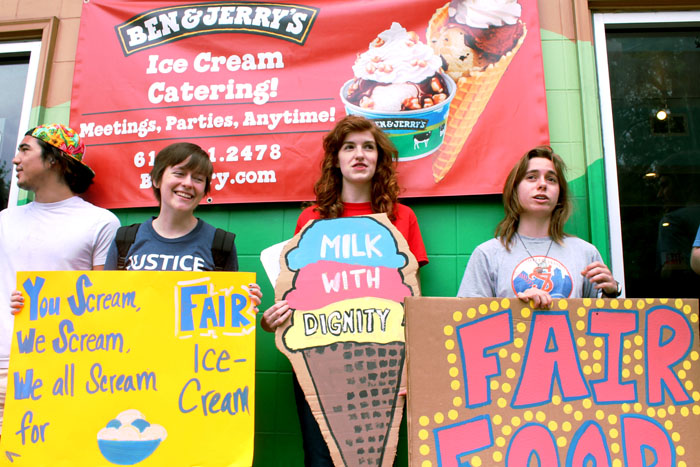 In Nashville, Tennesee supporters launched a new campaign slogan at their local scoop shop!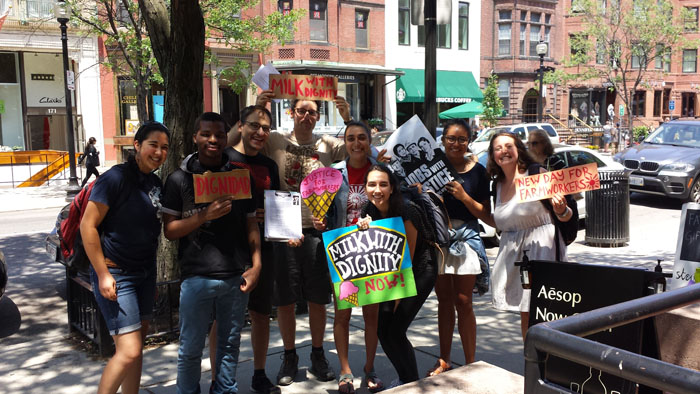 Boston-Students from Real Food Challenge and reps from Northwest Atlantic Marine Alliance, Haley House, Restaurant Opportunities Center - Boston and the Haley House all joined in!  Lots of great chanting downtown on Newbury Street (one of the fanciest in Boston) and a great reception from the B&J workers!