Press Release: Vermont legislators support farmworkers facing deportation
Posted Tue, 08/30/2022 - 8:59am
"Migrant Justice 10" backed by elected officials in appeal to federal agency
Montpelier.  Forty-one state legislators sent a letter to Immigration and Customs Enforcement (ICE) today urging the federal agency to drop the deportations of ten immigrant farmworkers. The letter comes two months after the group, dubbed the "Migrant Justice 10," first petitioned ICE to close their cases and allow them to remain in the U.S.
On June 21st, the ten farmworkers gathered with supporters in front of the U.S. Federal Building in Burlington to formally request that ICE apply federal guidelines and exercise prosecutorial discretion in their cases. The petition was filed with initial support from Vermont's congressional delegation, Lieutenant Governor Molly Gray, and State's Attorneys Sarah George and Todd Shove.
Organized by Senate President Pro Tempore Becca Balint, Senator Kesha Ram Hinsdale, and Representative Taylor Small, state legislators wrote to express their support for the Migrant Justice 10 and to encourage ICE prosecutors to grant their petition.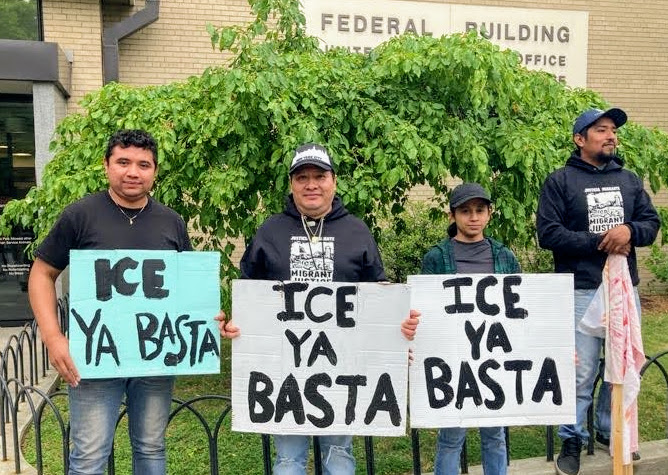 The letter states: "These ten individuals are valued members of our community here in Vermont. The farms that are so important to our state's economy and rural character rely on their work. Vermont prides itself on its dairy industry, but the reality is that these products that are a quintessential aspect of the Vermont brand, from Cabot to Ben and Jerry's, wouldn't exist without migrant farm workers. During the pandemic, they were essential workers who helped keep our grocery shelves stocked and our families fed."
"This group of legislators are eager to lend our voice to those calling for prosecutorial discretion for the 'Migrant Justice 10'," said Senate President Pro Tem Becca Balint. "In recent years the Legislature has worked to better support our migrant worker community,  from creating driver privilege cards, to limiting the role of local law enforcement agencies in federal immigration enforcement, and preventing immigration arrests in and around courthouses to better ensure access to justice.  Our engagement in these deportation proceedings is a continuation of those efforts. I know my colleagues will continue to work to support these valued members of our Vermont community."
Representative Taylor Small of Winooski added: "The devastating impacts of deportation, especially pending deportation proceedings, are felt by individuals, families, and communities. While we work to protect and retain the 'Migrant Justice 10' in Vermont, we must also continue our work with local communities to prioritize the safety and inclusion for all families, regardless of immigration status. By developing programs to foster support networks, a sense of belonging, mental health and healing, as well as building collective political action, we will grow and foster the hope and wellness needed for our children and families across the state."
On filing the petition in June, Pedro Ubaldo said: "I came to Vermont from Mexico when I was sixteen-years-old and have been working on dairy farms ever since. I was pulled over by ICE in 2019 for no reason and detained. Now they are trying to deport me to Mexico, but my life is here. I am fighting to stay in Vermont to provide for my family and organize with my community for a better future."
Pedro's background is typical of the group. The ten men are from Mexico and have lived in Vermont for years, primarily working and living on dairy farms. Some, like Pedro, were pulled over while driving. Others were detained while shopping for food or wiring money to their families. One was detained after leaving a dentist appointment. All have since been released from ICE custody on bond, yet they remain in deportation proceedings.
The petition cites a memorandum from Department of Homeland Security chief Alejandro Mayorkas to the immigration agency, instructing agents to use discretion in enforcement activities like detention and deportation. The memorandum, which took effect late last year, prohibits officials from targeting activists. Mayorkas writes: "A noncitizen' s exercise of their First Amendment rights also should never be a factor in deciding to take enforcement action." The guidance additionally establishes that a "noncitizen's exercise of workplace or tenant rights, or service as a witness in a labor or housing dispute, should be considered a mitigating factor in the exercise of prosecutorial discretion."
Soon after farmworkers filed their petition, the Supreme Court put the memo on hold pending the outcome of a lawsuit filed by Texas and Louisiana against the use of the enforcement guidelines. The Court will take up the case again in December. In the meantime, while ICE may not apply the criteria contained within the Mayorkas memo, the agency retains its ability to exercise discretion in deportation proceedings and still has the legal authority to stop the deportations of the Migrant Justice 10.
Vermont Immigrant Assistance lead attorney Jill Martin Diaz shared, "It's important to remember that this litigation concerns specific questions about the legality of the Mayorkas memo. It does not eliminate or abridge the broad statutory authority Congress delegated to DHS to exercise prosecutorial discretion. Noncitizens at imminent risk of removal can continue asking ICE to exercise favorable discretion. ICE continues to grant such requests nationwide. We hope our local officers will do the same. Noncitizens in Vermont who seek prosecutorial discretion can contact our Vermont Law and Graduate School immigration clinic for help."