ICE to Vermont DMV: "We're going to have to make you an honorary ICE officer!"
Posted Wed, 10/12/2016 - 2:11pm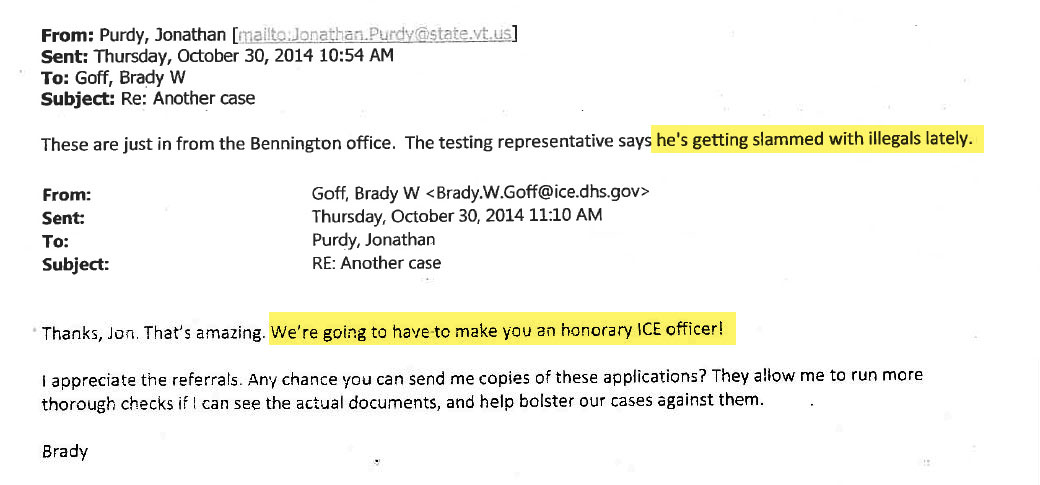 In an explosive new report, investigative journalists at VTDigger have published an exposé of routine and casual collusion between Vermont DMV employees and federal immigration agents with Immigration and Customs Enforcement (ICE) to target, arrest, and deport DMV customers.  The report draws from over 50 pages of emails obtained by Migrant Justice in a public records request that show rampant discrimination against immigrants in the months following the 2014 implementation of a state law allowing undocumented drivers access to a license.
Excerpts from emails between DMV employees, and between DMV and ICE employees, include:
"I can send you a list of the names if you like but they are all 'South of the Border' names"
"I've emailed the docs to Border Patrol and they will research further and get back to me. They sound pretty excited. I let them know [applicant] has re-scheduled for this Friday.  I will also contact [DMV employee] and let him know what is going on, should he have to play stupid.  [He] loves to play stupid!"
"We are being over run by immigrants"
DMV officials claim that the agency communicated with ICE simply in an attempt to investigate fraud, cases of out-of-state applicants applying for a Vermont license.  Yet the records tell a different story, of widespread collaboration to pass on customer information to immigration agents and facilitating applicant's detentions.  In an email sent out to DMV staff, a District Officer writes that he has "come to the conclusion that we should be referring the undocumented up for investigation if there is ANY reason at all you think there is a reason to.  [DMV emlpoyee] has been copying all paperwork from all undocumented and saving them.... Most of you are aware that ICE has been in our office for weeks now dealing with them."   This pattern of discrimination is highlighted in the case of Abdel Rababah.
In 2014, Abdel Rababah -- Abd, as his friends call him -- attempted to get his driver's license at the Vermont Department of Motor Vehicles.  Instead of a license, he got profiled, entrapped, and detained by immigration agents, setting off a years-long nightmare that continues to this day.  But Abd fought back; he called Migrant Justice on our human rights support line and together we created a plan to challenge the DMV's actions.  Represented by the Vermont American Civil Liberties Union (ACLU), Abd filed suit.  The DMV has now agreed to pay out $40,000 and submit to a series of reforms that will prevent what happened to Abd from happening again.
In 2013, Migrant Justice led a ground-breaking campaign to change Vermont laws allowing undocumented immigrants to obtain a driver's license.  We won because immigrant farmworkers spent months at the State House convincing lawmakers that they have a right to drive without fear of arrest and deportation.  Access to a driver's license in Vermont has had a tremendous impact; instead of feeling like prisoners on their farms, farmworkers are now more free to travel in order to buy their own groceries, take their children to school, and attend religious services.  Yet the DMV's profiling has spelled danger for many applicants.
Weeks after the law went into effect, Abd -- who had come to Vermont from Jordan as a student years before -- went to the DMV to exercise his rights.  The DMV altered his application, referred it to their "fraud" unit, and sent his application to ICE.  The DMV asked Abd to come back to the office under false pretenses and colluded with ICE to arrest him when he showed up for his appointment.  Years later, Abd is still fighting against his deportation.  His ordeal has been written about extensively in the VTDigger and other news sources.
Abd's case is but the most public example of the pattern of abuse and discrimination by the Vermont DMV revealed by their internal emails.  The DMV's extensive collaboration with ICE resulted in the detention of many like Abd.  As a result of the settlement in Abd's lawsuit, the DMV will have to take action to correct these years of abuses; they must alter their application to make it clearer and translate it to Spanish, retrain staff, strictly limit collaboration with ICE, and enforce a new "Fair and Impartial Policing" policy in the department (the result of another Migrant Justice victory this summer).
Abd's victory advances the human rights of all Vermonters by ensuring equal treatment at the DMV.  We congratulate Abd for his bravery in standing up for his rights and the ACLU for representing him in his lawsuit.