I scream, you scream, we all scream for fair ice cream!
Posted Fri, 04/07/2017 - 7:39pm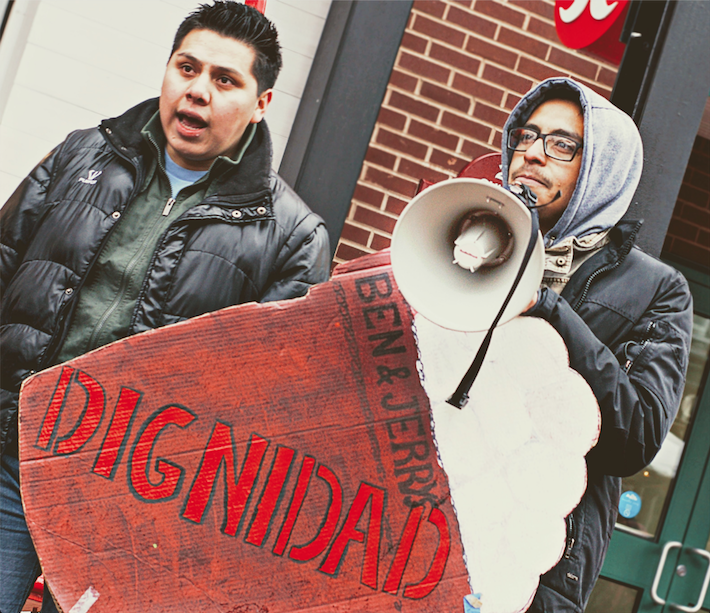 This Tuesday April 4th, thousands of customers waiting in line outside Ben & Jerry's scoop shops during the company's famed Free Cone Day got their ice cream with a bitter dose of truth.
At more than 10 scoop shops around the country -- from Nashville, to Naples, to New York -- dairy workers and supporters pulled the mask off the corporation's socially responsible marketing to expose the conditions faced by workers putting the cream in Ben & Jerry's ice cream.
Enrique Balcazar, recently freed from prison after being targeted by deportation agents for his outspoken leadership, spoke at the factory store in Waterbury:
I have worked on dairy farms across the state, just like my mother and father before me, and I know better than anyone the conditions that we workers face.  I would work from 3am through the day and night, oftentimes without 8 hours of consecutive rest, seven days a week.  Nearly half of us don't even make minimum wage! That is why we are here today, calling on Ben & Jerry's to make good on its commitment to join the Milk with Dignity program, ensuring respect for the human rights of the workers who milk their cows.
Wilmar Santiz, a dairy worker and member of Migrant Justice's Farmworker Coordinating Committee, told customers in Burlington, VT: "We are here today demanding that Ben & Jerry's join the Milk with Dignity program. We invite everyone to unite with us -- because the time to sign is now!"
And unite they did. Hundreds of consumers signed postcards directed to Ben & Jerry's CEO Jostein Solheim, demanding that without further delay he follow through on his 2015 public commitment and "fully join and implement Migrant Justice's worker-led Milk with Dignity program."
The Free Cone Day actions came on the heels of a national call-in day. An employee at the company headquarters told us that it was the biggest single day of phone calls in the company's history!  
The Milk with Dignity campaign has generated national press attention and this tepid response from the company: "we remain commited to the agreement we signed and are continuing to work towards a successful conclusion with Migrant Justice." To that we say: After two years, your time is up! On human rights, actions speak louder than words!
Check out the press from the day:
Huffington Post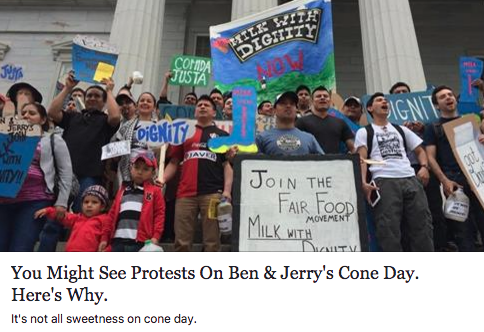 Paste Magazine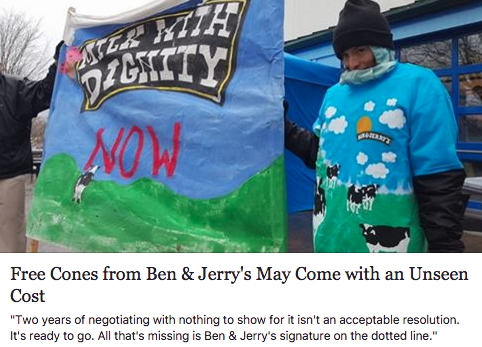 NBC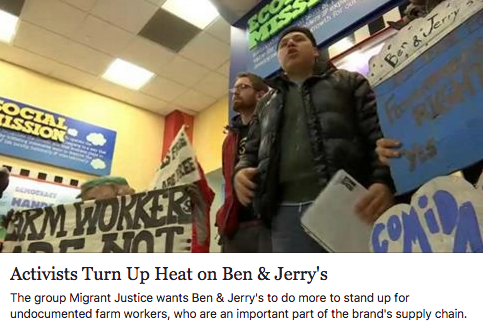 Vermont Public Radio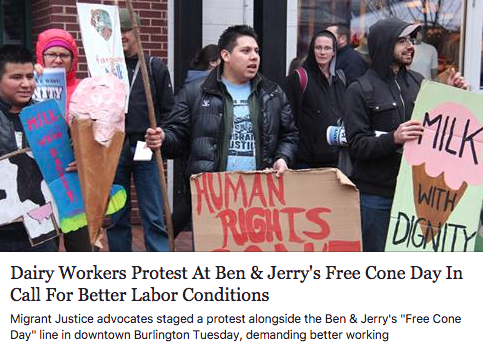 Burlington Free Press