Hannaford Supermarkets: No More Empty Commitments!
Posted Wed, 09/02/2020 - 3:15pm
Send an email to Hannaford's executives telling them that you are tired of empty commitments: it's time for the supermarket chain to join Milk with Dignity!
Farmworkers are calling on Hannaford supermarkets to take responsibility for the human rights and wellbeing of workers in their dairy supply chain. Especially during a global health crisis, Hannaford must act to ensure fair treatment and protections for the essential workers behind the company's store-brand milk.
While Hannaford profits off the pandemic – the chain's parent company, Ahold Delhaize, saw profits double this past quarter – farmworkers in the company's supply chain continue to be paid poverty wages. And in some cases, like that of farmworker Gustavo, they are not being paid at all.
Gustavo worked on a farm in northern Vermont until he was recently fired without cause. He describes what happened next:
"All of a sudden the boss told me that I was out of a job and I had to leave. He didn't pay me the $2,500 that he owed, he just said he would pay me tomorrow. But the next day I called him and he said the same thing. Days went by but my pay never came. Eventually he stopped answering his phone. I was scared to go to his house to ask for my wages because the farm is close to the border and I knew he could retaliate against me."
Eventually, Gustavo reached out to Migrant Justice and the organization supported him in filing a wage theft claim with the Department of Labor. With this support, Gustavo successfully recovered his stolen wages, but this outcome is the exception to the norm. 20% of Vermont dairy workers have experienced wage theft similar to what happened to Gustavo.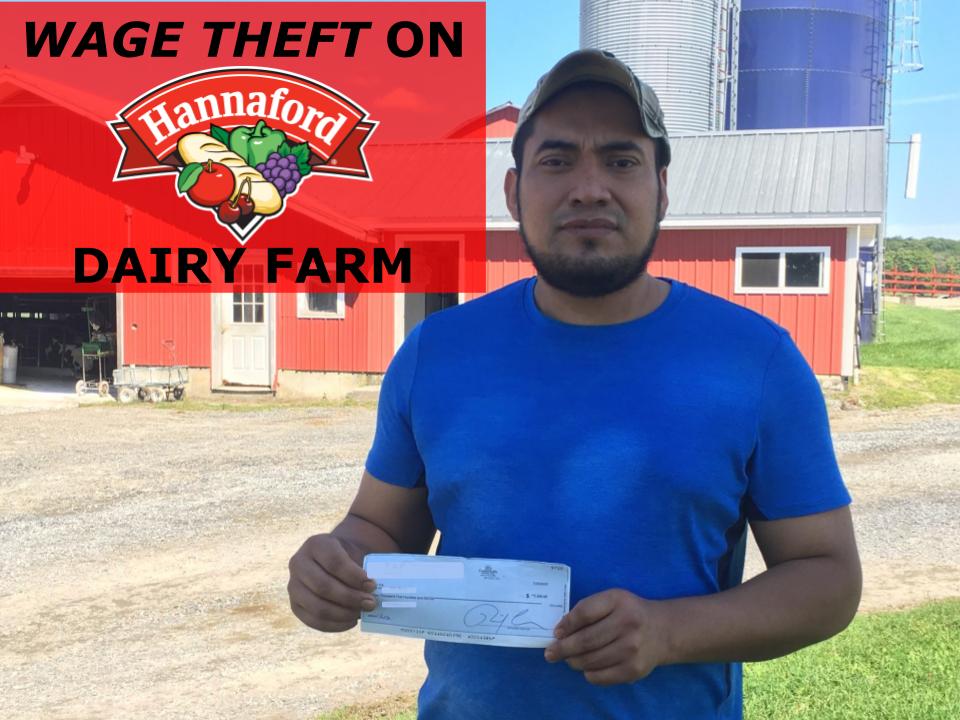 The farm that illegally withheld Gustavo's $2,500 belongs to a dairy cooperative that supplies milk to Hannaford's Vermont bottling plant. Hannaford is putting their label on milk coming from farms where these abuses are taking place.
Take action! Email Hannaford to say it's time to get with the program and join Milk with Dignity!
Migrant Justice invited Hannaford to join Milk with Dignity a full year ago, yet the company continues to sell milk from farms that exploit and abuse workers. Earlier this summer, Milk with Dignity supporters flooded Hannaford's phone lines, telling the supermarket chain's CEO that it is time to join the program.
In response, Hannaford spokesperson Ericka Dodge told the press:
"We expect all our suppliers to follow the law and treat workers fairly. We require our suppliers to comply with standards of engagement — similar to a code of conduct — including provisions for: how they treat and compensate workers; maximum allowable working hours and days; premium pay for overtime; and workplace health and safety."
Such "expectations" are meaningless for farmworkers like Gustavo when they aren't backed up by action.
The only way for Hannaford to make their "standards" a reality is by joining the Milk with Dignity program. With a verified track record of over two years successfully improving conditions on farms across Vermont and New York – making abuses like wage theft a thing of the past – Milk with Dignity is the only way that a company can verify that their milk is produced free from human rights violations.
Take a minute to write to Ericka Dodge and her fellow Hannaford PR executives: tell them that like Gustavo, you are tired of empty promises. It is time for action!