Farmworkers and Allies March 13 Miles to Ben & Jerry's Calling for Milk with Dignity
Posted Thu, 06/22/2017 - 12:20pm
Migrant Justice and Ben & Jerry's sign historic agreement!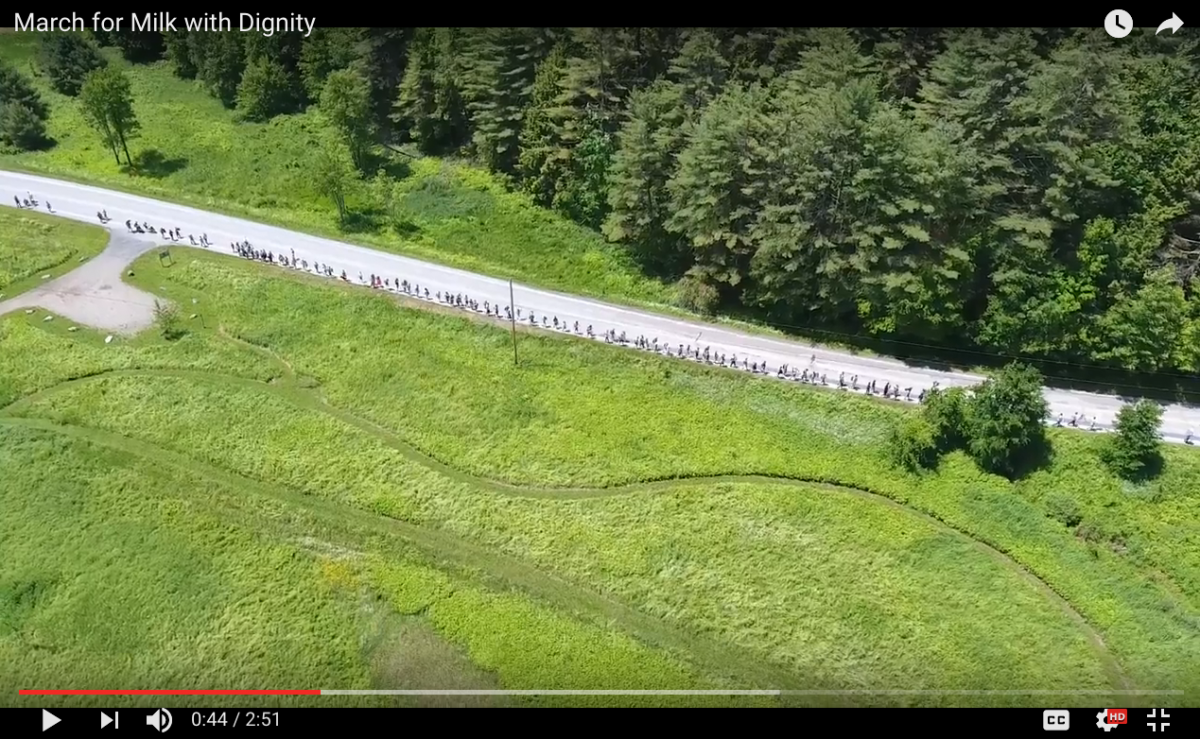 Check out this must-see 3 minute video of the March for Milk with Dignity!
In the early morning light, at 7am on Saturday June 17th, nearly 150 farmworkers and supporters gathered in front of the Vermont State House gearing up for what would be an historic day. Nearly two years to the day when Ben & Jerry's made its still-unfulfilled public commitment to Milk with Dignity, Farmworker organizer Enrique "Kike" Balcazar kicked off the action:
"Today, we are marching 13 miles to Ben & Jerry's to make sure they make good on their promise they made two years ago to join and implement the Milk with Dignity Program, because our human rights cannot wait a single day longer."
The march meandered through Vermont's iconic working landscapes, through sleepy towns where more marchers joined in as it progressed (see pictures below). By the time the colorful caravan rolled its way through Waterbury and poured into Ben & Jerry's factory under the hot afternoon sun, the crowd had doubled to over 250 people, chanting: "Get up! Get down! Milk with Dignity is Coming to Town."  After a roving picket line at the factory, Vermont dairy workers, standing shoulder to shoulder with national farmworker rights leaders Lucas Benitez (co-founder of the Coalition of Immokalee Workers) and Librada Paz (RFK Human Rights Laureaute), delivered a huge letter of support to Ben & Jerry's CEO Jostein Solheim signed by 15 prominent Human Rights organizations, including the ACLU and Human Rights Watch. Solheim addressed the crowd:
"We have all the key pillars of this program defined and clear. We've incentivized it. We've got the right incentive structures for workers and farmers and we're ready to go. Ben & Jerry's is ready to go."
Farmworker leader Wilmar then told the crowd, "After a long hard day of marching in the sweltering heat, with many of us workers skipping meals and sleep between our 12 to 14 hour days in order to be here, it is great to hear these words from Ben & Jerry's. But as we have learned in this process, we must keep up the pressure until we have a signed agreement committing Ben & Jerry's to source its milk in compliance with the human rights of dairy workers by joining the Milk with Dignity Program."
Our photo essay below captures some of the day's many highlights:
RFK Human Rights Laureate and former farmworker Librada Paz kicks off the march from the Vermont state house alongside Vermont dairy workers.
With each rest stop along the way, the crowd grows to well over 150 supporters who drop in and out of chants: "1, 2, 3, 4, Milk with Dignity at the Door. 5, 6, 7, 8, two years too late."
Esau and Yesenia spent their day off from milking cows to march 13 miles to Ben & Jerry's, something that was not lost on allies who were inspired by workers' leadership to push through the long day.
Farmworker and Migrant Justice member holds a sign, "The cows don't milk themselves."
Migrant Justice activist Zully and an ally holding a "Fair Food" sign march with Coalition of Immokalee Workers co-founder Lucas Benitez right behind. The hard work of Lucas and his colleagues to build the award-winning Fair Food Program has transformed Florida's tomato fields, formerly known as "ground zero for modern-day slavery," into fair and dignified workplaces. This success was the inspiration for Migrant Justice members to build the Milk with Dignity Program.
Farmworker leaders Miguel and David lead the way across the Winooski River.  The line of marchers spanned the entire bridge behind them.
Red Hen Bakery in Middlesex hosts the March for Milk with Dignity for a lunch served up by the Vermont Workers' Center's "People's Kitchen." A host of new marchers energize the crowd at this midway point.  Employees at Red Hen pooled their tips for the past several months to support dairy workers' organizing, providing critical worker-to-worker solidarity for the march!
Throughout the march, allies and supporters organize rest stops, providing community power to keep farmworkers going for the long haul.  Lucas and long-time Migrant Justice farmworker leader Carlos kick us off after another stop.
Wilmar and Kike lead onward up the slope of a long Vermont hill, inspiring allies to keep up the pace.
Most cars passing by waved, cheered, and honked in support of our journey for justice.
Many marchers brought their own homemade signs, adding color to the march.
By the time we arrived in downtown Waterbury, our march spanned several city blocks, where shopkeeper and families stood on the door stoops cheering us on. A few families with children marched the full 13 miles, with marchers stepping up to take care of one another throughout the day.
Despite the heat, farmworkers David, Norman and Victor were never short on smiles and words of inspiration.
When we arrived at the Waterbury Park & Ride, 12 miles into the march, about 75 allies were waiting with water, signs, and new energy inspiring us to take the march the last mile to Ben & Jerry's.
Farmworkers carry a huge letter of support from 15 human rights organizations, calling on Ben & Jerry's to join the worker-driven Milk with Dignity Program.
For the first time in Vermont history, farmworkers lead a spirited march to the Ben & Jerry's factory.  The hundreds of tourists visiting for a factory tour learned of farmworkers' critical role in how Ben & Jerry's ice cream is made.
CIW co-founder Lucas Benitez and Librada Paz stand in solidarity, taking in the powerful stories of Vermont dairy workers like Victor Diaz, who spoke of living in an overcrowded run-down camper with a leaky roof through a Vermont winter and having his wages stolen by the farm owner.
Vermont farmworkers and national farmworker leaders deliver Ben & Jerry's CEO Jostein Solheim the human rights letter.  He asks to address the crowd and pledges: "Ben & Jerry's is ready to go."
Stay tuned to migrantjustice.net and help us make sure Ben & Jerry's follows through on its commitment