Ben & Jerry's Commits to Work with VT Dairy Workers to Adopt Milk with Dignity Program in Supply Chain
Posted Thu, 06/25/2015 - 2:04pm
***November 2016 Campaign Update: Migrant Justice and Ben & Jerry's agreed in May 2015 to work together to operationalize the Milk with Dignity Program in the Ben & Jerry's Supply Chain and have been working steadily towards that goal ever since!
"Congratulations to everyone! We are a strong team. We have seen that we have a lot of power! By organizing and defining what we want we achieved this big step forward as workers. ¡Si Se Puede!"
-Jessica Ramirez, Migrant Justice Farmworker Coordinating Committee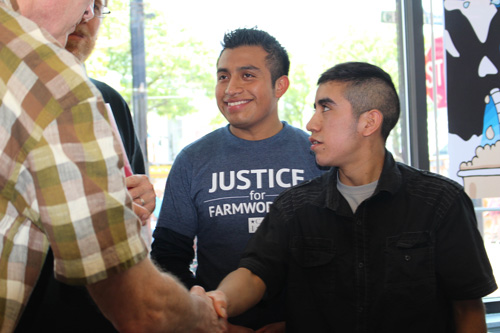 Last week was an amazing week for Vermont dairy workers' movement!
If you haven't heard already we reached an important agreement with Ben & Jerry's on the evening before 17 Milk with Dignity solidarity actions were planned at scoop shops across the nation!
This is a major step forward towards securing the fundamental human rights of farmworkers in Ben & Jerry's supply chain. The heart of our agreement reads:
"This document represents Ben & Jerry's commitment to work with Migrant Justice towards a written agreement to further detail and realize the essential elements of Migrant Justice's Milk with Dignity program that will be adopted within Ben & Jerry's Northeast dairy supply chain."
So, in Burlington, VT our June 20th "March and Rally for Dignity" took a much more festive tone than expected, with nearly 200 people marching and singing through the streets: "Get up! Get Down! Milk with Dignity's Coming to Town!" Check out more pictures from actions across the country here.
Farmworkers could not have taken this big step forward without your support. Your petition signatures, your willingness to organize solidarity actions across the country; your hosting of talks and presentations; organizations that signed on in support of campaign; you who spread the word on social media; you who made phone calls at the office; you who drove farmworkers to meetings---all acting in solidarity with Vermont dairy workers--made the difference. 
What's next? The Road Ahead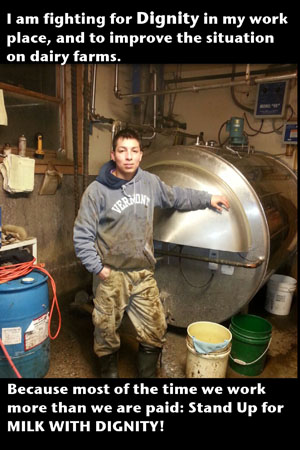 First, it's not over—we've only just begun! With this agreement farmworkers have secured a permanent seat and voice at the table to negotiate directly with Ben & Jerry's in order to hash out and then adopt the 5 essential elements of our Milk with Dignity framework in their supply chain. 
Now our work is to ensure that the program is designed and then operationalized to truly ensure your Chubby Hubby is delivered to you in a way that respects farmworker's rights! So, we will be at the table with Ben & Jerry's working on this agreement in the coming weeks and months and will be in touch with updates and ways to keep speaking up for farmworker's rights!
"Power concedes nothing without a demand. It never did and it never will."-Frederick Douglas
It wasn't until Migrant Justice publically launched our campaign on May 1st that we truly got the full attention of Ben & Jerry's. Last December when we first presented our Milk with Dignity Program we were essentially told that we were barking up the wrong tree and our intentions were even called into question. Our proposal was not taken seriously and farmworkers felt disrespected.
We continued, for the next several months, to work behind the scenes asking again and again to meet with CEO Jostein Solheim in order to present our program in more depth.  But it wasn't until we created a public conversation about farmworkers' campaign for respect and dignity in Ben & Jerry's supply chain and called for a national day of Milk with Dignity actions on June 20th that farmworkers got the full attention of Ben & Jerry's.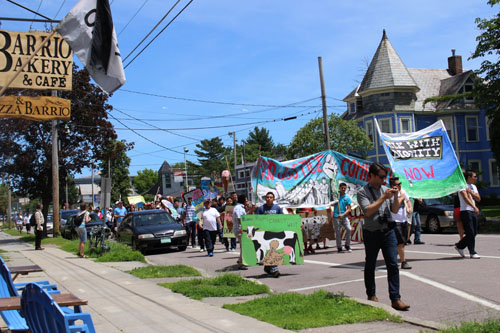 In the final week leading up to the June 20th actions it was clear Ben & Jerry's had heard farmworkers call to action and recognized the need to prioritize this conversation.  As the clock ticked towards June 20th the tone shifted and then in the afternoon of July 19th we reached an agreement that demonstrates Ben & Jerry's has truly committed to work with farmworkers to ensure their rights are respected in their supply chain.
Your petition signatures, your willingness to organize actions across the country, your organizations that supported our campaign and spread the word all made a difference! We look forward to working with Ben & Jerry's towards securing fundamental human rights for farmworkers in their supply chain!
Right now we ask you to spread the word about this important step forward in your networks and in your community!  
Please spread/link to this blog post and this post in your email blasts, facebook, and twitter and tell everyone you know about this important step towards farmworker's rights!
Do you have ideas about spreading the word about this important step? Contacts with the media or newsletters Contact us at info@migrantjustice.net
If you live in Vermont—we will need your support as always as solidarity drivers to continue to gather the farmworker community as we negotiate an agreement. We also need volunteers in the office to help build our organization! info@migrantjustice.net
Thank you from the bottom of our hearts!
-Migrant Justice
1st ad 3rd Photo by Pat Jackson, 2cnd Photo Jonathan Leavitt