Migrant Justice v. ICE
Posted Tue, 11/13/2018 - 2:21pm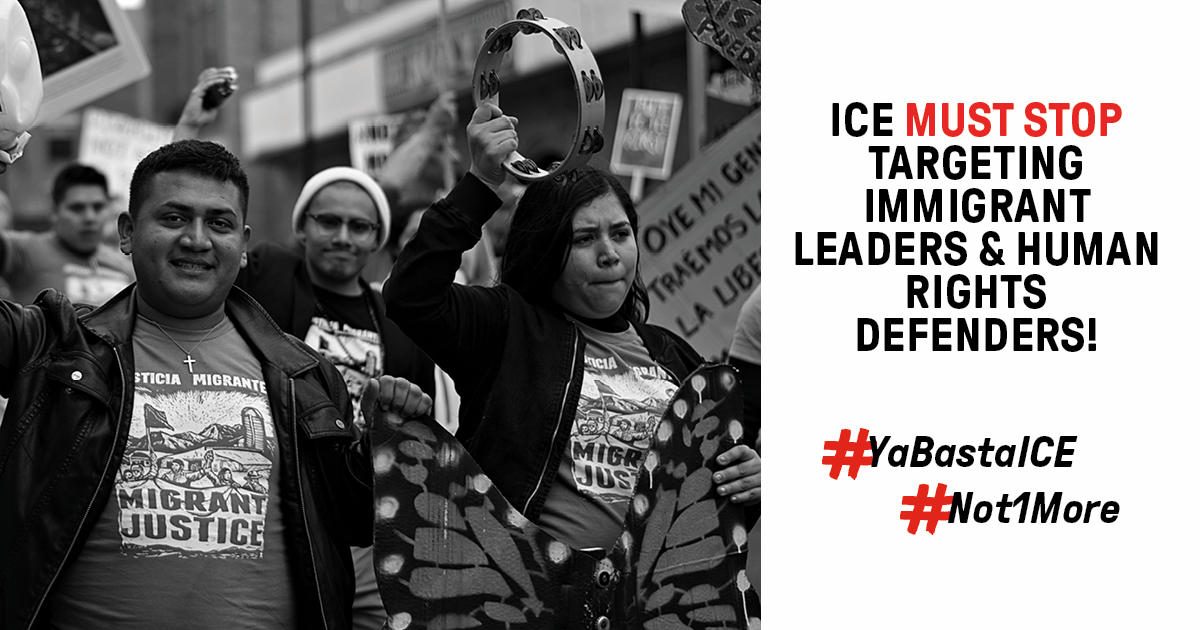 Today, November 14th, Migrant Justice filed a major national lawsuit against Immigration and Customs Enforcement (ICE).  ICE has engaged in a years-long campaign of retaliation against Migrant Justice, in violation of First Amendment protections for freedom of speech and assembly.  We are suing to stop the unlawful, targeted surveillance and harassment of the organization and the arrest and detention of members.  Today we say "Ya Basta, ICE!"
Since 2016, ICE and Border Patrol have arrested over 40 immigrant community members involved in Migrant Justice.  The lawsuit focuses on a handful of those detentions where there is clear evidence that immigration agents targeted members because of their outspoken leadership as human rights defenders, including the notorious arrests of Victor Diaz, Miguel Alcudia, Enrique "Kike" Balcazar, and Zully Palacios.  These detentions have been carried out by ICE as part of a coordinated effort to attack Migrant Justice and disrupt our groundbreaking organizing for human rights and economic justice, including through electronic surveillance and the use of a confidential informant. 
ICE has been aided in this campaign of repression by the Vermont DMV, also named as a defendant in the lawsuit.  Since Migrant Justice passed a 2013 law allowing all Vermont residents to access driver's licenses regardless of immigration status, the DMV has discriminated against immigrant applicants.  Claiming they were being "over run by by immigrants," employees routinely passed confidential information to ICE agents and facilitated the arrest of immigrants.  Public records requests have revealed troves of emails between ICE and the DMV, with state employees forwarding what they referred to as "South of the Border" names.  They continued to do so even after being forced to adopt a policy stating that employees: "shall not dedicate department time or resources to the enforcement of federal immigration law."  ICE has relied on the VT DMV's discriminatory practices in its campaign to silence Vermont's immigrant community leaders, writing to one state employee: "We're going to have to make you an honorary ICE officer!"
The 40-page lawsuit is full of details showing an undeniable pattern of ICE targeting, including use of informants, electronic surveillance, and retaliatory arrests.  Much of this evidence has been revealed through federal Freedom of Information Act requests, though much more information remains redacted.
ICE clearly knew about members' roles in the organization.  The agency compiled dossiers on Migrant Justice leaders, including social media pages and media appearances.  Arrest reports refer to Victor Diaz as "a member and associate of Migrant Justice."  Agents mockingly referred to Enrique as "a famous person" after his detention.  Arrests were targeted and retaliatory.  When ICE agents arrested Miguel, they told him to tell Enrique that he would be "next." Several months later, Enrique and Zully were arrested soon after leaving the Migrant Justice office.  Arrests were exceedingly agressive, with members surrounded by armed agents and pulled from their cars.  Once in detention, members were denied access to attorneys and explicitly prohibited from calling Migrant Justice.
ICE planted a confidential informant in Migrant Justice and used the informant to gather information about the organization and its members.  ICE used this information to track down and arrest members.  ICE has also engaged in electronic surveillance of Migrant Justice and monitored organizational and members' social media accounts.  The night before her arrest, Zully received a notification from her email server that someone had attempted to hack her email.  During her arrest, agents referred to her using a nickname that she had only used in private correspondence.  ICE agents also spread damaging and incorrect rumors about Migrant Justice, falsely claiming that organizers provided information to the agency that resulted in arrests.  This was done to undermine Migrant Justice and our successful human rights organizing.
The targeting of activists and community leaders is unfortunately not unique to Vermont.  In recent years, ICE has retaliated against immigrants in cases that have been documented in Mississippi, California, Washintgon, New York, Colorado, Virginia, Tennessee, and Wisconsin.  Though this practice has accelerated under the Trump administration, agents' targeting of Migrant Justice predates the current administration.  It would appear that Migrant Justice members have been the canary in the coal mine, victims of a policy of retaliation that has been nationalized under the Trump administration.
By filing this landmark lawsuit, Migrant Justice is escalating its resistance to ICE's and the DMV's unlawful attacks.  We are standing up for the First Amendment's guarantees of freedom of speech and assembly, and for the constitution's promise of equal protection under the law.  We are saying to ICE, enough is enough: "Ya Basta!"