Milk with Dignity turns two -- and launches a new campaign!
On October 3rd, 2017 farmworkers in Vermont made history by signing the first ever Milk with Dignity agreement with global ice cream maker Ben & Jerry's. The company committed to source its milk from farms that comply with a comprehensive, worker-authored code of conduct. Ben & Jerry's pays a premium to participating farms, Migrant Justice educates workers on their rights in the program, and a third-party auditor ensures farms' compliance.
Today we are proud to release a powerful new video (see above), featuring interviews with dairy workers across the state on farms covered by the Milk with Dignity program.  In the video the workers narrate the stark changes experienced in their living and working conditions, as well as the dignity they feel knowing that their rights are being protected by a program that they themselves have created.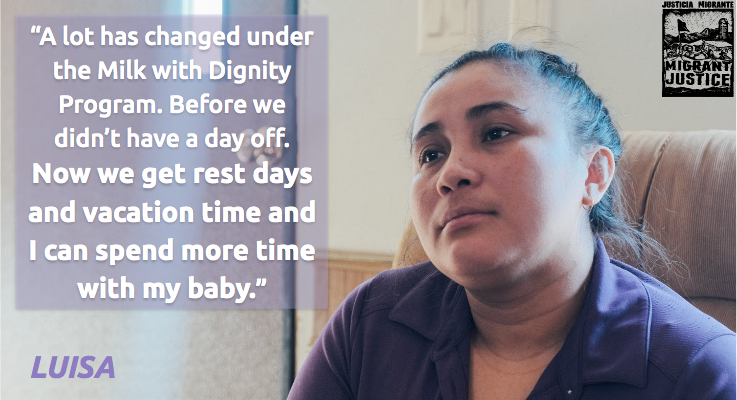 In under two years, the program has resulted in groundbreaking changes. Covering over 20% of Vermont's dairy industry -- as well as farms in New York -- the program has transformed conditions to secure human rights for more than 250 farmworkers, resulting in:
Over $370,000 in wage raises and bonuses paid in order to meet Code standards

Personal protective equipment for handling chemicals and sawdust

Bilingual training, on many farms for the first time, regarding health and safety with machinery, chemicals and animal handling

Improved protocols for workplace injury response, to ensure better access to workers' compensation insurance and medical treatment

A day off per week and access to paid sick days and vacation

First of their kind bilingual policies for stronger protection from violence and harassment, redressed through a comprehensive and trusted complaint process

Improvements to workers' living conditions, including treatment for pests, better privacy, and construction of new, more spacious housing 
The Milk with Dignity Standards Council -- the independent third-party organization created to monitor compliance with the agreement -- has investigated over 150 complaints from farmworkers and is now well into its second round of comprehensive annual audits of working and housing conditions at all participating farms. 
These groundbreaking successes are a testament to the vision and tenacity of the immigrant farmworkers in Vermont who developed, fought for, and implemented Milk with Dignity.  However, too many dairy workers are still excluded from Milk with Dignity's landmark protections.
Earlier this year, Migrant Justice conducted a survey of over 100 Vermont dairy workers on farms outside the Program.  We found stark evidence of ongoing risks to workers' health and safety:
93% of workers have suffered illnesses and injuries related to working with chemicals like acid, chlorine and formaldehyde

78% have been kicked, bit, or otherwise injured by cows

77% report harm from machinery or repetitive stress injuries

67% report mental health concerns like depression, stress, or anxiety
Despite these high rates of injury and illness, workers are not receiving the protections they need and deserve:
33% of workers have access to first aid on the job

18% have sufficient access to personal protective equipment

6% report sufficient health and safety training on the job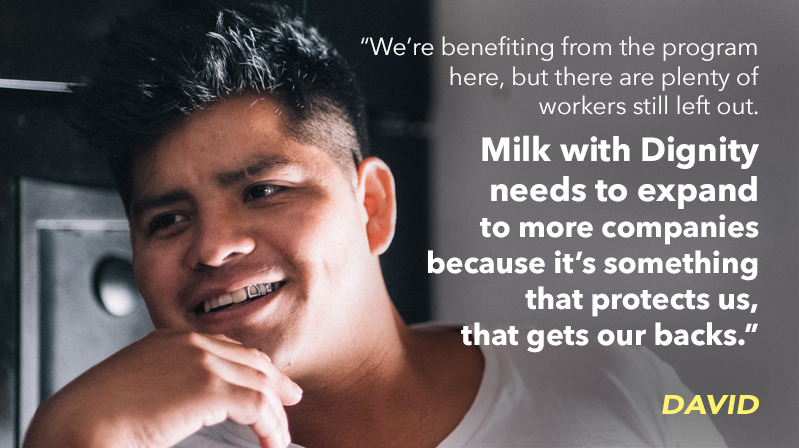 Conditions outside the program remain dire. Farmworkers desperately need the human rights protections guaranteed by the Milk with Dignity Program, and they are ready to fight for them. Over the past month, we have made several attempts to invite a new company to join Ben & Jerry's in taking responsibility for the rights of dairy workers -- but to no avail.
On October 3rd, on the two-year anniversary of the signing of the Milk with Dignity agreement with Ben & Jerry's, we will reveal the name of the company and for the first time call on them publicly to join the program. Join us on 10/3 to celebrate the program and take action for its expansion!
And take a look at our updated "testimonials" page on our website to learn more about the program's incredible success!