Hundreds hit the streets on International Workers' Day: 30 Milk with Dignity actions at Hannafords across the northeast
The pressure on Hannaford Supermarkets to join the Milk with Dignity program is undeniably growing. In the campaign's largest day of action to date, dairy workers and consumers visited 30 Hannaford locations across the northeast, calling on the grocery chain to take responsibility for the rights and well-being of the farmworkers behind its store-brand milk.
This year's mass action on International Workers' Day launches the next phase of the Milk with Dignity campaign. Farmworkers are calling on campaign supporters to "adopt" their local Hannaford and commit to taking regular actions. In pairs or small groups, allies across the northeast can build support for Milk with Dignity by flyering customers, speaking with managers, and placing lawn signs outside their local store.
We need you to adopt a Hannaford! Check out our new toolkit for all the information you need to start taking action today!
In every state where Hannaford has a store, Milk with Dignity supporters engaged with Hannaford customers, educating them about the documented human rights violations in Hannaford's dairy supply chain, and urging them to join the campaign. Across the region, the response from customers and passersby was overwhelmingly positive, with many expressing shock about the abusive conditions that Hannaford's farmworkers endure. 
Amplifying their impact, the actions received coverage in press outlets across the northeast, including VT Digger, Maine Public Radio, and WCAX News.
While Hannaford's customers responded positively to the Mayday actions, company executives reacted aggressively. Hannaford attempted to stop the actions before they could occur, and when farmworkers were undeterred, the corporation sought to intimidate workers and their supporters. Hannaford contracted likely dozens of security guards for the day, installed additional surveillance cameras around their stores, outfitted employees with body cams, and called the cops on multiple actions.
Rather than taking reasonable and moral actions to improve conditions for the farmworkers behind Hannaford-brand milk, executives decided to spend massive sums of money in a failed attempt to silence those same workers.
Resolute in the face of threats and intimidation, dairy workers and allies spoke with managers at each of the 30 Hannafords where actions occurred. Following the company's recent claims that it has conducted "thorough due diligence" assessments of conditions in its dairy supply chain, campaign supporters provided store managers with first-hand testimonies – all previously made public – from workers on farms supplying milk to Hannaford. 
The letter presented to Hannaford managers paints a grim picture of conditions in the company's dairy supply chain. Farmworkers Primitivo, Facundo, and Maricela testify to inhumane housing conditions – overcrowded, with mold and pest infestations, without heat or hot water – strenuous schedules without sufficient rest; below-minimum wages; severe gender discrimination; and a pattern of retaliatory firings for workers who speak out defend themselves from abuse. 
Hannaford's stated failure to "substantiate any labor or human rights abuses" is a direct consequence of the company's failure to listen to workers themselves. There is only one way for the company to address these abuses. Instead of reacting aggressively and trying to intimidate dairy workers into silence, Hannaford must sit down with farmworkers and join the Milk with Dignity program.
Farmworker leader Emilio hammered this point home in a speech to hundreds of supporters in front of the Hannaford in South Burlington:
A couple weeks back, Hannaford responded to our campaign, saying that they had looked into it and everything was fine on their farms. But they never came and spoke to me! If they had, they would have learned about my 13-hour shifts and 75-hour work weeks; they would have seen my overcrowded housing, where we have no privacy. If they really want to know what's happening on their farms, they need to talk to us, the experts. Hannaford, it's time to come to the table!
Check out the selection of photos of the day's actions below, and head to our facebook page for more comprehensive albums here and here:
Hundreds of dairy workers and allies gathered in South Burlington, VT for the day's main event
Campaign supporters took to the streets
Dairy workers led a mass march to a nearby Hannaford
Campaign supporters brought a clear message: We want Milk with Dignity!
Farmworkers spoke with Hannaford managers and gave them letters refuting the company's claims of a clean dairy supply chain
The day's actions were a family affair
Farmworkers and consumers held 29 additional actions across the northeast, including in Middlebury, VT…
Morrisville, VT…
Barre, VT…
Belfast, ME…
Brattleboro, VT…
Portland, ME…
Rutland, VT…
Uxbridge, MA…
West Lebanon, NH…
…and New London, NH (where even a cow joined in!)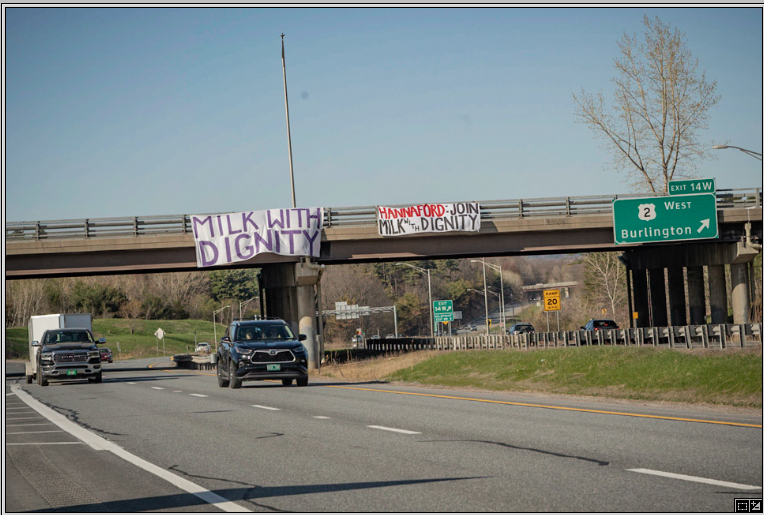 To close out the day, drivers on Vermont's I-89 were treated to a pair of Milk with Dignity banners